The authentic rock & roll and punk rock sounds of Motörhead's Lemmy Kilmister for bass and guitar
A precise model of Lemmy's famous Marshall Super Bass 100W, affectionately called Murder One
Lemmy's rare cabinet setup captured by long-time Motörhead producer Cameron Webb
Two versions included: Marshall Murder One Lemmy Signature and Marshall Murder One Lemmy Signature for Amp Room
Guitar & Bass Amp / Amp Room Ready
Marshall Murder One Lemmy Signature
Conjure up Motörhead frontman Lemmy Kilmister. Do you see him? Bass in hand, in front of a backline of Marshall amps and cabs, a modified Super Bass 100W—emblazoned with Murder One—in pride of place.
The legends Jimi Hendrix and Jimmy Page used the Super Bass 100W, but Lemmy made it legendary. Now, this rare rig is available for the first time in plug-in form as a Softube exclusive. Marshall Murder One Lemmy Signature is a precise emulation of the rebel rocker's original amp and custom cabs. The embodiment of heavy metal history, it's perfectly suited for rock & roll and punk rock sounds for both bass and guitar. Softube Murder One. It's built to win.
The Art of Rock & Roll Science
Softube has a long history modeling professional gear. Our collaboration with premium pro audio brands like Marshall, Tube-Tech, Chandler Limited®, and Empirical Labs has spanned nearly two decades. When it comes to creating software that sounds precisely like the hardware counterparts, our reputation is rock solid.
This legacy is the foundation of Marshall Murder One Lemmy Signature. When creating it, we took the exacting approach we have become known for: expert modeling, precise testing, and careful fine-tuning. Because to create software that is equal to or greater than the original gear, everything must be perfect. Nothing less.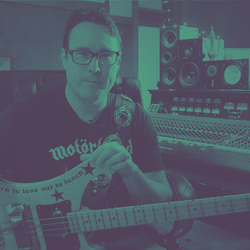 "This plugin was crafted from one of Lemmy's favorite amps. We spent time trying to get it as close as the real thing and it sounds great. Turn it up and play away."

Grammy award winner and long time Motörhead producer
Born to Raise Hell
This time, when we set out to make modeling magic with Marshall, we had a bass amp in mind. What we got with Murder One is a deeply soulful Frankenstein's monster. Not only did the rare tone of Lemmy's Super Bass 100W help build the legendary band Motörhead, but it laid the foundation for Metallica and every other group in the genre. Softube Murder One gives you a workflow that is set up just like Lemmy's rig. It's his amp, his cabs, his long-time producer, and his preferred studio. It's uncompromising—just like the man himself.
Louder Than Noise
The Marshall Super Bass 100W is one of the most-coveted and hard-to-get amps in existence. Over the years, bass and guitar players alike have made it their amp of choice. It's warm, musically sweet, and, often, deafeningly loud. Murder One accurately captures both the roar and the responsiveness. You get the true character and features of the cult-classic amp in one ace plug-in for both guitar and bass.
Rock Out
At his Maple Sound Studios in California, Motörhead's Grammy Award-winning producer Cameron Webb captured the precise cabinet setup Lemmy used in-house and on the road: a Marshall MF280L 4x12″ and a Marshall 1979L 4x15″. Murder One's faders each represent a cabinet and the microphone selectors for the cabinets. You can blow out your guitar tones with the oversized 4x15″ cab. Or mix and match microphones for the perfect setup.
Built for Speed
Marshall Murder One Lemmy Signature features numerous presets to help you quickly draw the heavy tones you crave. Long-time Motörhead producer Cameron Webb created several presets based on Lemmy's sound so you can dial up larger-than-life character instantly. No matter which preset you use, Murder One will give you vicious bass and guitar tones for your rock & roll and punk rock projects.
Thunder and Lightning
Murder One is flush with value and versatility for Amp Room, the pro audio guitar and bass platform. It offers Lemmy's Marshall Super Bass 100W amp and his unique cabinet section in two separate modules. With the presets for Amp Room, you can dial up Lemmy vibes without fuss—or go rogue. Use the amp for guitar—or bass—and then combine it with pedals and effects to get the precise rock & roll and punk rock tones you're after.
Marshall Murder One Lemmy Signature native
A 1:1 component model of his Marshall Super Bass 100W, with his one-of-a-kind cabinet setup captured by long-time Motörhead producer Cameron Webb, Murder One is the genuine sound of Lemmy Kilmister. Use it as a native plug-in in your DAW to get the big, fat rock & roll and punk rock sounds that Lemmy and Motörhead made famous.
Marshall Murder One Lemmy Signature for Amp Room
The two Murder One modules available for our pro guitar and bass platform, Amp Room, are a winning pair—to say the least. With one module for Lemmy's Super Bass 100W amp and another that features his unique cabinet section, you'll be more than ready to make some nasty guitar and bass tones for rock & roll and punk rock.
Learn more about amp room
In short
A fully-loaded native plug-in that offers the authentic rock & roll and punk rock sounds of Motörhead's Lemmy Kilmister for bass and guitar
A precise model of the Mashall Super Bass 100W featuring two channels, three-band EQ, and three 12AX7 pre-amp tubes
Dual cabs expertly captured by long-time Motörhead producer Cameron Webb: MF280L 4x12″ and the oversized 1979L 4x15″
The mic setup used to achieve Lemmy's sound as positioned by Cameron Webb and featuring SM7B, MD421, SM57, and D12 VR microphones
Guitar and bass presets that epitomize Lemmy's distinctive sound
Amp Room-ready with two modules that feature Lemmy's Murder One amp and his unique cab setup
Product features

Super accurate component modeled software version of Lemmy of Motörhead's signature Marshall amp
Developed by Softube in partnership with Marshall
Comes as a Native plug-in and Amp Room modules in one package
Lemmy's Marshall cabinets, captured and recorded by Motörhead's producer Cameron Webb.
Choose between 5 different classic microphones in different positions with the possibility to use 2 at a time
Comes with 11 presets made by Cameron Webb for both the native version and Amp Room

System requirements

All Softube products require a computer with appropriate DAW host software (none of which are included).

Versions from 2.5.38 and newer of the Softube plug-ins have the following minimum requirements:

All native versions

Mac OS X 10.13 up to 12
Windows 10 and 11 64-bit
Mac: Intel Core i3 / i5 / i7 / Xeon / Full Apple silicon support (M1 or higher)
Windows: Intel Core i3 / i5 / i7 / Xeon / AMD Quad-Core or newer
Screen resolution larger than 1280x800
8 GB RAM or more is recommended, as well as at least 8 GB hard disk space for installation (individual plug-ins take less space, while sample libraries may require additional disk space)
Softube account
iLok account
Internet access for downloading installers and managing licenses
iLok generation 2 and up, if you intend to use an iLok key for authorizing your plug-ins (note that a physical iLok USB key is not a requirement)


In theory, any 64-bit VST, VST3, AU, or AAX (Pro Tools 11.0.2 or higher) compatible host application should work. However, due to plug-in host differences between DAWs - and our own rigorous testing standards - we only officially test our plug-ins and instruments in the most recent versions of Pro Tools, Logic Pro, Cubase, Ableton Live, Studio One, Reaper, and Cakewalk. Softube plugins are not tested in non-listed systems, but they most likely work as long as the system requirements are met. We cannot guarantee a solution for issues in unsupported systems.

Note: We have checked the basic functionality of our plug-ins, and Softube Central, under Apple Rosetta 2.

With regards to the different VST formats, we strongly recommend using VST3 as some of our plug-ins have features that are not present in the older VST format. Supported sample rates: 44.1, 48, 88.2, 96, 176.4, and 192 kHz, in both mono and stereo. The most recent maintenance release of your DAW application is recommended. AAX DSP is not currently in active development. TDM/VENUE is no longer supported (old downloads are available on the Legacy Installers page).

Find the Softube installer you need both Softube Central and individual plug-ins.

AAX DSP version

For AAX DSP you need to meet the above requirements for the Native versions. You also need to have an Avid HDX processing card. For plug-ins available for AAX DSP, see Which Softube plug-ins support AAX DSP?
© 2021 Motörhead Under license by Global Merchandising Services Ltd