Record-ready, low-end tones.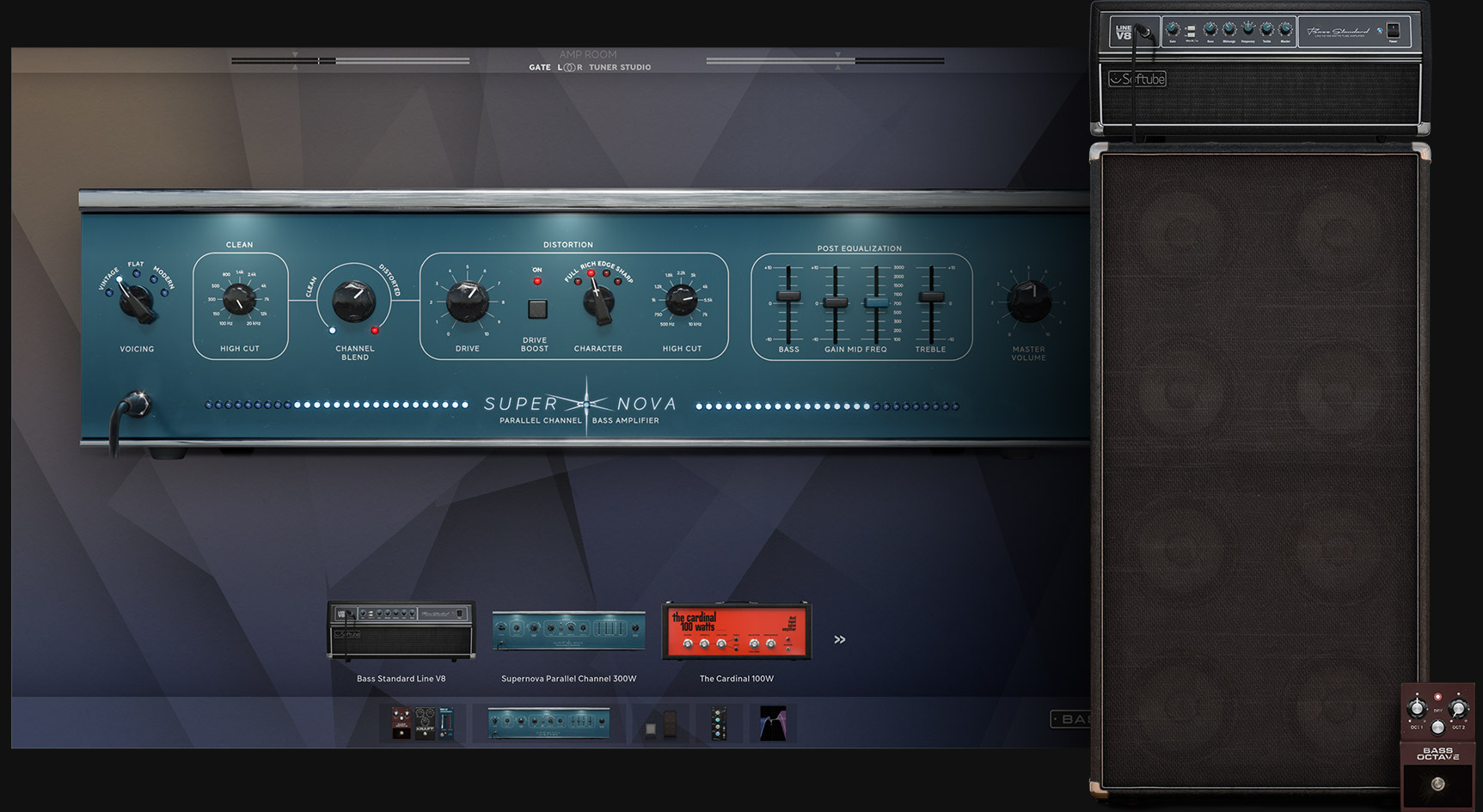 An Amp Room suite packed with amps, cabs, and pedals, such as Bass Standard Line V8, Supernova Parallel Channel 300W, The Cardinal 100W, and a Direct Input DI
Includes the Amp Room platform, three amps, one DI module, five cabs, ten stompboxes, 13 effects and utilities, microphone options, presets, and more
Featuring cabinet IR captures with moveable microphones, a parametric equalizer for added tone shaping
Guitar & Bass Platform
Amp Room Bass Suite
Get album-ready bass tones for everything from vintage '60s & '70s vibes to modern chart music and the heaviest distorted metal. Amp Room Bass Suite includes expertly modeled amps like Bass Standard Line V8, Supernova Parallel Channel 300W, and The Cardinal 100W.
Bass Suite
Suite Mode is an intuitive workflow with hand-selected sets of gear that let you quickly get the sounds you want with Bass Suite. You have easy access to your amps and cabs, as well as the pedal and effects sections. If you want to go further into tone shaping, you can switch to Studio Mode.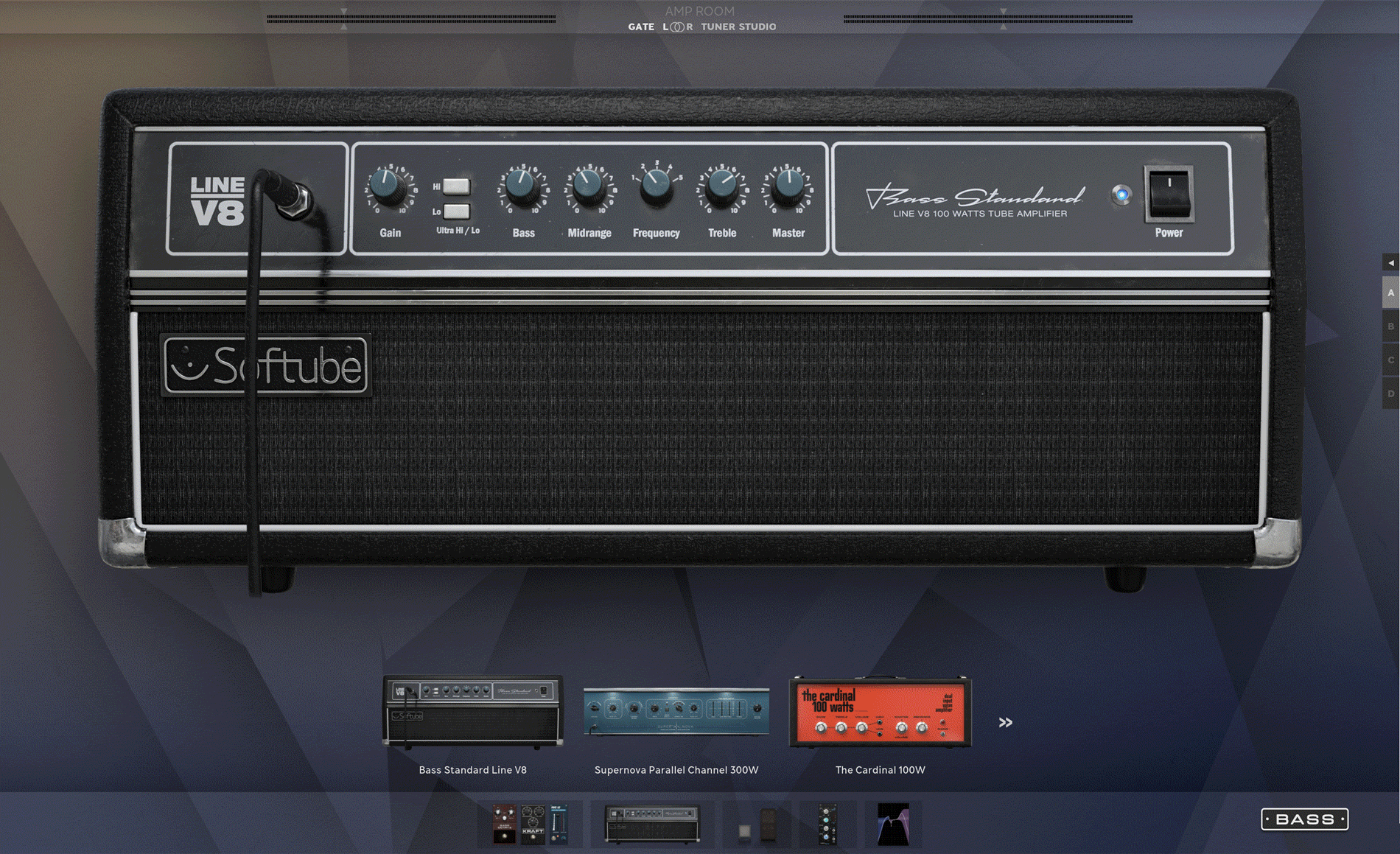 What's included
Amps & DIs
Bass Standard Line V8
This all-tube gem of an amp is the way to go for a bass sound with punch and grit, but also when searching for superb tone and clarity. Its quad of 6L6s offer an unexpected fullness of sound, and this bass amp is excellent for sparkly, clean guitar tones, too.
Supernova Parallel Channel 300W
Design your dream bass tone with Supernova, our modern parallel bass amp. You can easily sculpt your tone with the predefined EQ modes, distort one channel to your heart's content, blend the clean DI signal back, and return clarity and rumble in the low end for bass tones that shine like stars.
The Cardinal 100W
This bass amp has a few tricks up its sleeve. Based on an early '70s 100W UK valve PA amp, The Cardinal delivers tones with thick bass, tremendously firm mids, and clear treble. It takes pedals well and is a sleeper of a guitar amp.
Direct Input DI
Looking to achieve a great DI signal? Inspired by the Softube Focusing Equalizer, this EQ has a mid-band tone in the musical middle. Sculpt your sound by setting the low cut and high cut where they sound right, then adjust the tone control from thin to fat according to taste.
Cabs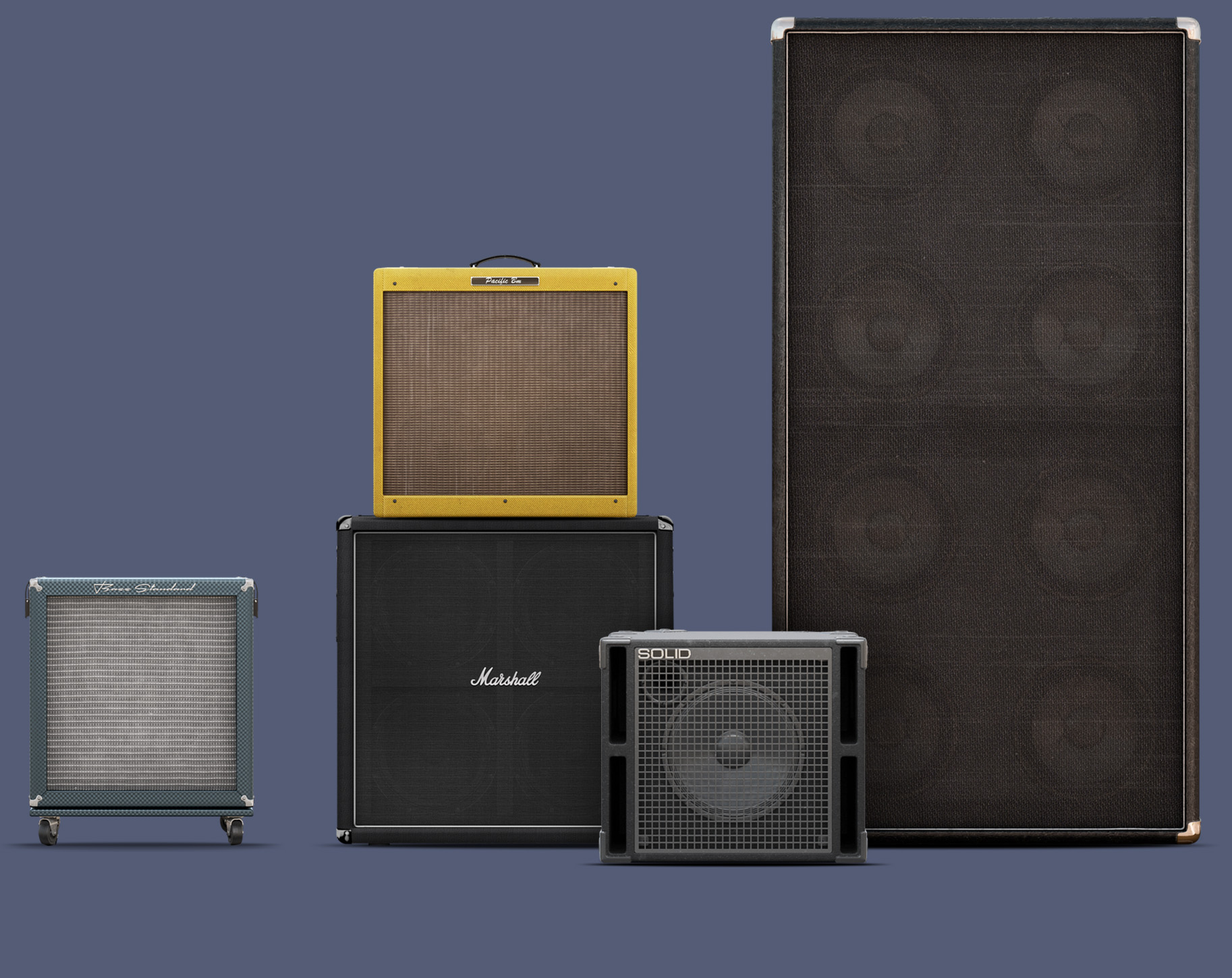 Pedals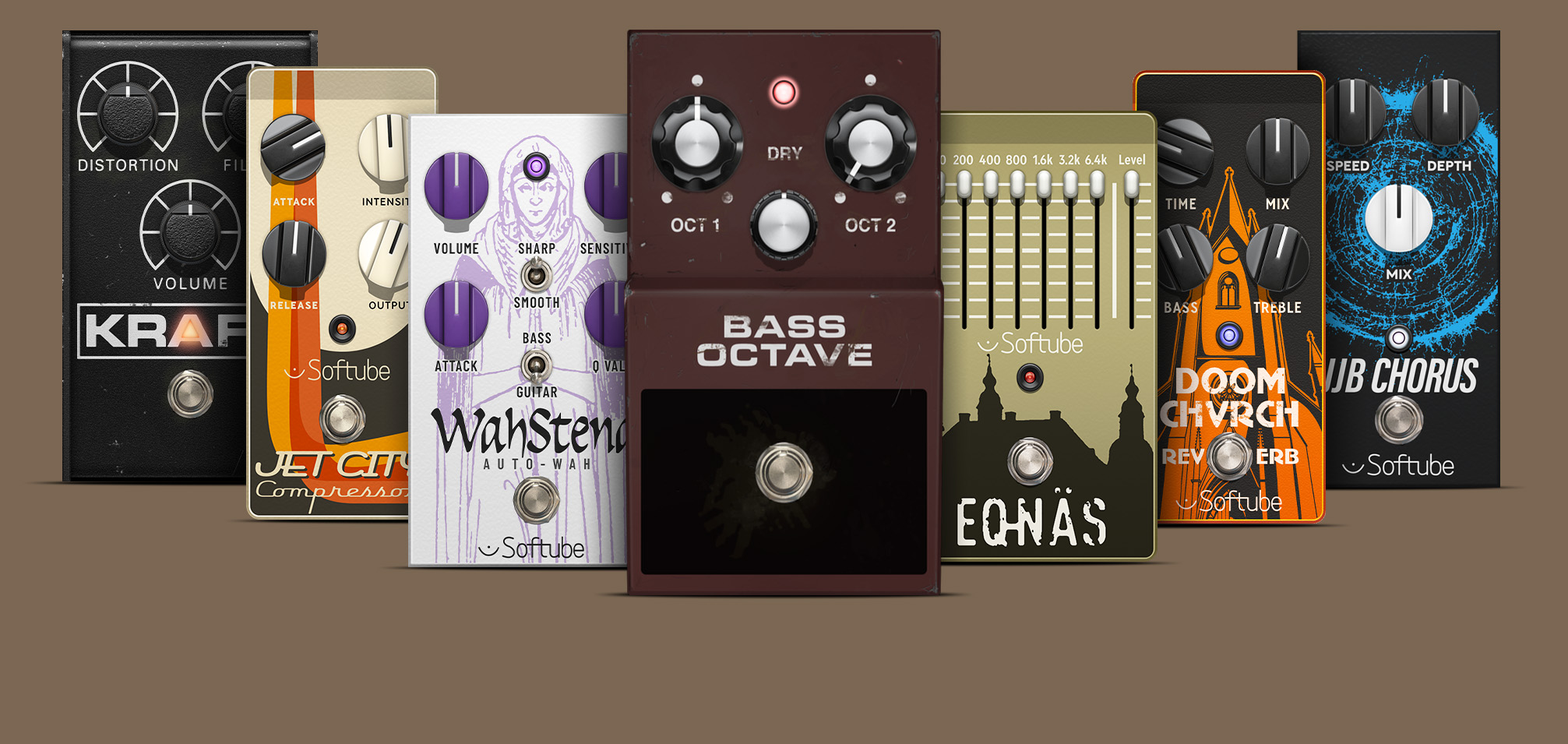 Studio FX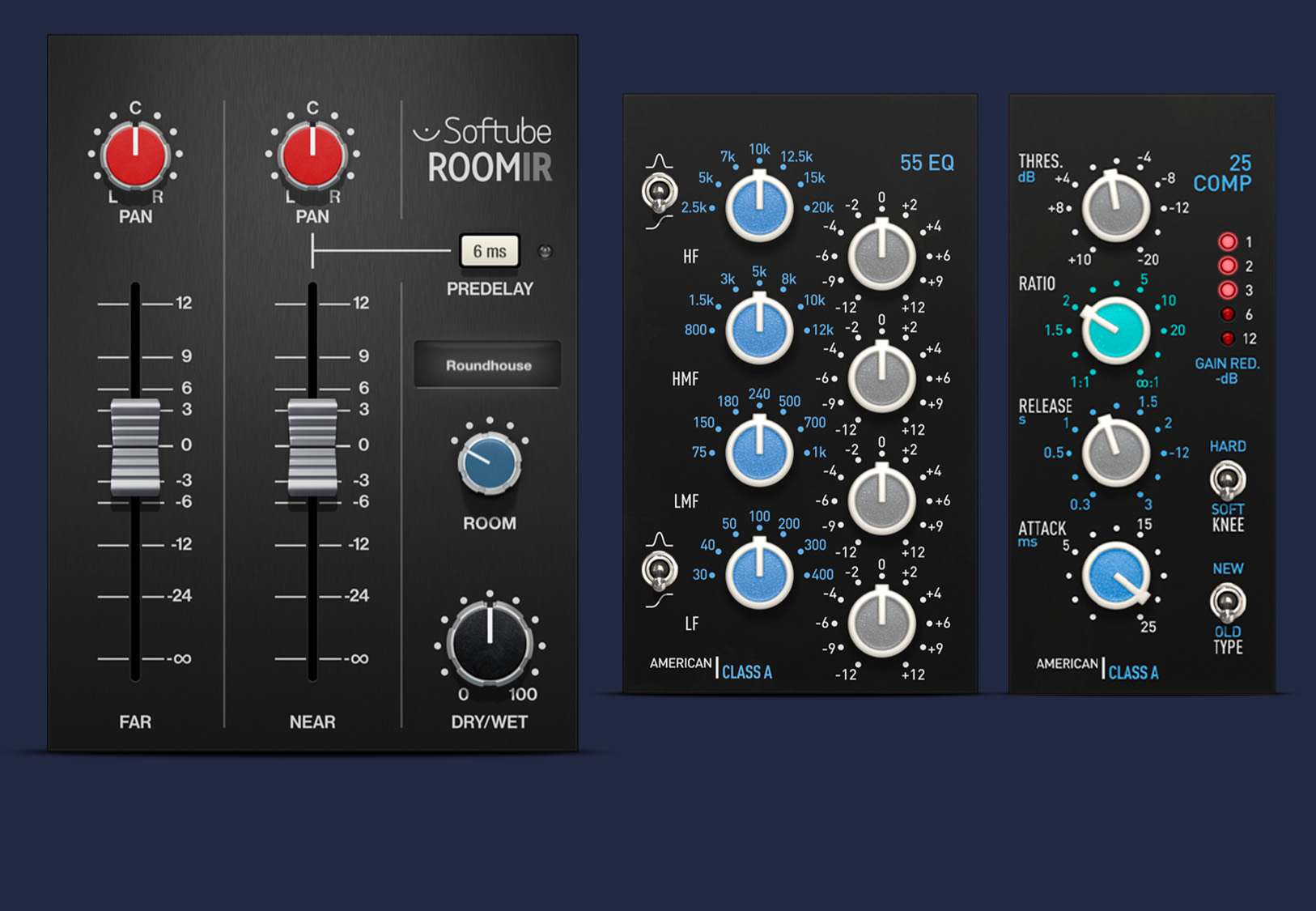 Full list of included gear
Amps

Bass Standard Line V8
Supernova Parallel Channel 300W
The Cardinal 100W
Direct Input DI
---
Cabinets

Bass Standard Line 8x10
Bass Standard 1x15
Solid 1x15
Pacific '59 BM 4x10
Marshall 1960 4x12
---
Pedals

Softube EQnäs EQ
Softube JJB chorus
Softube Jet Town compressor
Softube Wahstena autowah
Bass Octave octaver
RMS 63
Softube Wild Boar
Softube Trollegater
Softube Doom Chvrch
Kraft
---
Studio FX

Softube RoomIR
American Class A 55 EQ
American Class A 25 Comp
---
Other

Fully redesigned user interface
7 microphone options
12 effects and utilities
Custom IR loader
8 IR Producer Packs
A curated set of great-sounding presets
Customizable signal chains
Expandable with other Amp Room Suites and Amp Room Ready Softube products

Want to know more about the Amp Room platform?
Discover the pro audio guitar and bass platform that lets you create realistic sounds like you would in a high-end studio full of hand-selected gear.
System requirements

macOS Big Sur 11, Monterey 12, Ventura 13
Windows 10 (64-bit), Windows 11
Softube account
iLok account
Computer with AU, VST, VST3 and/or AAX compatible DAW host software
Internet access (for downloading installers and managing licenses)

Read full System Requirements and our Terms and Conditions