Your all-access pass to the Marshall Sound.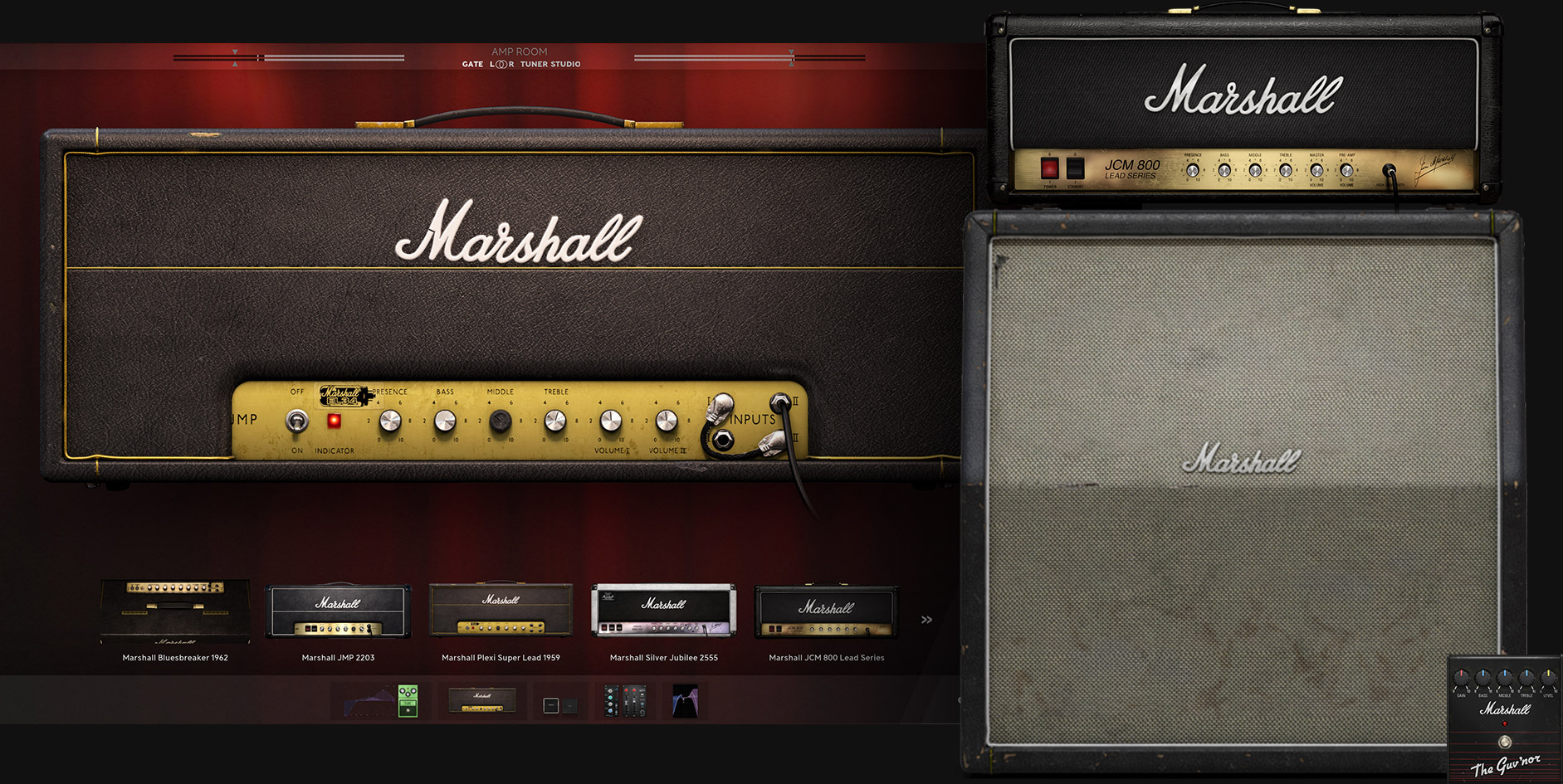 An Amp Room suite packed with officially licensed Marshall amps matched cabs, and pedals, such as Plexi, Silver Jubilee, JMP 2203, Bluesbreaker & Guv'nor
Includes the Amp Room platform, five amps, 12 cabs, ten stompboxes, 13 effects and utilities, microphone options, presets, and more
Featuring cabinet IR captures with moveable microphones, plus a parametric equalizer for added tone shaping
Guitar & Bass Platform
Amp Room Marshall Suite
Amp Room Marshall Suite lets you load the sound, soul, and heritage of Marshall Amplification into the Amp Room platform. Marshall Suite features officially licensed and absolutely iconic amps like Plexi Super Lead 1959, Silver Jubilee 2555, JMP 2203, Bluesbreaker 1962, and JCM800 Lead Series. Also included are Marshall cabinets with moveable microphones, well-known pedals like the Guv'nor, and studio effects.
Marshall Suite
Suite Mode is an intuitive workflow with hand-selected sets of gear that let you quickly get the sounds you want with Marshall Suite. You have easy access to your amps and cabs, as well as the pedal and effects sections. If you want to go further into tone shaping, you can switch to Studio Mode.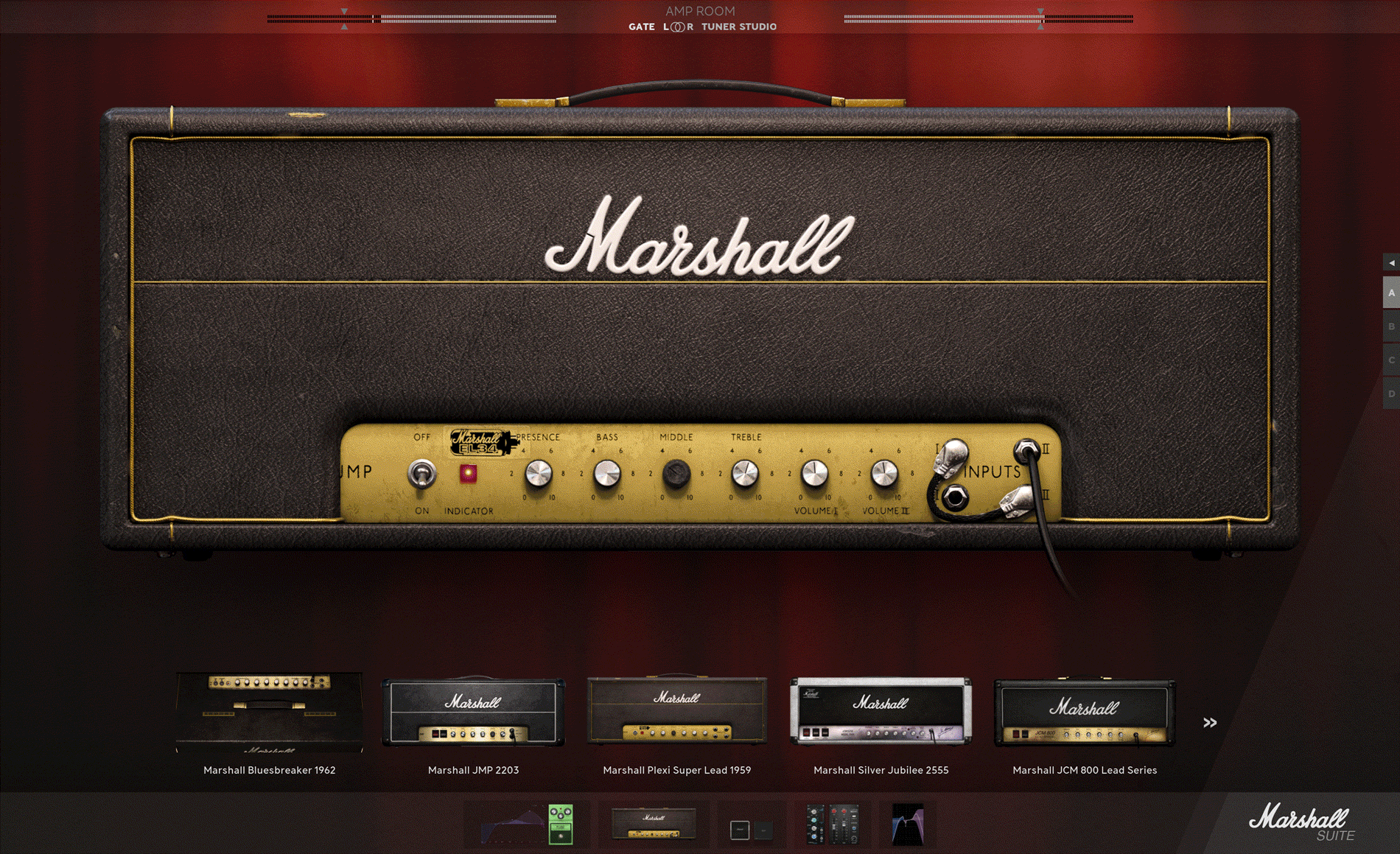 What's included
Amps
Amp Room Marshall Suite features five classic and officially licensed Marshall amps to give you the ultimate Marshall sound.
Marshall Plexi Super Lead 1959
The Marshall Plexi Super Lead 1959 is a piece of rock & roll history. We modeled every component of Marshall's museum-piece Plexi to deliver the most textured, detailed software version. It responds just like the hardware and is unbelievably sensitive to your playing style.
Marshall Silver Jubilee 2555
The Marshall Silver Jubilee 2555 is a super accurate plug-in version of an amp favored by rock gods and made in partnership with Marshall Amplification. Component modeled in fine detail after Marshall's reference 2555, this amp sim's flawless sound quality will take you to paradise city.
Marshall JMP 2203
We expertly modeled our Marshall JMP 2203 plug-in after the reference 2203 amp that Marshall uses to define the 2203 sound. Used by artists like Jeff Beck, Andy Summers, Tom Morello, AC/DC, Mötley Crüe, Judas Priest, Slayer, the Pixies, and more, the JMP 2203 is the quintessential rock amp.
Marshall Bluesbreaker 1962
A masterful component model of a Series 1 Bluesbreaker Model 1962 combo amplifier from Marshall's museum, our Marshall Bluesbreaker 1962 is a super exact version of the real thing. This blues/rock guitar legend will make you feel wonderful tonight — and every night.
Marshall JCM800 Lead Series
The classic JCM800 fully embodies the essence of the Marshall tone. The Master Volume allows for advanced tone sculpting. With the preamp on full and a low master volume, you get a tight overdriven sound. The opposite setting gives you looser and more vintage-sounding distortion.
Cabs
Amp Room Marshall Suite features five classic, hard-to-find, and officially licensed Marshall cabinets with moveable mics.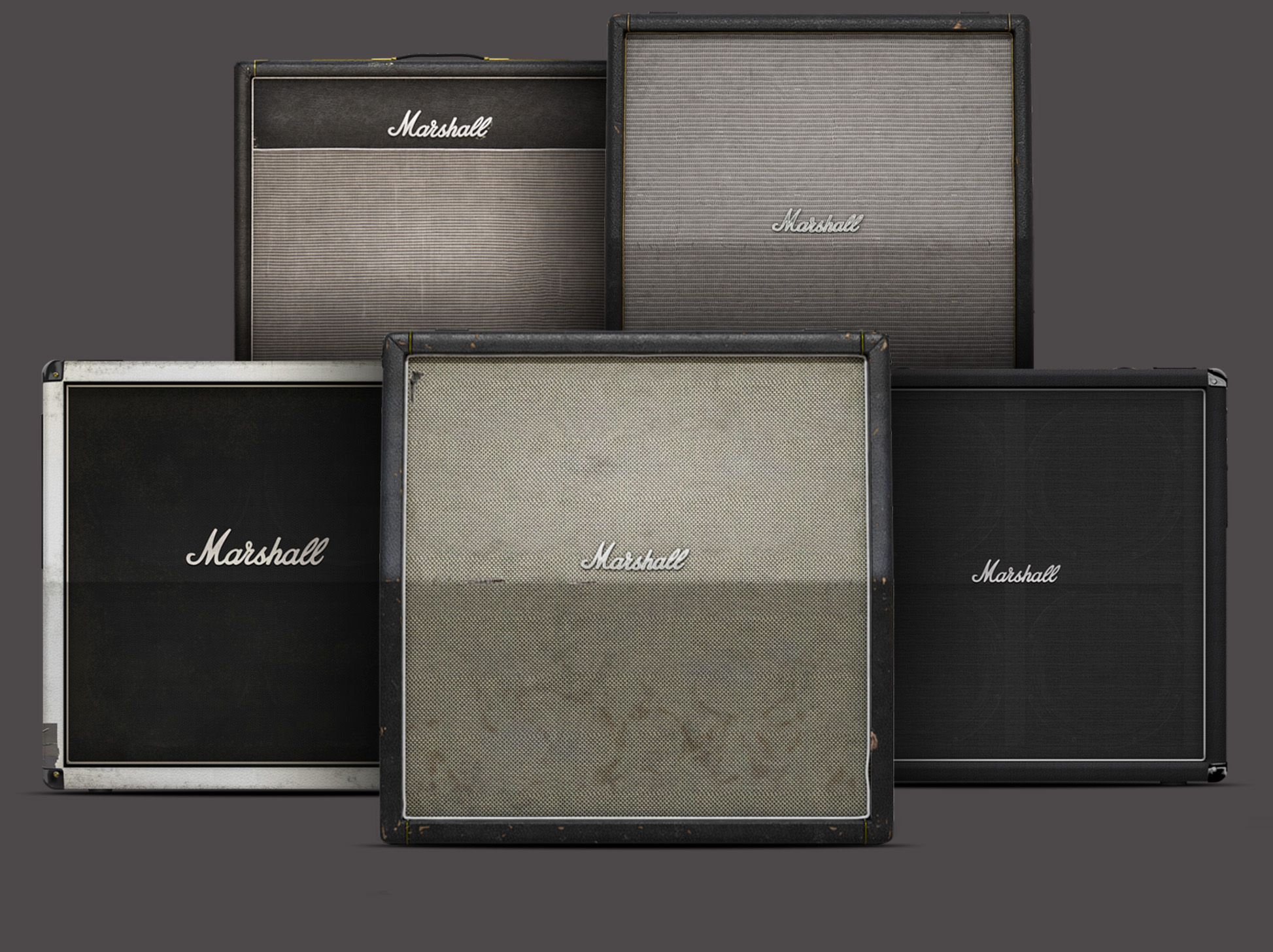 Pedals
Choose from ten pedals and stompboxes, including the Marshall Guv'nor overdrive.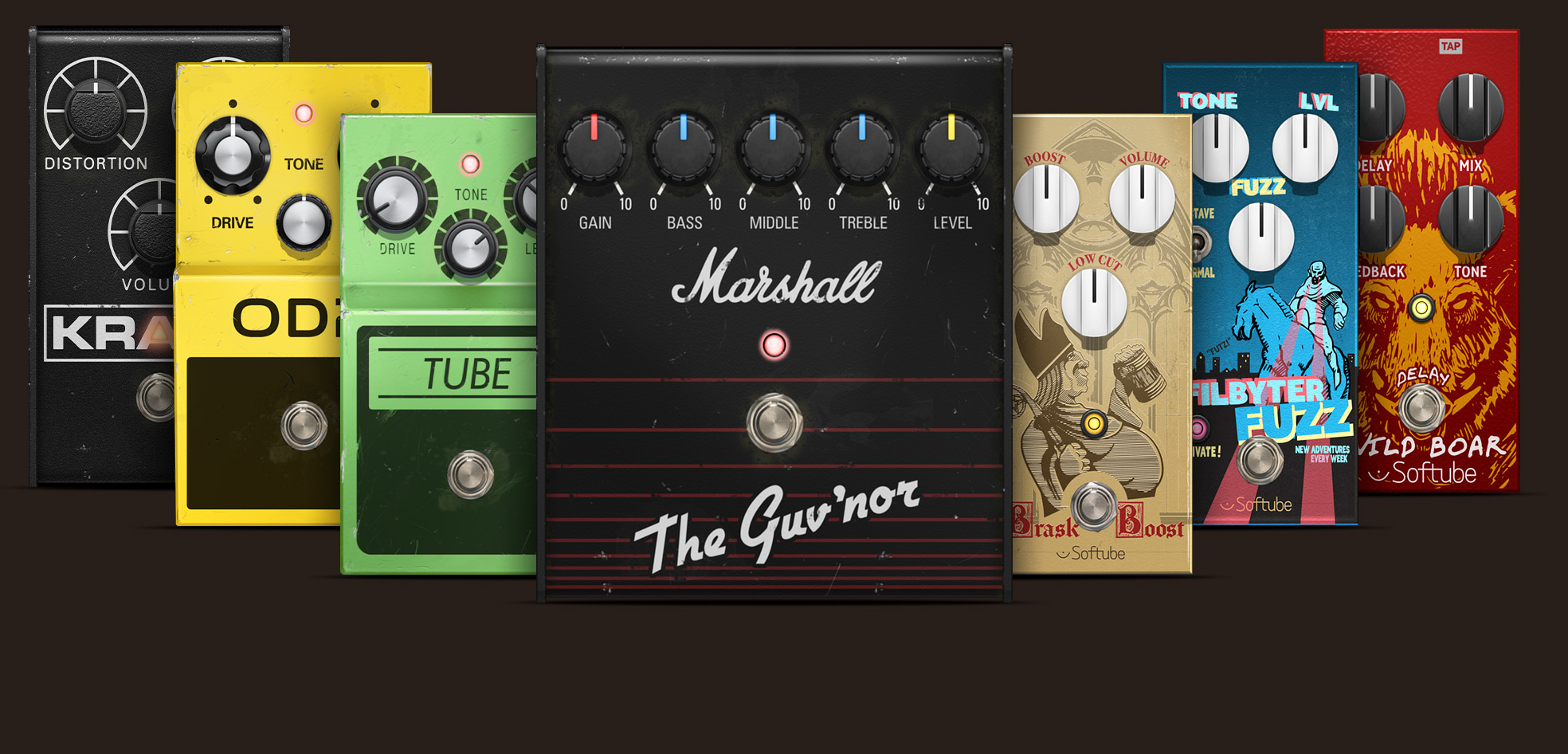 Studio FX
Amp Room includes RoomIR, EQ and compressor modules from American Class A, and is compatible with a hand-picked selection of studio FX plug-ins.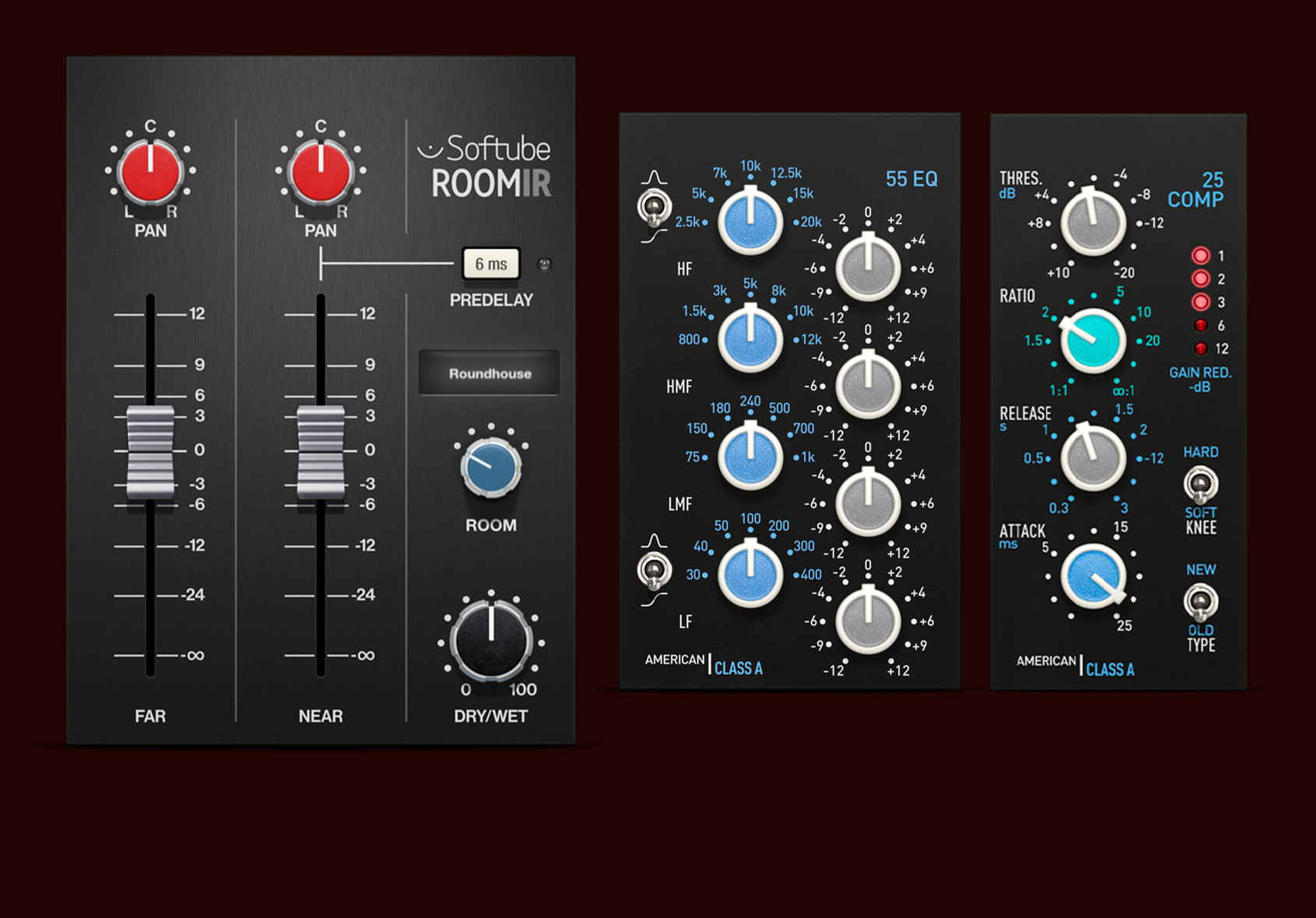 Marshall Cabinet Collection
Marshall Suite also includes your all-access pass to the Marshall Sound: Marshall Cabinet Collection. Featuring a versatile set of eight cabs with many mic options for each.
Learn more about Marshall Cabinet Collection.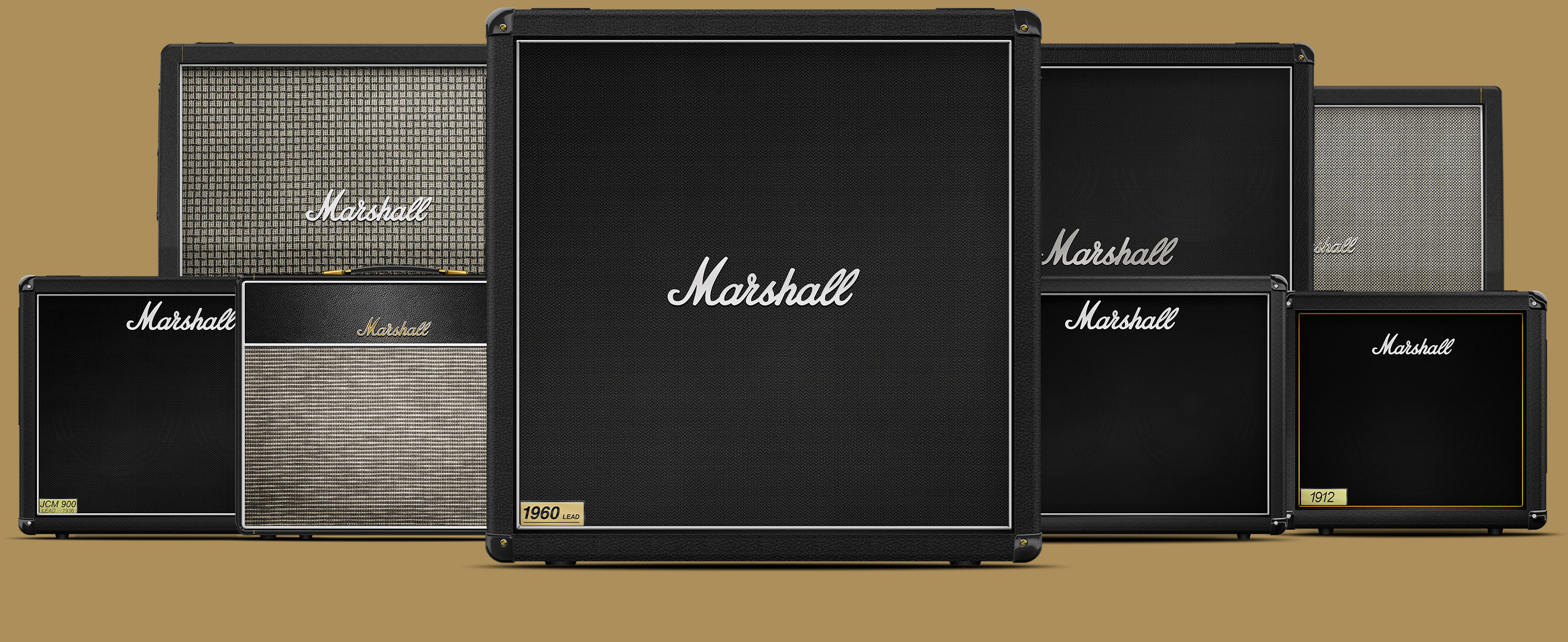 Full list of included gear
Amps

Marshall Plexi Super Lead 1959
Marshall Silver Jubilee 2555
Marshall JMP 2203
Marshall Bluesbreaker 1962
Marshall JCM800 Lead Series
---
Cabinets

Marshall 1960TV 4x12
Marshall Bluesbreaker 2x12
Marshall Basketweave '68 4x12
Marshall 2551AV 4x12
Marshall JCM800 Lead 4x12
---
Pedals

Marshall Guv'nor overdrive
Softube Tube overdrive
Softube Filbyter fuzz
Softube Lion Head vibrato
Softube ODR overdrive
Softube Brask Boost
Softube Wild Boar
Softube Trollegater
Softube Doom Chvrch
Kraft
---
Studio FX

Softube RoomIR
American Class A 55 EQ
American Class A 25 Comp
---
Marshall Cabinet Collection

Marshall 1960AX 4x12
Marshall 1960B 4x12
Marshall 1960BV 4x12
Marshall 1960HW 4x12
Marshall 1936 2x12
Marshall 1936V 2x12
Marshall 1974CX 1x12
Marshall 1912 1x12
---
Other

Fully redesigned user interface
7 microphone options
12 effects and utilities
Custom IR loader
8 IR Producer Packs
A curated set of great-sounding presets
Customizable signal chains
Expandable with other Amp Room Suites and Amp Room Ready Softube products

Want to know more about the Amp Room platform?
Discover the pro audio guitar and bass platform that lets you create realistic sounds like you would in a high-end studio full of hand-selected gear.
System requirements

macOS Big Sur 11, Monterey 12, Ventura 13
Windows 10 (64-bit), Windows 11
Softube account
iLok account
Computer with AU, VST, VST3 and/or AAX compatible DAW host software
Internet access (for downloading installers and managing licenses)

Read full System Requirements and our Terms and Conditions