Pulling no punchiness
for Console 1.
The punchiest strip in the Console 1 ecosystem
Created in partnership with the one-and-only Dave Derr and Empirical Labs​
The closest thing yet to an Empirical Labs console
Featuring Lil FrEQ's EQ/de-ess and Mike-E's comp/sat on the Console 1 sections
---
Console 1 Exclusive / Channel Strip
Empirical Labs Trak Pak for Console 1
Ever wonder how an Empirical Labs console would sound? Trak Pak has your answer and it's an emphatic, hell yeah. Introducing the Empirical Labs Trak Pak channel strip expansion for Console 1. In partnership with Dave Derr, the mastermind behind ELI, we expertly modeled two killer hardware units: the intensely punchy Lil FrEQ de-esser/analog equalizer and the hairy, fat-sounding Mike-E saturator/compressor. Turns out, these two get along like gangbusters.
Combined and configured for mixing, this pairing stuffs obscene amounts of power, punch, character, and analog warmth into a single channel strip. With the highly valued Console 1 workflow and bone-deep ELI sound, Trak Pak is unique for Console 1 and unlike anything on the pro audio market today. Drop exceptional analog sound and the perfect amount of vintage mojo onto your ecosystem with the Empirical Labs Trak Pak.
Designed by Experts, Built on Legacy
Softube has a long history of modeling professional gear. After nearly two decades working in collaboration with premium pro audio brands like Tube-Tech, Solid State Logic, Chandler Limited®, Weiss Engineering, and Trident, we have a solid track record recreating indisputable classics in software form that sound precisely like their hardware counterparts.
Empirical Labs Trak Pak for Console 1 is built on this legacy, and we took the same meticulous approach we always do – everything needs to be exact, with skillful recording, precise testing, and fine-tuning to sound exactly like the hardware that inspired it or even better. Nothing less.
Coming Out Shining: the ELI sound
Masterfully recreated in cooperation with Dave Derr and Empirical Labs, Trak Pak is a channel strip unlike any other in our catalog. It combines the signature ELI sound with the myriad workflow benefits that Console 1 is known and loved for. It's the nearest thing to an ELI console going.
Between the Eyes: Mike-E's
compression and distortion
The Mike-E compressor is that flawless blend of compression and distortion that modern production tracks demand. To make it more versatile, we split its functions into two Console 1 sections: Compressor and Drive. Compressor handles the pure compression side of things while Drive administers the gritty and warm distortion that Mike-E is famous for.
Smashing Punches: Lil FrEQ's EQ,
filters and De-ess section
The four-band parametric EQ, with the LF and HF sporting the now-classic fixed-frequency shelving filters. Added non-stepped high- and low-cut. The De-esser/HF Limiter in the Shape Section, making for some truly original sounds when combined with Mike-E's impressive Compressor and Drive sections. The heart and soul of Lil FrEQ have been transplanted into Trak Pak. And it's giving us life.
Temple of ELI
Based on components from the precisely-modeled Empirical Labs Lil FrEQ and Mike-E units, Trak Pak is our punchiest-ever channel strip for Console 1. Configured for mixing pros and optimized for the Console 1 workflow, Trak Pak features Lil FrEQ's High-Pass filter and a newly designed Low-Pass filter in the Input Section, Lil FrEQ's De-esser/HF Limiter in the Shape Section, and Lil FrEQ's parametric EQ and High/Low Shelving in the Equalizer Section.
Mike-E makes his mark in the Compressor Section. Trak Pak's Compression Section is the compression section from Mike-E's CompSat, which is based on the famous Distressor. Coming straight from the "sat" in Mike-E's CompSat, Trak Pak's Drive Section offers full-on, retro-flavored distortion. If you've ever been curious about how a Mike-E/Lil-FrEQ supergroup would sound, check out Trak Pak.
Superknown
Raised by a family of engineers, Dave Derr has gone from a chance encounter at Radio Shack to having his gear used in every major studio and on thousands of records. A rocker in his own right, his name is now synonymous with analog warmth, but he's not resting on his laurels. On the contrary. The humble genius behind Empirical Labs continues thinking and tinkering and incrementally improving on the already amazing array of products he's gifted the music industry. Products like Fatso, DerrEsser, and Distressor. It's that work ethic and empirical spirit that has made ELI so well-regarded in the pro audio sphere. Its products are real-world tested and built to get the better of obsolescence. Softube couldn't be prouder to be part of the Dave Derr and Empirical Labs legacy with our authentic emulations of their modern analog classics: Mike-E, Lil FrEQ, Trak Pak, and the Empirical Labs Complete Collection.
Learn more about our partnership with Empirical Labs
The anatomy of the
Trak Pak channel strip
Input section
Consisting of the high-pass filter from the Lil FrEQ, and a newly designed low-pass filter that was created using the high-pass circuits. It features that sweet bump that gives the cuts a nicely defined sound.
Shape section
This is not your dad's gate or shape section. It's the De-esser/HF Limiter from the Lil FrEQ. In HF Limiter mode it will work as a limiter for all frequencies above the cross-over frequency and is excellent for taming hard transients as well as emulating analog tape. In de-ess mode (with the HF Limiting turned off) it's a level-independent de-esser that can turn down comparatively high or harsh frequencies in an extremely musical manner.
Equalizer section
The heart and soul of the Lil FrEQ transplanted. It's a four-band parametric EQ in which the LF and HF have the classic, fixed-frequency shelving filters of Lil FrEQ. We also added a non-stepped high- and low-cut, based on the circuitry in the Lil FrEQ.

Compressor and Drive section
To make Mike-E's near-perfect compressor even more versatile, we split the functionality into two Console 1 sections: Compressor and Drive. Compressor is the pure compression side of things, with continuous attack and release times as well as a classic Threshold control. Drive imbues Mike-E's warm and toasty distortion that is famous for adding glue and control to the track. The Character knob has the same type of brighten-or-darken functionality as seen in the SSL SL 4000E strip.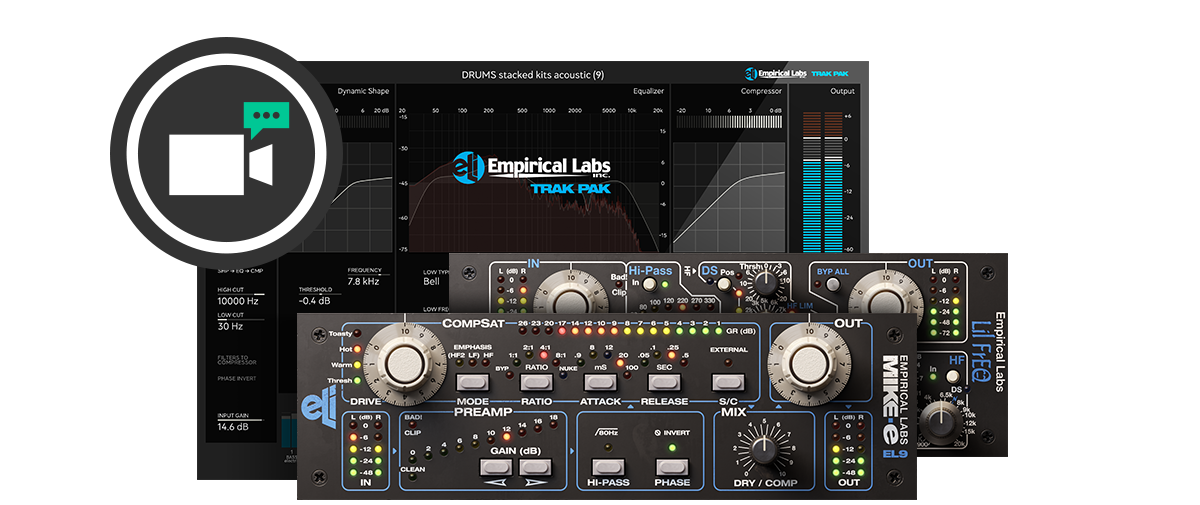 BOOK A LIVE DEMO
Itching to know all there is to know about our Empirical Labs + Softube suite of products? Or just want to get up and running as quick as you can? Either way, we got you covered. Book a private video session with our product demonstration team today. Learn more
In short
Made for Console 1, our mixing ecosystem. Learn more about Console 1
Based on components from the precisely-modeled Empirical Labs Lil FrEQ and Mike-E units
Optimized for the Console 1 workflow
Sound and performance equivalent to the hardware counterparts
The celebrated Empirical Labs sound
ELI available for the first time as a channel strip
Created in collaboration with the authority, Dave Derr of Empirical Labs
Product features

It's basically like having an Empirical Labs console
High and Low-pass filters from the Lil FrEQ: 18 dB/octave
Shape section from the DS section of Lil FrEQ (DS and HF, high frequency limiting)
4-band parametric EQ from Lil FrEQ with the separate shelves and filters selectable on the LF and HF bands: Gain +-14 dB
Compressor from the Mike-E (based on the Distressor) including NUKE mode
Compressor ratios: BYP, 1:1, 2:1, 4:1, 8:1 & NUKE
Compressor attack times: 0.9 ms to 100 ms
Compressor release times: 0.05 s to 0.5 s
Drive has the multistage soft-clipping from the Saturator of Mike-E

System requirements

macOS Big Sur 11, Monterey 12, Ventura 13
Windows 10 (64-bit), Windows 11
Softube account
iLok account
Computer with AU, VST, VST3 and/or AAX compatible DAW host software
Internet access (for downloading installers and managing licenses)

Read full System Requirements and our Terms and Conditions