Our idea of the perfect channel strip.
A Console 1 exclusive

Channel strip software that includes tape, filters, three shape processors, two equalizers, three compressors & a drive section

Featuring the sounds of Tape, FET Compressor Mk II, Bus Processor, and more

Hand-picked, high-quality processing for Console 1 Mk I, Mk II, and Channel Mk III
Console 1 Exclusive / Channel Strip
Core Mixing Suite
Made for all generations of Console 1
Core Mixing Suite was created exclusively for Console 1. The Core Mixing Suite software is included with Console 1 Channel Mk III. It is available for purchase for Console 1 users who wish to use it with their Mk I or Mk II hardware. Read on for more information about Core Mixing Suite.
We combined your feedback and our DSP knowledge to create our idea of the perfect channel strip. Core Mixing Suite gives you the sound of your favorite tools, your preferred workflow, and the ability to paint with broad strokes or get very precise. All in a single channel strip created exclusively for Console 1.
Core Mixing Suite delivers the award-winning sounds of our Tape, FET Compressor Mk II, and Bus Processor plug-ins in versatile tape, filter, shape, equalizer, and compressor sections. Plus, an innovative drive befitting our stellar reputation for saturation. It's all at your fingertips with Core Mixing Suite for Console 1.
The Art of Rock & Roll Science
Our reputation for creating tools that enhance workflow and offer superior sound quality is rock solid. Our partnerships with premium brands like Tube-Tech, Solid State Logic, Chandler Limited, Weiss Engineering, and Trident have spanned decades.
We built Core Mixing Suite on this legacy of passion, expert modeling, and attention to detail. Because to create synth plug-ins that innovate and elevate, you have to have heart, soul, and Rock & Roll Science.
The sound
The core of every mixing console is its sound, and we wanted to make sure Core Mixing Suite delivers the best. That's why we equipped it with the high-quality sounds of our award-winning Tape, Bus Processor, and FET Compressor Mk II plug-ins. What better way to get the authentic sounds of top-tier studios than to go straight to the Rock & Roll Scientists known for component modeling at an incredibly high level?
The flow
Twenty years' worth of listening, analyzing, and modeling more mixing consoles than we can count have gone into Core Mixing Suite. What we learned through experience, and speaking with you, is how much the workflow influences the sound and, therefore, just how damn important it is to get it perfect. A turn of a knob needs to feel right , and the action needs to be in harmony with the change in the sound. That's why Core Mixing Suite gives you more processing at your fingertips than most tracks will ever need.
The sections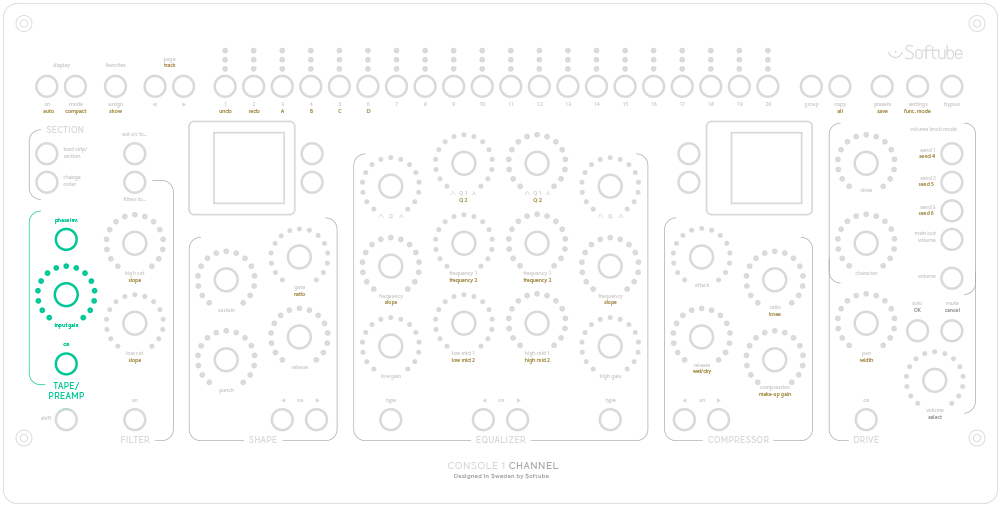 Tape/Preamp
Soften the transients, add tape shine and cohesiveness to your track in the Tape/Preamp section. The algorithm is the same as our famous Tape plug-in, and it uses the default setting (Type A with 15 IPS) with no audible tape modulation.
Filters
The Filter section consists of low-pass and high-pass Butterworth filters with selectable slope (6, 12, 18, 24, and 48 dB/octave). These filters are designed to be maximally flat and have a more linear phase in the passband, to be as transparent sounding as possible.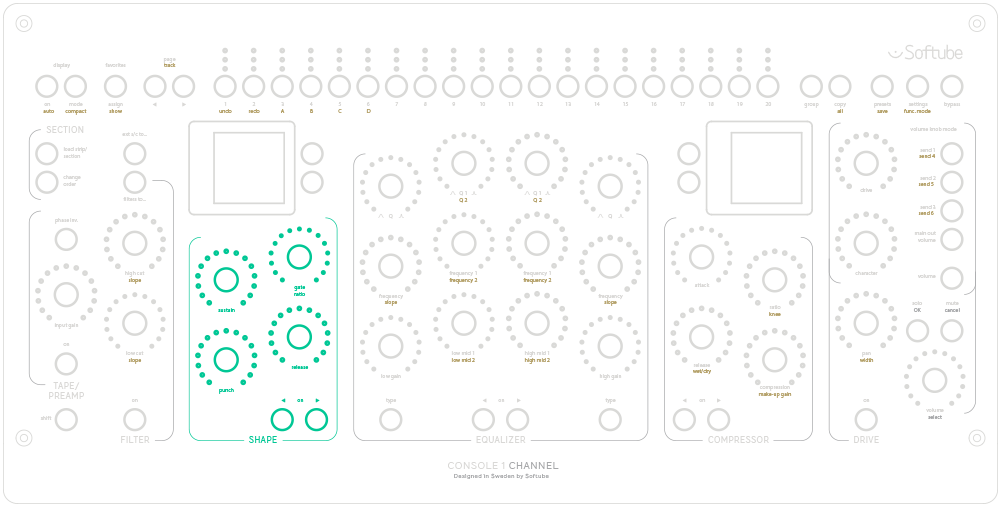 Shape
Core Mixing Suite has three unique Shape sections: Core Shape, Core Panner, and Core Dual Dynamics. Each can help address a different need, from shaping your sound with gating, expansion and compression, transient shaping to mono compatible binaural panning.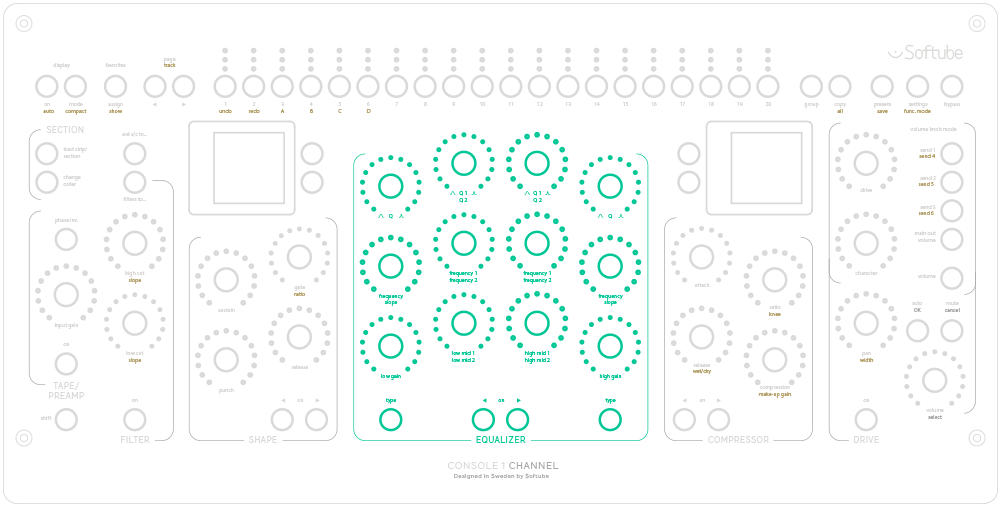 Equalizers
Core Mixing Suite includes two distinct EQs with two distinct purposes. The smooth and musical Vintage Equalizer is great for broad strokes when you want to balance the mix. The Modern Equalizer is precise, flexible, and ideal for corrective work.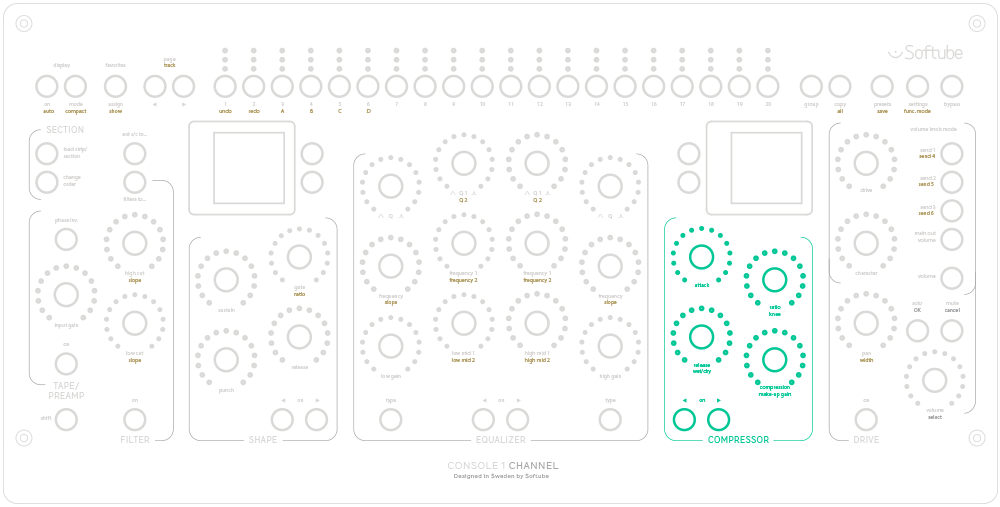 Compressors
Core Mixing Suite gives you the actual compressors you find in every wellequipped studio: FET, Opto, and Bus. With Console 1 Channel Mk III's dual compressors, you can set up your vocal chain with both FET and Opto. Or take advantage of the dual slots for every track.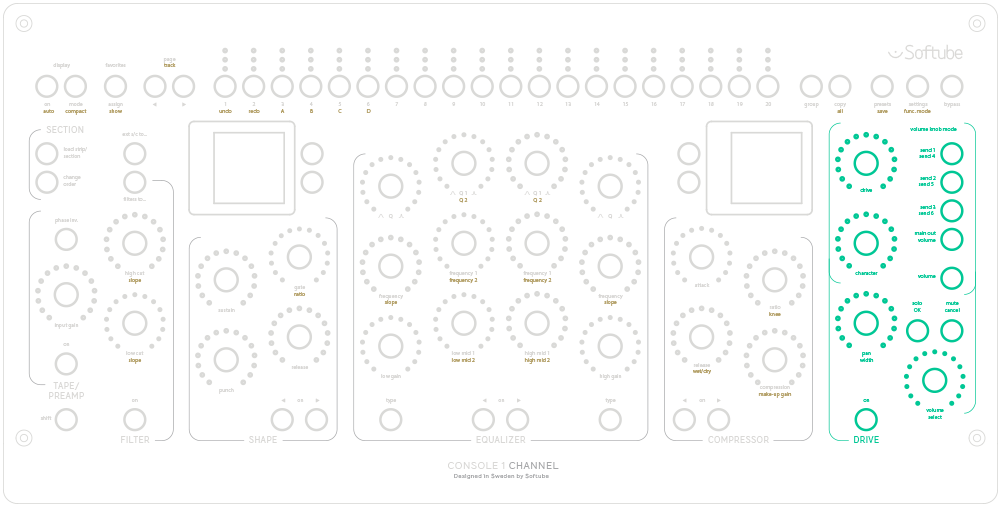 Drive
It would be hard to live up to our reputation as the masters of distortion if we didn't give you a brand-new drive. Core Drive was designed to add energy, push the mids forward, and make your source audio come alive. The Character will push either the high frequencies or low frequencies harder, depending on which way you turn it.
Core Mixing Suite for Console 1 Mk I and Mk II
Core Mixing Suite lets you get the most possible out of the nine sections of the Console 1 plug-in. If you're a Console 1 Mk I or Mk II user, you can rest assured that, with few exceptions, Core Mixing Suite will function for you virtually as it does with Console 1 Channel Mk III. Key differences to note if you use Mk I or Mk II hardware: your access to dual sections and the Tape/Preamp section will be available via the Console 1 plug-in, not from the hardware as it is with Channel Mk III.
In short
Our idea of the perfect channel strip
Softube Tape/Preamp section
Shape: new utility tools and three different processors: Gate & Shape, Dual Dynamics, Core Panner
Two equalizers: passive vintage and precise modern
Three compressors based on FET Compressor Mk II, Bus Processor, and OPTO Compressor
Newly designed drive algorithm
Available exclusively for Console 1
System requirements

macOS Big Sur 11, Monterey 12, Ventura 13
Windows 10 (64-bit), Windows 11
Softube account
iLok account
Computer with AU, VST, VST3 and/or AAX compatible DAW host software
Internet access (for downloading installers and managing licenses)

Read full System Requirements and our Terms and Conditions