Write a hit.
Make a statement.
The polyphonic lead synth for modern producers and songwriters
Features careful recordings of rare, expensive hardware synths and unrivaled Softube effects
The intuitive user interface and the presets make it easy to get started, resulting in polished sounds in no time
Three versions included: Statement Lead, Statement Lead for Modular, and Statement Lead for Amp Room
---
Lead Synthesizer/ Modular Ready
Statement Lead
When inspiration strikes and your new hit song begins to take shape, it feels like magic. The trick is finding that inspiration in the first place, and it also helps a lot if you have an easy way to transport your ideas from inside your head to a flawless recording that you can share with the world. Don't you worry child, we have a plan for you.
Statement is a state-of-the-art, user-friendly polyphonic synth designed with the contemporary producer and songwriter in mind. With carefully recorded and processed sound sources from rare and expensive synths, built-in effects of the highest quality, and modules for our endlessly expandable Eurorack modular synth Modular, Statement inspires you to make a statement. This is the lead synth you need to create hit songs that sound polished and finished with no complications along the way.
Designed by Experts, Built on Legacy
Softube has a long history of modeling professional gear. After nearly two decades working in collaboration with premium pro audio brands like Tube-Tech, Solid State Logic, Chandler Limited®, Weiss Engineering, Trident, and more, we have a solid track record recreating indisputable classics in software form that sound precisely like their hardware counterparts. This includes expertise in component-modeled mixing and mastering tools and synthesizer plug-ins like Modular, the Eurorack platform you can use to build your own version of Statement Lead and much more.
Statement is built on this legacy, and we took the same meticulous approach we always do – everything needs to be exact, with skillful recording, precise testing, and fine-tuning. Nothing less.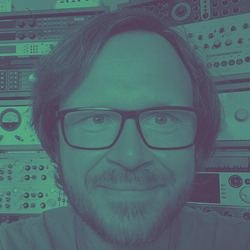 "After my first collaboration with Softube at Monoment Bass, I had a lot of fun again with our second joint project Statement Lead. Once again I made full use of my studio, recording rare vintage (Synclavier, Four Voice, Deckard's Dream etc.) and modern (Schmidt synth & modular stuff) hardware and software synths – but not raw and dry, but already with several processing steps to get to the waveform sound you can hear in Statement Lead. I think the result is great, many unique features like the great filter and the little sequencer make Statement Lead a fantastic lead synth for many use cases."

Sound designer and rare synth collector
High-Quality Effects
Statement comes with built-in Softube effects that give you precise control over your sound. Sculpt your lead parts exactly how you want them with Drive, Reverb, Delay, and more.
Rare, Legendary Sounds
Build up your own unique sounds with a mix of one or two of the 90 waveforms recorded from a variety of rare, expensive hardware synths.
The Perfect Songwriting Tool
The carefully designed presets make it easy to get started, and the intuitive interface speeds up the process of going from idea to finished song.
Use it in Modular & Amp Room
Create a hybrid monster synth in Modular with Statement Lead's Source, Filter, and FX modules. Or take it to Amp Room, where you can combine Statement Lead's Filter and FX modules with everything from effects to pedals for high-quality guitar and bass tones.
Unique Sound Sources and
Cool Filter and Sequencer Options
The sound sources include 90 waveforms in 11 different categories. Each sound is built up by a mix of one or two of these waveforms. You can also opt to add a dirt layer of looped material such as TV Screen, Taped Storm, and Robotic Noise or transient material such as Plastic Attack and Metal Attack from the Analog Dirt section to add some grit for a richer or dirtier sound. The dirt can be mixed with the other sound sources and sent to the filter or sent dry to the output section.
The Filter section with built-in Modulation Sequencer consists of an analog-sounding low-pass filter with three slope types, 6, 12, and 24 dB/octave. You can adjust cutoff frequency, feedback, envelope type and timing, and how much the envelope will affect the cutoff frequency. The sequencer is always running with its tempo synchronized to the DAW clock, so you'll always get a rhythmic change in time with your music. The loop length of the sequencer can be set from 1 (no loop) to 16 (all of the available 16 steps), and these steps can be set to levels or as distinctive on/off triggers to affect filter cutoff or output volume, either stepped or slewed.
A Few Powerful Tone Controls,
All Kinds of Creative Possibilities
Shape your sound further in the Tone section, where you can mix your sound sources and choose whether you prefer an overall sharp attack or a slow fade-out for your sound. Punch sets the overall amplitude envelope of the sound, from a slow buildup to something snappier and punchier. With Auto-Glide, you can start or end each note with an automatic pitch-bend up or down with a programmable time and range that can go from minus two octaves to plus two octaves. You can select how you want to trigger it, for example if velocity is above a certain threshold, if aftertouch reaches a certain level, or every time a note is played or released. This is very useful for creating organic analog sounds. Aging sets the amount of unpredictability – if you turn this up, you get less stable pitch and more unpredictable attacks, dirt and grit, and analog goodness.
Sculpt Your Sound With
High-Quality Effects
Statement comes loaded with effects make it easy to fine tune, create spaces, add clarity, and further sculpt your lead sounds. These include Drive, Reverb, Delay, Multiband Compression, and Spatialization. The Delay and Reverb are very sophisticated and adapted for synthesizer sounds featuring Synced pre delay and ducking on the Reverb, 8 individual L & R taps, and ducking on the delay. The Multiband Compressor is a smart one-knob solution, and the control set has been thoroughly tweaked to give you as much control as possible with as few knobs as possible. These effects have been thoughtfully selected and specifically designed for polyphonic synthesizer-lead sounds with the same superb quality as Softube mixing plug-ins.
A Modern Instrument Designed by the Best
The extensive source material for Statement Lead came from carefully recording and processing the sounds of rare, well-known, expensive hardware synthesizers to produce 90 different waveforms in 11 different categories to serve as sound sources. To accomplish this, we worked with sound designer and rare synth collector Tobias Menguser, who also partnered with us to create our Monoment Bass. Check out this short video to learn more about his process during the creation of Monoment.
Statement Lead and Monoment Bass, Synth Siblings
Softube's bass synth Monoment Bass has the same kind of user interface and many of the same features as Statement. They were designed to work perfectly together to write and produce hit songs in the EDM, drum and bass, and house genres. Use Monoment for bass sounds and Statement for lead sounds and you have the entire range covered. The two synths feature quite different waveforms and slightly different effects with the same intuitive design and phenomenal sound quality. If you use Monoment already, Statement is the perfect addition for you, and you'll feel right at home when using it. If you don't and you're ready to create complex sounds with an analog feeling, they're the perfect pair to meet all of your songwriting needs.
Learn more about Monoment Bass
Inspiring Presets to Get You Started
For a producer in the EDM, drum and bass, and house genres, it's essential to have presets you can browse through to achieve a polished sound in seconds. This is so much easier than working with the complicated parameters of an analog synth. Statement comes loaded with carefully created presets that are the perfect starting point for finding an inspiring sound. There are no fillers—they're all good and the perfect starting point to find the type of sound you hear in your head. After you find it, you can dig deeper and start tweaking until it's exactly the sound you need.
Statement Lead instrument
Statement Lead instrument is a five-octave polyphonic synth plug-in for lead sounds with 90 waveforms recorded from a variety of rare, expensive hardware synths and built-in Softube effects to give you precise control over your sound.
Statement Lead for Modular
The Source, Filter, and FX sections of Statement Lead are included as modules for Modular, for when you want a section of a synth to be able to combine with something else. It's easy to use and combine single parts of the synthesizer in a modular workflow to build patches and get an authentic polyphonic synth sound. This really opens up possibilities for innovative sound creation. Learn more about the individual modules below.
Learn more about Modular
Statement Lead for Amp Room
Statement Lead offers two modules for our pro audio guitar and bass platform Amp Room: Statement Filter and Statement FX. Statement Lead FX features five unique FX types: Delay, Drive, Multi-band Compressor, Reverb, and Spatialization. Merge the modules with other effects, amps, cabs, and pedals to effortlessly create studio-quality, record-ready guitar and bass tones.
Statement Source
Statement Source is the source engine from Statement Lead as a stand-alone module. It has a built-in amplitude envelope, waveform mixing, dirt level, and aging. It can be played polyphonically within modular over midi and/or monophonically at the same time via the gate and note jacks. The dirt level, punch, release, and aging parameters have CV control.
Statement Filter
Statement Filter is the filter section from Statement Lead as a stand-alone module. It has a built-in filter envelope and sequencer. The envelope is triggered through the external gate jack. All of the sequencer functions, which include slew, range, amount, and swing, have external CV control. The sequencer is automatically locked to the DAW tempo at all times.
Statement FX
Statement FX is the effects engine from Statement Lead as a stand-alone module. It has five modes, drive, reverb, delay, multi comp, and spatialization, that can be run one at a time. Up to three parameters in each mode have external CV control.
In short
A 5-octave polyphonic synth designed for lead sounds with an organic, analog feel
Three versions included: Statement Lead, Statement Lead for Modular, and Statement Lead for Amp Room
Amazing sound quality from careful recordings of rare, expensive hardware synths
High-quality effects built right into the plug-in
The perfect song writing tool for EDM, drum and bass, house, and more, with an intuitive user interface and 150+ carefully designed presets
The lead sounds counterpart to Monoment Bass, with the same type of interface and similar features. Learn more about Monoment Bass
The 90 sound sources can be used two at a time with smart, modern tools that make it easy to dial in the foundation of the sound
Includes three modules for Softube Modular: Source, Filter, and FX. Learn more about Modular
Includes two modules for Softube Amp Room: Filter and FX. Learn more about Amp Room
Advanced analog-sounding filter with its own modulation sequencer
Advanced Auto Glide for creating organic-sounding analog sounds
Analog Dirt feature: adds grit for a richer or dirtier sound
Aging feature for less stable pitch, more unpredictable attacks, and even more dirt and grit
Product features

90 Sound Sources and waveforms
20 Layer Sounds as Analog Dirt
Analog sounding low pass filter with 3 slope types, 6, 12 and 24 dB/oct
16 Step filter sequencer
Advanced Auto Glide with conditional features
Aging feature; pitch, attack, dirt and grit.
Softube effects:
Drive
Reverb with ducking and synced pre-delay
Delay with ducking and 8 individual L and R taps
One-knob multiband compression
Spatialization
150 stunning presets

System requirements

macOS Big Sur 11, Monterey 12, Ventura 13
Windows 10 (64-bit), Windows 11
Softube account
iLok account
Computer with AU, VST, VST3 and/or AAX compatible DAW host software
Internet access (for downloading installers and managing licenses)

Read full System Requirements and our Terms and Conditions