World Tour sound
in your studio.
Fully-featured bass amp simulation to cover every need, vintage and modern
Choice of four classic microphones per cabinet, expertly selected and placed
Faithful modelling of class-leading, top-quality equipment
Bass Amp / Amp Room Ready
Eden WT-800 Bass Amp
There are a handful of classic names in bass guitar amplification, but few have the combination of pedigree and sheer modern versatility that comes with the Eden WT-800.
Featuring a full range of tools from compression and five-band EQ, to easy bi-amping and an 'enhance' knob for quick and effective scooping of mid-frequencies, the 'World Tour' amp really can do it all, around the globe.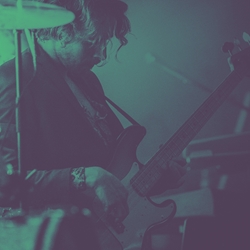 "I love the Eden WT-800 plugin! It sounds really good and gets the most out of my basses. I love the fact that it's so versatile, but yet so 'simple'. Really impressive."

Pro mixer/producer and bass player for DI-RECT
Twin-Cab
Choose between our beautifully modelled Eden 4x10 and 1x15 cabinets, or blend them together. You can even split your signal with the bi-amp feature to send your lows and highs to different cabinets.
4 Classic High-End Microphones
Troy Antunes, bassist and producer with Justin Timberlake, Al Green, and Pharrell Williams, selected and positioned four top-of-the-line mics to give you a wide variety of incredible sounds.
'Enhance' Your Tone
To get that modern, scooped bass sound, whether for hip hop or metal, Eden designed the 'enhance' knob. One big twist gives you a smiley-face, and a bigger, better tone.

This product supports
Extended Features
We love VU meters, Bakelite knobs, and analog quirks. But we want modern precision and workflow. The answer? Softube Extended Features. Easy-access panels with the innovations you need close at hand.
Pro favourite
Innumerable pro players, including Mike Rutherford of Genesis and Mike Gordon of Phish, have come to treat this amp as essential. It's great for the grungey dirty vintage sounds, of course, but for the heft and clarity required by modern hip-hop, R&B, pop, metal, and jazz, there aren't many that can compete.
That modern hi-fi richness comes in part from the extraordinary quality of the amp itself, but also partly from the additional features in the side-panel: the classic microphones, expertly placed, the easy bi-amping, and the intuitive mixer.
Officially licensed and endorsed
Our plug-in is fully endorsed and authenticated by Eden, and features physical modelling of two of their best-loved cabinets, a 1x15 and a 4x10, each miked with four different high-end classic microphones, selected and positioned by Troy Antunes, producer and bassist famous for his work with Pharrell Williams and Justin Timberlake.
You don't cut corners when it comes to getting the best tones out of your bass, and we don't cut corners when it comes to working with the best partners and reproducing and reimagining their best work in outstanding detail.
Fully-featured for fuller tones
With a three-channel mixer section, you can blend the two cabs with the direct signal to find just about anything you could ever want to hear.
And boasting a far more sophisticated EQ than many competitors, a built-in compressor, and a specially designed and optimised 'enhance' knob, which boosts the high and low frequencies while cutting the mids for that ultra-modern 'scooped' smiley-face sound, the WT-800 represents the best-of-the-best, in sound quality and versatility alike.
Perfect for Amp Room
Eden WT-800 comes with modules that are fully integrated into the Amp Room ecosystem and sound exactly the same as the native version of the plug-in. If you already own Amp Room, you definitely need this amp.

Amp Room is the pro audio guitar and bass platform, designed with sound quality as top priority. It's just like having a real amplifier with a miked up speaker cabinet in a high-end studio – with the added convenience of more options to patch in any kind of studio tool you need anywhere in the chain.
In short
Fully-featured bass amp simulation to cover every need, vintage and modern.
Faithful modelling of class-leading, top-quality equipment.
Five-band EQ.
Make-sound-better 'enhance' knob.
In-built compressor.
Not one but two cabinet models.
Easy bi-amping: select your cutoff frequency and send your low and high frequencies to different cabinets.
Choice of four classic microphones per cabinet, expertly selected and placed.
Great for rough stuff, but amazing for hyper-rich hi-fi modern tones.
System requirements

macOS Big Sur 11, Monterey 12, Ventura 13
Windows 10 (64-bit), Windows 11
Softube account
iLok account
Computer with AU, VST, VST3 and/or AAX compatible DAW host software
Internet access (for downloading installers and managing licenses)

Read full System Requirements and our Terms and Conditions
Guitar and Bass platform

Amp Room

The pro audio guitar & bass platform.