High-end mastering, scaled-down price.
Get all seven Weiss products for much less
Many upgrade paths available
Value: This choice collection of plug-ins gives you indispensable, high-end Weiss mastering at a fraction of the price when purchased separately​
Authenticity: The included plug-ins have been developed in close collaboration with, and are authorized by, Weiss Engineering and Daniel Weiss​
Options: A curated collection of seven crucial plug-ins—DS1-MK3, MM-1, Compressor/Limiter, Deess, EQ1, Gambit Series channel strip for Console 1​, and EQ MP
---
Login to see your price
Plug-in Collection
Weiss Complete Collection
Weiss. It's the name in audio mastering. Synonymous with sound quality, the value of the Weiss Engineering suite of mastering tools is undeniable. But with premium instruments come premium price tags. This hand-picked bundle allows you to own the gold-standard in mastering gear for pennies on the list price.
Take your work to a caliber heard, or rather unheard, on virtually every major record of the past two decades. Created in collaboration with Weiss Engineering, these exactingly modeled plug-ins bring unsurpassed mastering excellence into the DAW-based studio. Compression, limiting, de-essing, mix maximizing, equalizing; get all the essential mastering elements at an exceptional value.
Reviews
"DS1-MK3 oozes quality from every pixel. Supremely transparent, surgically tweakable and empoweringly versatile, it's a formidable enhancer of full mixes, group buses and even individual track elements."
4.5/5
Computer Music
READ FULL REVIEW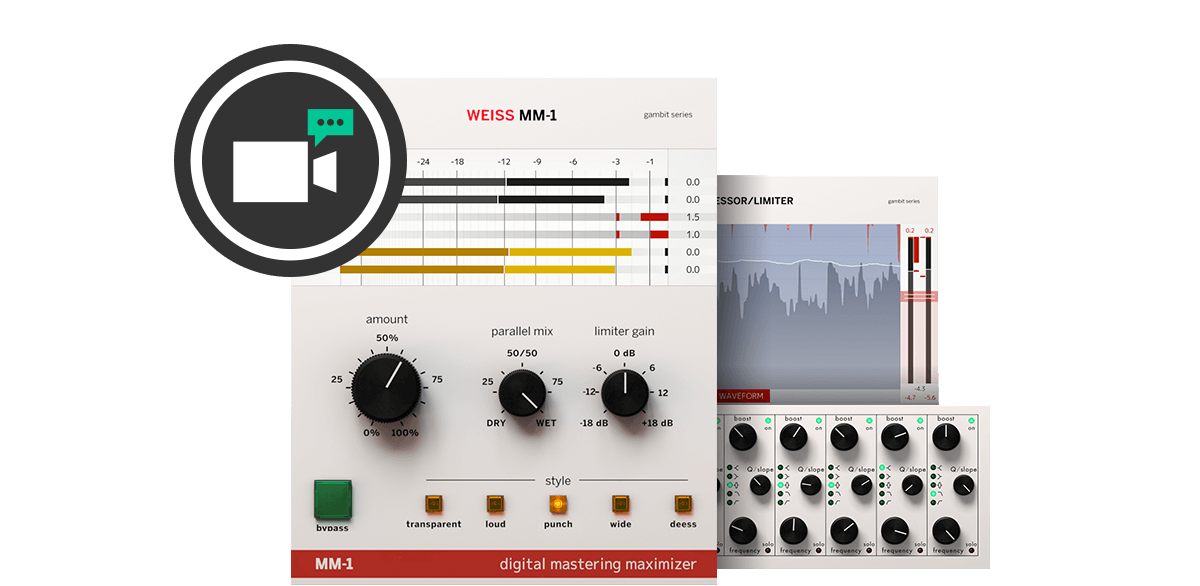 BOOK A LIVE DEMO
Ready to get in the game with Weiss, but unsure exactly where to start? Don't worry. We'll help you hit the ground running. Book a one-on-one video demo with our product demonstration team today. Learn more
Softube & Weiss: Meeting of the Minds
Weiss has been a pioneer in digital audio equipment design since 1979. That's when Weiss founder, Daniel Weiss, joined Willi Studer AG in Switzerland as an engineer. In 1985, Weiss struck out on his own and founded Weiss Engineering with a focus on pioneering digital audio equipment for mastering studios. The result of that endeavor is now legend.
Softube's relationship with Weiss started in 2008 when we were first introduced to Daniel Weiss. Despite having so many guiding principles in common, it wasn't until 2015 that we got serious about working together. Three years—and some blood, sweat, and tears—later, the Softube + Weiss DS1-MK3 plug-in was unveiled to great fanfare. And the tradition continues.
Learn more about our partnership with Weiss.
System requirements

All Softube products require a computer with appropriate DAW host software (none of which are included).

Versions from 2.5.38 and newer of the Softube plug-ins have the following minimum requirements:

All native versions

Mac OS X 10.13 up to 12
Windows 10 and 11 64-bit
Mac: Intel Core i3 / i5 / i7 / Xeon / Full Apple silicon support (M1 or higher)
Windows: Intel Core i3 / i5 / i7 / Xeon / AMD Quad-Core or newer
Screen resolution larger than 1280x800
8 GB RAM or more is recommended, as well as at least 8 GB hard disk space for installation (individual plug-ins take less space, while sample libraries may require additional disk space)
Softube account
iLok account
Internet access for downloading installers and managing licenses
iLok generation 2 and up, if you intend to use an iLok key for authorizing your plug-ins (note that a physical iLok USB key is not a requirement)


In theory, any 64-bit VST, VST3, AU, or AAX (Pro Tools 11.0.2 or higher) compatible host application should work. However, due to plug-in host differences between DAWs - and our own rigorous testing standards - we only officially test our plug-ins and instruments in the most recent versions of Pro Tools, Logic Pro, Cubase, Ableton Live, Studio One, Reaper, and Cakewalk. Softube plugins are not tested in non-listed systems, but they most likely work as long as the system requirements are met. We cannot guarantee a solution for issues in unsupported systems.

Note: We have checked the basic functionality of our plug-ins, and Softube Central, under Apple Rosetta 2.

With regards to the different VST formats, we strongly recommend using VST3 as some of our plug-ins have features that are not present in the older VST format. Supported sample rates: 44.1, 48, 88.2, 96, 176.4, and 192 kHz, in both mono and stereo. The most recent maintenance release of your DAW application is recommended. AAX DSP is not currently in active development. TDM/VENUE is no longer supported (old downloads are available on the Legacy Installers page).

Find the Softube installer you need both Softube Central and individual plug-ins.

AAX DSP version

For AAX DSP you need to meet the above requirements for the Native versions. You also need to have an Avid HDX processing card. For plug-ins available for AAX DSP, see Which Softube plug-ins support AAX DSP?