A preamp full of crunchy distortion, a multi-stage soft-clipping circuit saturator, and a compressor based on the ELI Distressor—all in one native plug-in
Versatile tonal coloring that replicates the coolest characteristics of vintage analog recording equipment
Perfectly modeled in concert with Dave Derr and the Empirical Labs team
---
Compressor & Saturator / Console 1 Ready / Amp Room Ready
Empirical Labs Mike-E Comp
Precisely modeled in close collaboration with Dave Derr, Empirical Labs Mike-E Comp offers high-caliber, one-of-a-kind saturation/compression based on the famous ELI Distressor. A punchy preamp that's available before the CompSat circuitry, and three different emphasis modes—plus NUKE!—enable multi-stage distortion and quick changes to the character of the saturation/compression behavior. Available for the first time as a native plug-in, Mike-E makes it a total blast to go overboard. And when you do, you're rewarded with nary a hint of harshness—no matter how far you push it to the extreme. Excess without consequence? That's rock & roll. And it's what makes Mike-E your man in the box.
Designed by Experts, Built on Legacy
Softube has a long history of modeling professional gear. After nearly two decades working in collaboration with premium pro audio brands like Tube-Tech, Solid State Logic, Chandler Limited®, Weiss Engineering, and Trident, we have a solid track record recreating indisputable classics in software form that sound precisely like their hardware counterparts.
Empirical Labs Mike-E Comp is built on this legacy, and we took the same meticulous approach we always do – everything needs to be exact, with skillful recording, precise testing, and fine-tuning to sound exactly like the hardware that inspired it or even better. Nothing less.
Them Bones: The CompSat Section
The core of Mike-E is its class-leading CompSat. The bones of the compressor are those of the legendary ELI Distressor, one of the most-beloved contemporary compressors in existence. With its huge control range, novel feature set, and longer attack time, Mike-E employs a custom-designed gain control circuit to give a warm and toasty analog sound. The killer multi-stage soft-clipping circuit saturator is never harsh. And Emphasis—a multi-stage circuit that emphasizes the high-frequencies before the CompSat circuit, and then cuts the frequencies after it—is there to enhance the tone. Plus, NUKE!
Houdini: The Preamp
The punchy preamp, with its bold and crunchy distortion, is precisely modeled on the line input section of the original hardware. With a unique stepped gain control, it lets you push the CompSat section harder for increased compression and saturation. It also offers the option of distortion before the CompSat section. Mike-E makes it easy to create tons of different types of sounds on as many different sound sources, and it always sounds analog and musical. It's those magical elements that make Mike-E so different and so super effective.
Machine Head: The User Interface
Those chunky white knobs. They let you know what you're working with: an intuitive interface—labels to switches. Everything is perfectly placed and dead-simple to use. Everything is right where you know it will be. We authentically modeled not only the appearance of Empirical Labs Mike-E but also the care and thought that goes into making it easy and damn fun to use.
Jar of Fly: The Amp Room Module
Included as a module for Softube's pro audio guitar and bass platform, Mike-E blows the lid off sound creation possibilities in Amp Room. It's a completely unconventional character tool that makes it an unusually excellent addition to the Amp Room toolset. Use it on bass sounds where it's especially bomb.

This product supports
Extended Features
We love VU meters, Bakelite knobs, and analog quirks. But we want modern precision and workflow. The answer? Softube Extended Features. Easy-access panels with the innovations you need close at hand.
Say Hello to Heaven
Empirical Labs Mike-E has sharp elbows. It offers in-your-face analog attitude in a straightforward, modern interface. Of that, there is no doubt. But Mike-E isn't all cocksure swagger. It boasts a high-performance preamp, a one-of-a-kind compressor/saturator circuit that delivers classic knee compression and varied tonal coloring which replicates the best traits of analog recording gear, Wet/Dry, and added External Sidechain. To name a few. Stunning sound quality and meaty specs give Mike-E bark and bite.
What it gives you is beefy, punchy drums where you can hear the decay in a dense mix. Fat and harmonically sweet-sounding bass. It will smooth out and warm up an inferior acoustic guitar recording. And can lend credence to vocals in a mix with soft-knee compression and warm, triode-type saturation. Use it to add bite to your electric guitars without any fear of brittleness. Or take the super steep, limiter-like NUKE mode—with its different Attack/Release shapes—and smash drum room mics or anything else that needs the full NUKE offensive. There's so much you can accomplish with Mike-E because Mike-E is so divinely versatile.
Superknown
Raised by a family of engineers, Dave Derr has gone from a chance encounter at Radio Shack to having his gear used in every major studio and on thousands of records. A rocker in his own right, his name is now synonymous with analog warmth, but he's not resting on his laurels. On the contrary. The humble genius behind Empirical Labs continues thinking and tinkering and incrementally improving on the already amazing array of products he's gifted the music industry. Products like Fatso, DerrEsser, and Distressor. It's that work ethic and empirical spirit that has made ELI so well-regarded in the pro audio sphere. Its products are real-world tested and built to get the better of obsolescence. Softube couldn't be prouder to be part of the Dave Derr and Empirical Labs legacy with our authentic emulations of their modern analog classics: Mike-E, Lil FrEQ, Trak Pak, and the Empirical Labs Complete Collection.
Learn more about our partnership with Empirical Labs
Mike-E
The expertly-modeled, native plug-in version of Mike-E is a compressor, saturator, and pre-amp in one. It's a novel and potent tool applicable to many different sound sources. Use it as a robust mix workhorse, an artistic transient shaper, decay shaper, saturator, or classic compressor. Mike-E is stacked with features that help you go overboard while leaving bitterness in the dust.
Mike-E For Amp Room
Mike-E for Amp Room explodes the sound creation options in Softube's luxury guitar and bass platform. Mike-E is an uncommonly original character tool that's totally unique to the Amp Room toolset. Especially awesome on bass sounds, add a little Empirical Labs to your Amp Room arsenal and create mix-ready tones in your continuously growing pro audio guitar and bass system.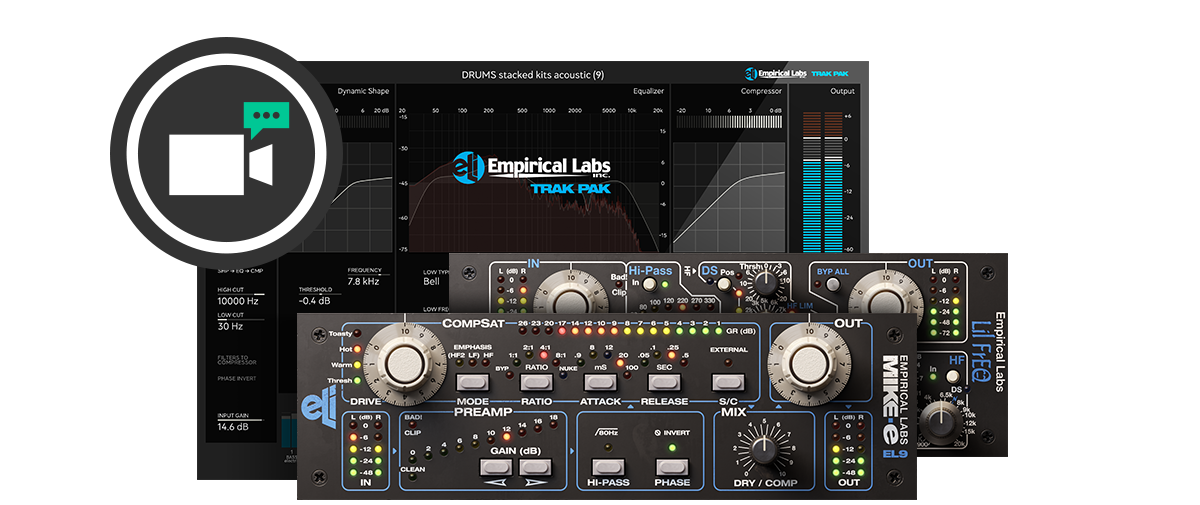 BOOK A LIVE DEMO
Itching to know all there is to know about our Empirical Labs + Softube suite of products? Or just want to get up and running as quick as you can? Either way, we got you covered. Book a private video session with our product demonstration team today. Learn more
In short
A preamp, compressor, and saturator in one
Available for the first time in native plug-in form
Developed in close collaboration with Dave Derr and Empirical Labs
Expertly modeled down to the component level
Compressor in the CompSat circuitry functions like the famous Distressor
Including NUKE mode!
With preamp distortion before the CompSat section
Featuring three Emphasis Modes and Wet/Dry
Added External Sidechain and attack time preset
Available as a module in Amp Room
Excellent sound quality, beyond easy to use
Product features

An expert component modeled native plugin version of the Empirical Labs Mike-E hardware
Warm and punchy preamp up to +18 dB of gain
Hi-Pass and Phase, vintage style 18 dB/octave at 80 Hz
Multistage soft-clipping saturator in CompSat section with Drive and Toasty/Warm meter
Three emphasis modes in CompSat section (HF, HF2, LF)
Compressor in CompSat section based on the Distressor
The famous NUKE mode in compressor
Ratio presets: BYP, 1:1, 2:1, 4:1, 8:1 & NUKE
Attack times in ms: 0.9, 8, 12, 20, 100 • Release times in s: 0.05, 0.1, 0.25, 0.5
External Sidechain
Dry/Wet mix

System requirements

macOS Big Sur 11, Monterey 12, Ventura 13
Windows 10 (64-bit), Windows 11
Softube account
iLok account
Computer with AU, VST, VST3 and/or AAX compatible DAW host software
Internet access (for downloading installers and managing licenses)

Read full System Requirements and our Terms and Conditions