A potent sound shaping tool with eight processing sections to achieve the sounds you want faster
A flawless recreation of the Lil FrEQ hardware unit, featuring de-essing
Developed in conjunction with Dave Derr and Empirical Labs Inc.
---
Equalizer & De-esser / Console 1 Ready
Empirical Labs Lil FrEQ
The warm and punchy analog sound of the Empirical Labs Lil FrEQ makes it something of an oddity in the world of equalizers. But it's no sideshow. With its heart-shaped box of tricks, mighty analog tone, and de-essing chops, we're hard-pressed to think of a more powerful analog EQ. It's what makes Lil FrEQ the ace in the hole for so many high-profile recording engineers and mixing professionals. When your equalizer features eight different processing sections, you can ditch the multi-plug-in setup and get on with it. Our native software version—expertly modeled under the watchful eye of Dave Derr himself—gives you all that tone-shaping and correction power, plus supernatural sound quality, and flavor galore. In a word, it's un-freakin-believable.
Designed by Experts, Built on Legacy
Softube has a long history of modeling professional gear. After nearly two decades working in collaboration with premium pro audio brands like Tube-Tech, Solid State Logic, Chandler Limited®, Weiss Engineering, and Trident, we have a solid track record recreating indisputable classics in software form that sound precisely like their hardware counterparts.
Empirical Labs Lil FrEQ is built on this legacy, and we took the same meticulous approach we always do – everything needs to be exact, with skillful recording, precise testing, and fine-tuning to sound exactly like the hardware that inspired it or even better. Nothing less.
Funhouse: Eight Processing Sections
With a super-useful parameter set spread out over an unheard-of eight sections of processing, Lil FrEQ offers you the ability to instantly A/B the effect of each section as you adjust and fine-tune them. Because, in addition to a master bypass, each of Lil FrEQ's eight sections features its own dedicated bypass switch. Lil FrEQ lets you do with one EQ what you'd normally need to combine several other tools to do. Lil FrEQ helps you mix faster and gets you the sound you want quicker.
Freak Show: The DS Section
Step right up, folks! Witness this never-before-seen de-ess function. The Lil FrEQ DS section combines tunable filters and a level independent high-frequency detection circuit that restrains excessive high frequencies, such as sibilants or other sharp transients, especially in the absence of lower-frequency content. It also acts as a unique soft-knee, high-frequency limiter and can even emulate analog tape. With talents like these, you can see why Lil FrEQ is the vocal EQ of choice for countless engineers and has been used in numerous hit records, major live performances, and to shape vocals, snare, and bass. It's not every day a freaky little EQ spawns a de-esser, but Lil FrEQ's DS section is just that good.
Freaks Flock Together: The EQ
For all its unusual traits Lil FrEQ is dependably classic in some respects. Take, for instance, its four sections of fully parametric EQ (LF, Lo Mid, Hi Mid, and HF), each section with individual gain, bandwidth (Q), and frequency controls. The conventional becomes extraordinary when it's executed to this level. Every component is masterfully modeled to give you a better workflow. The result is soaring sound quality that stands out from the crowd.
Freak Scene: The User Interface
The big white knobs set the scene. Immediately, you know you're working with high-quality craftsmanship and legendary analog sound, all in a super intuitive interface—to include those blue markings. They let you accurately simulate the settings of one of the most classic British EQs. We authentically modeled not just the look of the Empirical Labs Lil FrEQ but also the care and intention that goes into making it easy to use and a whole lot of fun.

This product supports
Extended Features
We love VU meters, Bakelite knobs, and analog quirks. But we want modern precision and workflow. The answer? Softube Extended Features. Easy-access panels with the innovations you need close at hand.
Carnival of Soul
Lil FrEQ succeeds in being uncommonly powerful and musical with just the right hit of analog warmth. The unique set of un-EQ-like features Lil FrEQ boasts make it an incredibly valuable tool in your box. It can replace several plug-ins in a signal chain and gives you better sound faster. If you're going for super punchy and fat-sounding drums, less harsh cymbals, a natural-sounding vocal track, or just trying to fit a ho-hum acoustic guitar recording into the mix, Lil FrEQ is the gal for the job.
Destined to become a modern classic—just like her siblings, Distressor and Fatso—Lil FrEQ punches like no other, does uber-transparent correction work, and is a wickedly-aggressive and singular tone shaper. She's totally unique. She's our Lil FrEQ.
Tape Tip
Try your hand at using Lil FrEQ's one-of-a-kind de-ess section to emulate analog tape:
Set to HF LIM with the frequency at 6KHz
Adjust until the frequencies harshly pile up
Let the de-ess section kick in
Hear it integrate and smooth out the high end
Done!
Superknown
Raised by a family of engineers, Dave Derr has gone from a chance encounter at Radio Shack to having his gear used in every major studio and on thousands of records. A rocker in his own right, his name is now synonymous with analog warmth, but he's not resting on his laurels. On the contrary. The humble genius behind Empirical Labs continues thinking and tinkering and incrementally improving on the already amazing array of products he's gifted the music industry. Products like Fatso, DerrEsser, and Distressor. It's that work ethic and empirical spirit that has made ELI so well-regarded in the pro audio sphere. Its products are real-world tested and built to get the better of obsolescence. Softube couldn't be prouder to be part of the Dave Derr and Empirical Labs legacy with our authentic emulations of their modern analog classics: Mike-E, Lil FrEQ, Trak Pak, and the Empirical Labs Complete Collection.
Learn more about our partnership with Empirical Labs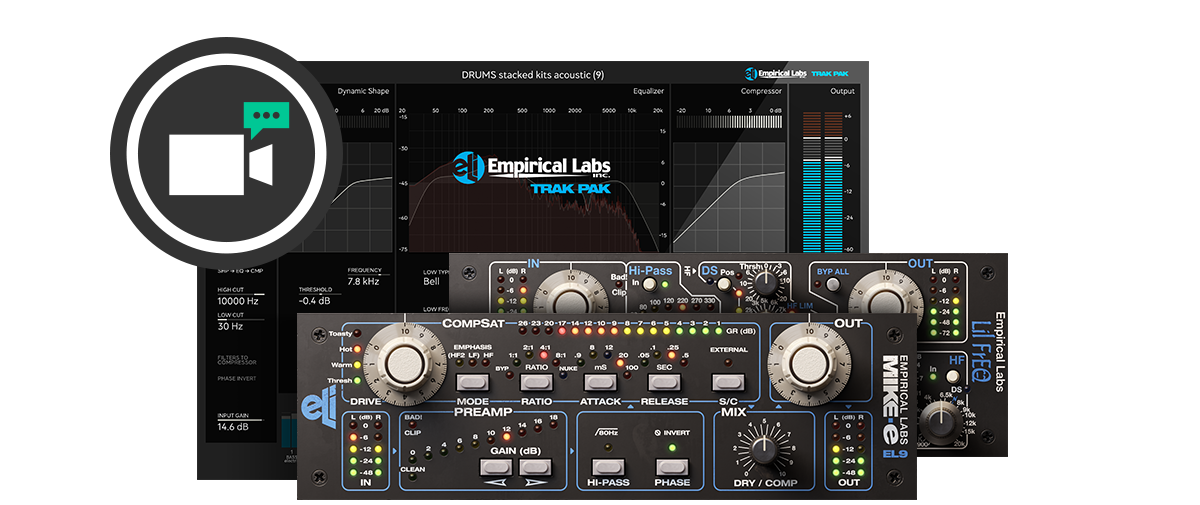 BOOK A LIVE DEMO
Itching to know all there is to know about our Empirical Labs + Softube suite of products? Or just want to get up and running as quick as you can? Either way, we got you covered. Book a private video session with our product demonstration team today. Learn more
In short
An expertly modeled recreation of the ELI Lil FrEQ hardware
Available for the first time as a native plugin
Developed in collaboration with Dave Derr and Empirical Labs Inc.
Eight process sections with bypass switches to A/B the effect of each section
4-band fully parametric EQ with sweep-able frequency and bandwidth (Q)
De-ess (Level independent dynamic EQ)/ HF Limit (High Frequency Limiter)
Extremely powerful and punchy
Featuring the legendary ELI sound
Product features

An expert component modeled native plugin version of the Empirical Labs Lil FrEQ hardware
Input Gain after Meter with clip indicator
Vintage style High-pass filter: 18 dB/octave
Super smooth High and Low shelving EQ
4-band fully parametric EQ: LF, Lo Mid, Hi Mid, and HF: +-14 dB
Super-wide to super-narrow bandwidth and generous frequency ranges
Blue markings for vintage British style of equalization
DS section – the same as the famous DerrEsser
Individual bypass on all bands and sections
Punchy, fat and analog sound

System requirements

macOS Big Sur 11, Monterey 12, Ventura 13
Windows 10 (64-bit), Windows 11
Softube account
iLok account
Computer with AU, VST, VST3 and/or AAX compatible DAW host software
Internet access (for downloading installers and managing licenses)

Read full System Requirements and our Terms and Conditions