The industry-defining five-voice synth.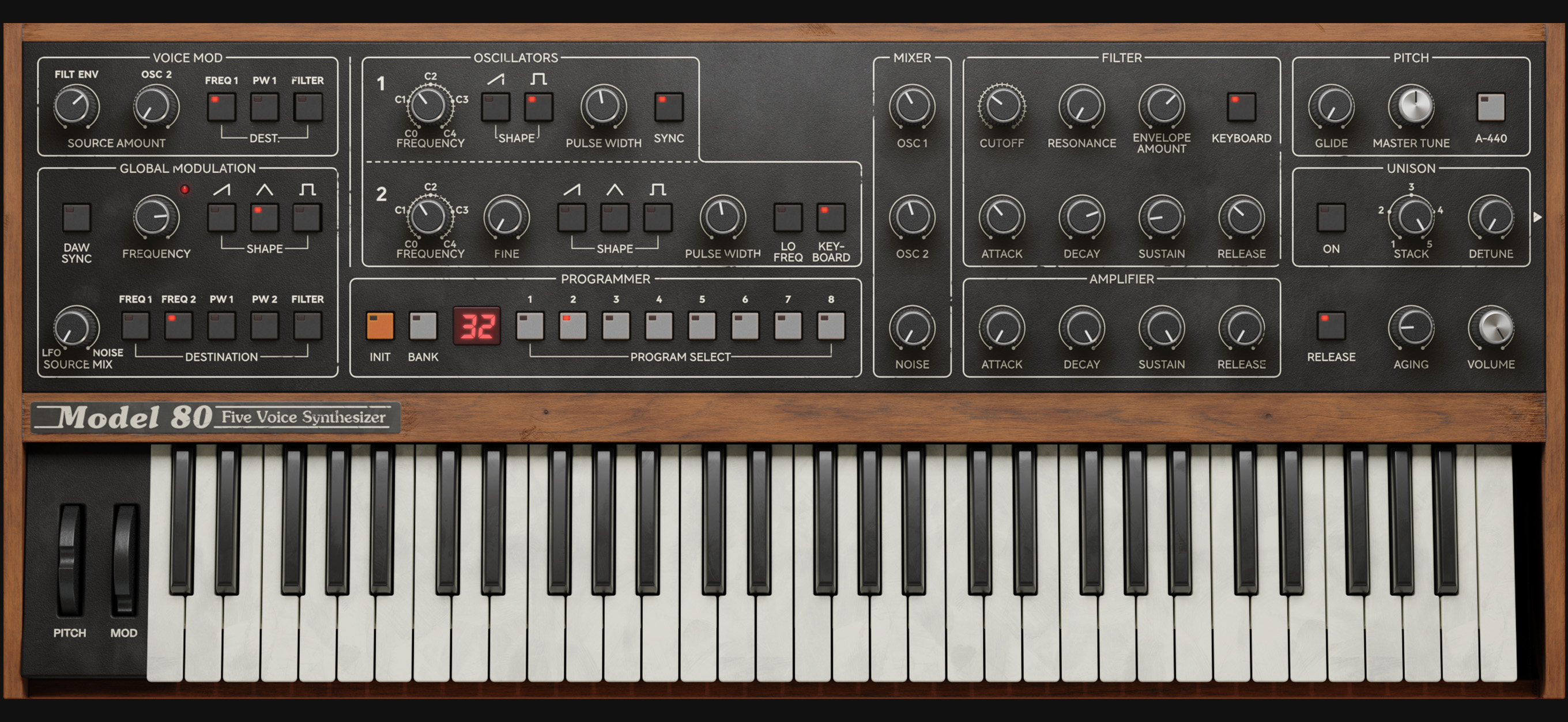 Expertly modeled for the authentic sound, interactions, and performance of the hardware unit from 1980

Original factory presets heard on countless records

Two versions included: the instrument and five modules for Modular
Polyphonic Synthesizer / Modular Ready
Model 80 Five Voice Synthesizer
It's not overstating things to say that this five-voice synthesizer changed the future. The first synthesizer with a digital microprocessor to control the analog polyphonic synth engine and store sounds, it has graced hits from superstars such as Michael Jackson, Madonna, Peter Gabriel, Radiohead, The Cars, and countless others.
With great reverence and proven modeling expertise, we captured every detail of this storied synth's circuit, interactions, and factory presets. The result is a revelation: the authentic sound, feel, and performance of an industry-defining instrument perfected for modern production. Like a prophecy from 1980 fulfilled, so cometh Model 80 Five Voice Synthesizer.
The Art of Rock & Roll Science
Our reputation for creating tools that enhance workflow and offer superior sound quality is rock solid. Our partnerships with premium brands like Tube-Tech, Solid State Logic, Chandler Limited, Weiss Engineering, and Trident have spanned decades.
We built Model 80 Five Voice Synthesizer on this legacy of passion, expert modeling, and attention to detail. Because to create synth plug-ins that innovate and elevate, you have to have heart, soul, and Rock & Roll Science.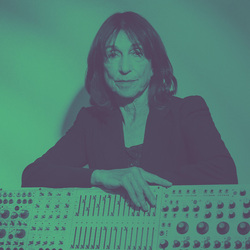 "The original hardware was my go-to instrument for my first album Seven Waves and for sound design. The sound is beautifully transparent and plays well with others."

5x Grammy-nominated composer, artist & pioneer.

Free Download:
Presets by Nicholas T Semrad
Download the exclusive Model 80 Preset Pack created by Nicholas T Semrad.
For more info on managing Softube presets, click here.
The visionary original recreated
Everything about the synth we modeled Model 80 after is iconic. Including the presets. To authentically recreate the experience of recalling them on the hardware, Model 80 offers the 40 original factory presets plus buttons on the programmer to call them up. The five voices and their relationship are exactingly replicated for authentic analog and organic sound. We paid obsessive attention to every detail of the circuit and interactions in our modeling to give you the real sound, feel, and experience of the original.
The revelatory Voice Mod section
We take modeling very seriously. The modeling of the Voice Mod section of this synth is no exception to that rule. To accurately capture the original hardware, we needed to carefully reproduce the phase relationships and modulation polarity. In doing so, we have authentically emulated the sound, modulation, and feel of this mythical synth. And, with the added Invert Voice Mod button on the side panel, you will be able to go further than the original hardware. That means more versatility and a more modern workflow.
Model 80 Five Voice Synthesizer
High-end and highly sought-after, this is a synthesizer that many producers and artists have aspired to own. Our expert modeling of the circuit, interactions, and performance of this five-voice legend ensures that anyone can have the authentic sound, feel, and experience of the hardware.
Model 80 for Modular
Model 80 for Modular offers five modules: VCO, VCF, LFO, ENV, and MULTIPAN. Combine individual components in a modular workflow to build patches and get the authentic sounds that changed an industry. Or create inconceivable combinations that no other hardware or software can deliver.
Learn more about modular
In short
The industry-defining five-voice polyphonic synth from 1980
Precisely modeled sound, interactions, and performance of the original unit
The easy recall of original factory presets heard on countless classic recordings
An accurately modeled and newly versatile Voice Mod section
Workflow enhancements such as poly-portamento glide, Voice Pan Spread, velocity and aftertouch modulation, quantize filter cutoff, DAW sync, an Aging knob, and the Invert Voice Mod button
Two versions included: the instrument and five modules for Modular
Product features

Five modules for use in Softube Modular
Aging knob to add additional "wear" to the instrument
Added Voice Pan Spread to take the sound from a mono to a stereo spread of the five voices
Invert Voice Mod button for additional modulation possibilities
Quantize semitone filter cutoff frequency captures the original performance of the hardware, but can also be turned off for smooth performance
Selectable DAW (Tempo) sync or free running LFO to clock the global modulation section
Added velocity and aftertouch controls for modern performance expression

System requirements

macOS Big Sur 11, Monterey 12, Ventura 13
Windows 10 (64-bit), Windows 11
Softube account
iLok account
Computer with AU, VST, VST3 and/or AAX compatible DAW host software
Internet access (for downloading installers and managing licenses)

Read full System Requirements and our Terms and Conditions