The crystal-clear sound of Weiss for Console 1.
A tidy channel strip based on 1:1 code ports of the original Weiss DS1-MK3 and EQ1 units​
Created in partnership with—and officially licensed by—Weiss Engineering​
With special features such as below-threshold compression​
---
Console 1 Exclusive / Channel Strip
Weiss Gambit Series for Console 1
It's here. One of the most highly requested components for Console 1 makes its debut. Introducing the Weiss Gambit Series for Console 1. A painstaking extraction of the top features from two of the most admired digital processors, Weiss DS1-MK3 and Weiss EQ1—plus characteristic extras—the result is the clean, sharp channel strip engineers everywhere have been waiting for.
Joining a storied slew of offerings in the successful partnership of Softube and Weiss Engineering, Weiss Gambit Series gives you the algorithms of the originals. But it also sports exclusive, high-end features such as below-threshold compression. Weiss Gambit Series channel strip for Console 1: created for mastering, now tailor-made for mixing.
Alliance to Inspire
Another refreshingly new product brought to you in partnership with Weiss Engineering.
A Meticulous Melding
A strict, 1:1 code port combining the best of Weiss DS1-MK3 and Weiss EQ1 into a singular channel strip.
New Sensations
The Weiss Gambit Series channel strip gives Console 1 users an entirely new way to play. Combined with other channel strips in the Console 1 ecosystem, Gambit Series gives sonically rich returns on investment. Deploy the SSL 4000 strip on the close mics of a drum kit and the Zener-Bender strip on the overheads and room mics. Drop the Weiss Gambit Series strip on the drum bus, utilizing some of that unique below-threshold compression to expose the details and tones between the hits. Then sit back and savor the sound.
The Measure of Mastering 
The apex of mastering units since its launch in the 1990s, Weiss DS1-MK3 is an indispensable tool in studios around the world. Unrivaled versatility and incomparable sound quality have made it an essential ingredient in nearly every major record of the past two decades. While Weiss' updates and improvements to DS1-MK3 have made it practically perfect, Softube + Weiss's fully digital compressor/limiter/de-esser performs tasks that an analog unit couldn't even dream of.
An Unequaled EQ
The renowned sonic qualities of Weiss Engineering's EQ1—combined with its flexibility as either a Minimum Phase EQ, a Linear Phase EQ, or a Dynamic EQ—have made it the essential digital mastering equalizer since its release in 1996. The plug-in is a one-for-one, line-by-line code port of the original with state-of-the-art bonus features that give it increased functionality over the original algorithms, 32-bit / 192 kHz operation, and updated ergonomics.
Fringe Benefits
Softube's exclusive partnership with Weiss Engineering comes with some pretty sweet perks. In creating the Gambit Series, we had the opportunity to work in collaboration with Daniel Weiss himself. Together we created features for the channel strip that make it a powerful mixing tool that can also be used for mastering. Features such as high/low pass filters, gate, expander, below-threshold compression, surgical equalizing, compressor, and limiter.
This Way Up
The most blow-your-mind component of the Gambit Series channel strip has to be below-threshold compression. As with any traditional compressor, above threshold refers to the dynamics processing for audio exceeding the set threshold. The below threshold, therefore, concerns the effect on the audio below the set threshold, as with a common gate or expander. So it follows that normal compression and expansion are called "above-threshold compression" and "below-threshold expansion." Gambit Series for Console 1 isn't your everyday channel strip, though. It offers below-threshold compression and all the other gate, expander compression, and limiter features. Whoa, right?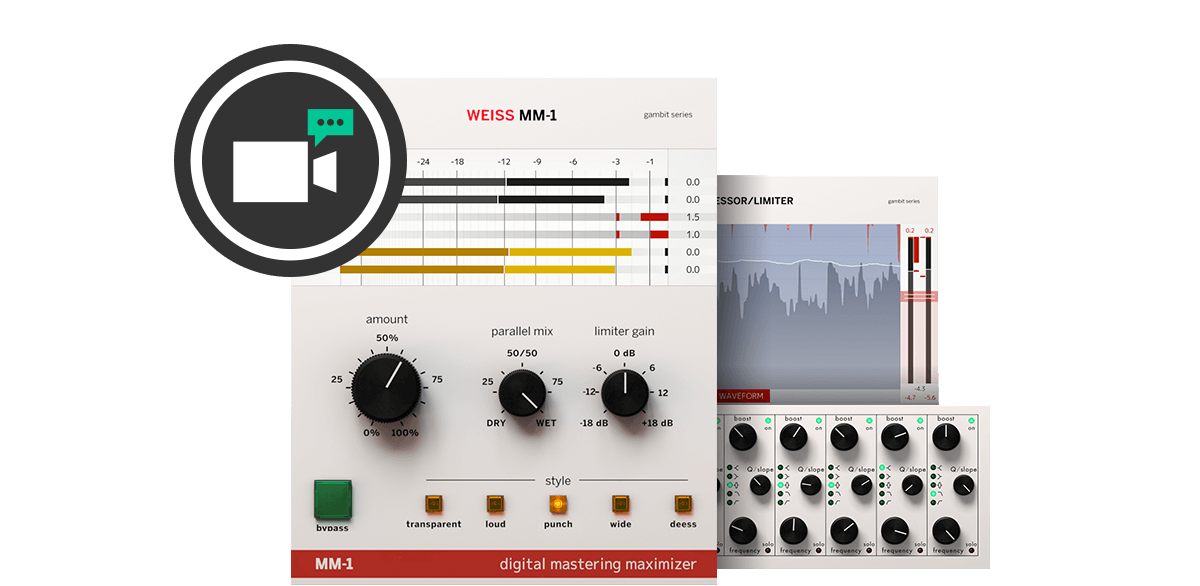 BOOK A LIVE DEMO
Ready to get in the game with Weiss, but unsure exactly where to start? Don't worry. We'll help you hit the ground running. Book a one-on-one video demo with our product demonstration team today. Learn more
Softube & Weiss: Meeting of the Minds
Weiss has been a pioneer in digital audio equipment design since 1979. That's when Weiss founder, Daniel Weiss, joined Willi Studer AG in Switzerland as an engineer. In 1985, Weiss struck out on his own and founded Weiss Engineering with a focus on pioneering digital audio equipment for mastering studios. The result of that endeavor is now legend.
Softube's relationship with Weiss started in 2008 when we were first introduced to Daniel Weiss. Despite having so many guiding principles in common, it wasn't until 2015 that we got serious about working together. Three years—and some blood, sweat, and tears—later, the Softube + Weiss DS1-MK3 plug-in was unveiled to great fanfare. And the tradition continues.
Learn more about our partnership with Weiss.
The anatomy of the Weiss Gambit Series For Console 1 Channel Strip
Input section
Low noise and super smooth, the input section features the 12 dB low-cut and 6 dB high-cut filters from the EQ1. Just like the original EQ1, every parameter is discrete, but with hundreds of steps that make it easy to dial in exact settings.
Shape section
The Shape section of the Weiss Gambit Series works below the threshold. You can do normal expanding/gating, but it's also possible to do below-threshold compression. With below-threshold compression, you can enhance the soft sounds without affecting the loud sounds to, for example, bring out the tail of a reverb or the room sound of a drum bus, or get more legato in an electric bass without affecting the punch of it.
Equalizer section
The EQ consists of the Weiss EQ1 in Low Latency mode without any dynamics. All four bands have a full range of frequency and the same cut/boost range as the original: -39 dB to +18 dB. The low and high bands have a fixed Q-range but selectable Cut, Peaking, and Shelving (Cut, Bell, and Shelf on Console 1). The two mid bands work exactly like the EQ1 bands in Peaking mode with the same extreme Q-Range of 0.2 – 650 as the original unit.
Compressor section
The Compressor is the same as the Weiss DS1 with a limited feature set, just like the Weiss Compressor/Limiter plug-in. The ratio goes from 1:1 to 1000:1 and has an attack time as short as 0.02 ms. Pretty cool, if you ask us.
Drive & Character section
How do you make a Drive for a super-clean unit? Well, it's not a drive so much as the Limiter from the DS1 and Weiss MM-1. Use the Drive knob to increase the gain into the Limiter thereby limiting all signals above 0 dB. The Character lets you select between the three limiter types: original DS1, enhanced Type 1, and enhanced Type 2.
In short
Made for Console 1, our mixing ecosystem. Learn more about Console 1
A neat and clean channel strip based on 1:1 code ports of the Weiss DS1-MK3 and EQ1
Created in partnership with—and officially licensed by—Weiss Engineering
Fresh, new sound for the Console 1 ecosystem
Added functionality and features
Thoroughly unique below-threshold compression
Product features

A tailor-made for mixing channel strip for Console 1
Based on the algorithms of the Weiss DS1-MK3 and the Weiss EQ1
Improved functionality and features for the Console 1 workflow
High and Low-Cut filters from the Weiss EQ1
Gate, Expander and Below Threshold Compression in Shape section
4 Band EQ from the Weiss EQ1
Compressor from the Weiss DS1-MK3
Limiter from the Weiss DS1-MK3 with added modes from the Weiss MM-1.

System requirements

macOS Big Sur 11, Monterey 12, Ventura 13
Windows 10 (64-bit), Windows 11
Softube account
iLok account
Computer with AU, VST, VST3 and/or AAX compatible DAW host software
Internet access (for downloading installers and managing licenses)

Read full System Requirements and our Terms and Conditions