High end room
sounds in seconds.
Modular ready / Effects / Amp Room ready
TSAR-1R Reverb
TSAR-1R Reverb is the little sibling of the more adjustable TSAR-1 Reverb. They share exactly the same high end reverb algorithm, but TSAR-1R offers extreme ease of use for a fast and intuitive workflow.
Essentially, TSAR-1R is operated with a single control — the Time slider. Add depth and dimension to any sound with short and controlled room sounds, or slide it up towards hall settings for large, dramatic spaces.
It really is as easy as that, and it always sounds stellar.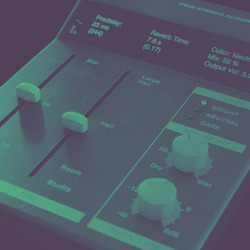 "Man!!!!!! Incredible, incredible, incredible!!!!! Just mixed Lil' Waynes new single 'How to Love' and so sweeeet my TSAR-1 Reverbs are sounding right now. If I had four hands I'd give four thumbs up!"

Mixer for Lil' Wayne, The Neptunes, etc.
True Stereo Algorithmic Reverb
TSAR-1R features the same sophisticated reverb algorithms as the larger TSAR-1, so it sounds just as real, just as lush, just as big.
Intelligent Design
The time slider controls more than just time – many detailed processes happen under the hood, in an intelligent, sound-designed manner, as you increase the length of the reverb to ensure great room sounds at any setting.

This product supports
Extended Features
We love VU meters, Bakelite knobs, and analog quirks. But we want modern precision and workflow. The answer? Softube Extended Features. Easy-access panels with the innovations you need close at hand.
Sophisticated sound and versatility
The True Stereo Algorithm inside the TSAR-1R Reverb and the more adjustable TSAR-1 Reverb is what gives them their magic. The strength lies in the sophisticated sound and versatility, no matter whether they are used on strings and brass or rock drums and lead vocals, they always shine. All this while still having a comprehensive and easy-to-use interface that is unparallelled in other high-end reverb products.
Features
Fast and easy, yet powerful. Apart from Mix and Volume, there's only three parameters in TSAR-1R. Don't let that fool you though, it has never before been this easy to dial in a great reverb sound.
Predelay Perfect for getting that small gap between the vocals and the reverb tail.
Time One fader to rule them all. The Time control changes the Density, Diffusion, Early Reflections, Reverb Time, etc. Almost like a continous swipe through all the best presets.
Color Need a bright or a dark reverb?
Comes bundled with TSAR-1 Reverb or available separately.
In short
True Stereo Algorithm — same as in TSAR-1 Reverb.
Extremely easy to use.
Modern and powerful high-end reverb.
Bundled for free when you buy TSAR-1 Reverb.
Upgrade possible to the TSAR-1 Reverb.
System requirements

All Softube products require a computer with appropriate DAW host software (none of which are included).

Versions from 2.5.38 and newer of the Softube plug-ins have the following minimum requirements:

All native versions

Mac OS X 10.13 up to 12
Windows 10 and 11 64-bit
Mac: Intel Core i3 / i5 / i7 / Xeon / Full Apple silicon support (M1 or higher)
Windows: Intel Core i3 / i5 / i7 / Xeon / AMD Quad-Core or newer
Screen resolution larger than 1280x800
8 GB RAM or more is recommended, as well as at least 8 GB hard disk space for installation (individual plug-ins take less space, while sample libraries may require additional disk space)
Softube account
iLok account
Internet access for downloading installers and managing licenses
iLok generation 2 and up, if you intend to use an iLok key for authorizing your plug-ins (note that a physical iLok USB key is not a requirement)


In theory, any 64-bit VST, VST3, AU, or AAX (Pro Tools 11.0.2 or higher) compatible host application should work. However, due to plug-in host differences between DAWs - and our own rigorous testing standards - we only officially test our plug-ins and instruments in the most recent versions of Pro Tools, Logic Pro, Cubase, Ableton Live, Studio One, Reaper, and Cakewalk. Softube plugins are not tested in non-listed systems, but they most likely work as long as the system requirements are met. We cannot guarantee a solution for issues in unsupported systems.

Note: We have checked the basic functionality of our plug-ins, and Softube Central, under Apple Rosetta 2.

With regards to the different VST formats, we strongly recommend using VST3 as some of our plug-ins have features that are not present in the older VST format. Supported sample rates: 44.1, 48, 88.2, 96, 176.4, and 192 kHz, in both mono and stereo. The most recent maintenance release of your DAW application is recommended. AAX DSP is not currently in active development. TDM/VENUE is no longer supported (old downloads are available on the Legacy Installers page).

Find the Softube installer you need both Softube Central and individual plug-ins.

AAX DSP version

For AAX DSP you need to meet the above requirements for the Native versions. You also need to have an Avid HDX processing card. For plug-ins available for AAX DSP, see Which Softube plug-ins support AAX DSP?