Get the basic sound in place in only seconds with a single knob
Created in close collaboration with hardware designer Paul Wolff
Includes Tonelux Tilt and Tilt Live native plug-ins and Amp Room modules
Console 1 ready
Tonelux Tilt and Tilt Live
Go from shimmering bright to warm and wide with a twist of a knob!
The Tonelux Tilt plug-in is a fast and easy way of making a track sit better in a mix or make it sound 'warmer' or 'cooler'. It's also perfect in a live situation where you need to tweak the whole mix to adjust for ear fatigue.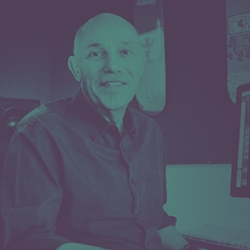 "My new addiction is the Tonelux Tilt. How brilliant is Paul Wolff?"

Mixer/Engineer/Producer for Beck, U2, The Strokes, Elton John, etc.
It couldn't be simpler
You may want to put Tonelux Tilt first on all your channels. It includes all the controls you need for a quick and rough setting before you get into the details — and it's quite possible you will find that Tilt was all your track needed to find its place in the mix.

This product supports
Extended Features
We love VU meters, Bakelite knobs, and analog quirks. But we want modern precision and workflow. The answer? Softube Extended Features. Easy-access panels with the innovations you need close at hand.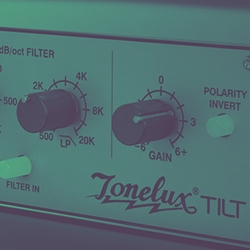 "This Tilt EQ really is a quick, one knob fixer. I'm finding it very easy to get a fast, great sounding result, and a lot of times, at festivals and such, speed is of the essence. The Loudness curve does exactly what it's supposed to as well. Cool stuff!"

FOH Engineer (Sum 41, No Doubt)
A joint effort
The Tilt plug-in is a joint development effort between Tonelux designer Paul Wolff and Softube, bringing the famous Tonelux sound to the digital world. The innovative Tilt design was first featured on the Tonelux MP1a discrete mic preamp module and has been a godsend for engineers and producers that need to take control of their sound in a fast and effective manner.
The Tilt filter
The Tilt filter does precisely what the name says — if you activate it and turn the control knob clockwise, it will attenuate the lows and boost the highs. Go counterclockwise, and the opposite happens — the sound gets fatter and darker. Turn on or off the Loud switch to make the effect stronger or back to keep it more subtle. So by the twist of a single knob, you give your sound a basic and nice sounding frequency trimming.
High and low pass filters
Move on to the gentle and natural sounding high and low pass filters, that are sweepable and switchable from -6 dB to -12 dB per octave. Finally, you will find a polarity reversal switch and a gain knob. See? All you need for a basic rough setting of each and every channel! Softube's model of Tonelux Tilt also includes modeling of the transformer found in the Tonelux MP1a mic preamp. The transformer adds a subtle distortion for bass frequencies which fattens up the low end of a track.
Tonelux Tilt
Tonelux Tilt is a one-knob fix for most issues, with all the controls you need to start your mixes off right. Although, you may find it's all your track requires to sit perfectly in your mix.
Tonelux Tilt Live
Tonelux Tilt Live is a special version of the Tonelux Tilt plug-in. Based on feature requests from live sound engineers, we optimized Tonelux Tilt Live for live systems.
Tonelux Tilt and Tilt Live for Amp Room
Tonelux Tilt and Tilt Live offer a new slant for Amp Room, our pro audio guitar and bass platform. Combine them with effects, amps, cabs, and pedals to easily create studio-quality, record-ready tones.
Learn more about Amp room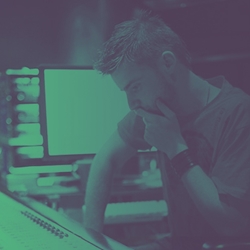 "Tonelux Tilt is everything I need to start off my mixes. Whenever a sound is too dull or bright, I'm capable of fixing it in a split of a second rather than minutes. Tilt should be a mandatory tool for every single DAW!"

Beyoncé, Lil Wayne, Missy Elliott, Timbaland
Reviews

"Tilt can help you get sounds so fast you'll feel like you're cheating."
Tape Op Magazine
READ FULL REVIEW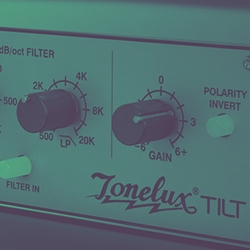 "Filters, phase reverse, gain: these are essential features that I use on every mix. Add the Tilt option and this plugin becomes essential on every channel!"

Producer/Engineer (The Smashing Pumpkins, Liz Phair, Pete Yorn)
In short
Quickly get the basic sound in place with just a single knob
Three versions included: Tonelux Tilt, Tonelux Tilt Live, and Tonelux Tilt and Tilt Live for Amp Room
Created in collaboration with Tonelux designer Paul Wolff
High and Low Pass filters, with 12 dB/oct possibility
Modeled output transformer distortion
System requirements

All Softube products require a computer with appropriate DAW host software (none of which are included).

Versions from 2.5.38 and newer of the Softube plug-ins have the following minimum requirements:

All native versions

Mac OS X 10.13 up to 12
Windows 10 and 11 64-bit
Mac: Intel Core i3 / i5 / i7 / Xeon / Full Apple silicon support (M1 or higher)
Windows: Intel Core i3 / i5 / i7 / Xeon / AMD Quad-Core or newer
Screen resolution larger than 1280x800
8 GB RAM or more is recommended, as well as at least 8 GB hard disk space for installation (individual plug-ins take less space, while sample libraries may require additional disk space)
Softube account
iLok account
Internet access for downloading installers and managing licenses
iLok generation 2 and up, if you intend to use an iLok key for authorizing your plug-ins (note that a physical iLok USB key is not a requirement)


In theory, any 64-bit VST, VST3, AU, or AAX (Pro Tools 11.0.2 or higher) compatible host application should work. However, due to plug-in host differences between DAWs - and our own rigorous testing standards - we only officially test our plug-ins and instruments in the most recent versions of Pro Tools, Logic Pro, Cubase, Ableton Live, Studio One, Reaper, and Cakewalk. Softube plugins are not tested in non-listed systems, but they most likely work as long as the system requirements are met. We cannot guarantee a solution for issues in unsupported systems.

Note: We have checked the basic functionality of our plug-ins, and Softube Central, under Apple Rosetta 2.

With regards to the different VST formats, we strongly recommend using VST3 as some of our plug-ins have features that are not present in the older VST format. Supported sample rates: 44.1, 48, 88.2, 96, 176.4, and 192 kHz, in both mono and stereo. The most recent maintenance release of your DAW application is recommended. AAX DSP is not currently in active development. TDM/VENUE is no longer supported (old downloads are available on the Legacy Installers page).

Find the Softube installer you need both Softube Central and individual plug-ins.

AAX DSP version

For AAX DSP you need to meet the above requirements for the Native versions. You also need to have an Avid HDX processing card. For plug-ins available for AAX DSP, see Which Softube plug-ins support AAX DSP?