Smooth and natural sound.
Dual band transient processing tool
Add or reduce punch and/or sustain from any sound
Affect the whole frequency spectrum, only the high frequencies, or only the low frequencies
---
Console 1 ready
Transient Shaper
Transient shaping has become a vital technique in music mixing. The abilities to sharpen or soften the onset of a sound and to lengthen or shorten the decay have been very useful for giving each sound just the right size and position in the mix.
Transient Shaper takes this concept one step further, by letting the user affect either the entire frequency range — which is what most similar tools do — or the treble frequencies or bass frequencies individually.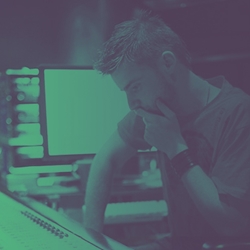 "The unique ability to isolate and focus on a portion of the signal and alter its attack/sustain is just mere brilliant!"

Beyoncé, Lil Wayne, Missy Elliott, Timbaland
Punch and sustain
The Transient Shaper lets you control the attack and decay of a track. Optimal for drum mixing, but also a perfect tool to give a vocal track clarity and presence.
Split-band operation
Use the the dual band processor to affect only the treble or bass portion of a sound — separately for the Sustain and Punch parameters — and leave the rest untouched.
Use cases
Use Transient Shaper on drum overheads, turn up the Sustain knob and set its frequency control to Wide. This will simultaneously stretch out the room sound and cymbals, as well as give you more sustain and boom to the toms. But let's say you don't want boomier toms. Then you set the Sustain knob's frequency control switch to Hi, in which case the Sustain processing only affects the high frequencies, i.e. the cymbals and room, but leaves the toms just the way they are. Set the switch to Lo, and hear how you now only get boom from the toms, but the room sound and cymbals stay unaffected.
More than percussion
The dual band operation makes Transient Shaper useful for much more than drum and percussion sounds. Give a vocal track clarity and presence by adding some high frequency transients — add Punch with its frequency slider set to Hi. Or create a darker and more rounded sound that oozes with vintage vibe by instead turning down the Punch knob. Use it on piano, bass, guitar, electronic drums — Transient Shaper works on a wide range of sound types.
The crossover frequency is user selectable, as is the Punch behavior (Fast or Slow). We also added an output distortion section called Clip.
Reviews
"Once you've tried it, you may well find it difficult to go back to the single-band alternatives."
MusicRadar/Computer Music
READ FULL REVIEW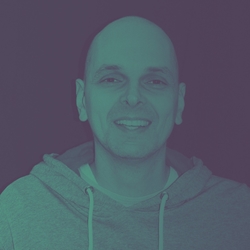 "The Transient Shaper is a great tool for adding dynamics to compact mixes. The sound is punchy without sounding harsh."

Chief mastering engineer for Armin van Buuren, Ferry Corsten, Julian Calor
In short
Dual band transient processing tool.
Add or reduce punch and/or sustain from any sound.
Affect either the whole frequency spectrum, only the high frequencies or only the low frequencies.
User selectable crossover frequency.
Clip section adds output distortion.
System requirements

Mac OS X 10.12 or newer (older OS versions may work but are not tested).
Windows 64-bit, versions 7, 8 or 10.
Intel Core 2 Duo, AMD Athlon 64 X2 or newer.
Screen resolution 1280x800 or larger.
8 GB RAM or more is recommended, as well as at least 8 GB hard disk space for installation (individual plug-ins take less space, while sample libraries may require additional disk space. Specific information available on each instrument's page).
Softube account.
iLok account.
Internet access for downloading installer and managing licenses.
iLok generation 2 and up, if you intend to use an iLok dongle for authorizing your plug-ins (note that an iLok dongle is not a requirement).
In theory, any 64-bit VST, VST3, AU, or AAX (11.0.2 or higher) compatible host application should work.



However, due to plug-in host differences between DAWs - and our own rigorous testing standards - we only officially test our plug-ins and instruments in the most recent versions of Pro Tools, Logic Pro, Cubase, Live, Studio One, Digital Performer, Reaper and Sonar. Softube plugins are not tested in the non-listed systems, but they most likely work as long as the system requirements are met. We cannot guarantee a solution for issues in unsupported systems.

Please Note: Softube plug-ins support 64-bit hosts only, and a 64-bit OS is required. Therefore, for example, Pro Tools 10.x is no longer supported (contact support for latest 32-bit compatible instalers).

Supported sample rates: 44.1, 48, 88.2, 96, 176.4 and 192 kHz, in both mono and stereo.

The most recent maintenance release of the DAW application is recommended.

AAX DSP is not in active development, but older products still support AAX DSP. For legacy TDM/VENUE, please see the Legacy Installers page.