It's too good to be free.
(But it is.)
Modular Ready / Effects / Amp Room Ready
Saturation Knob
The free plug-in Saturation Knob is a modeled output distortion that can be used anywhere you need some grit.
Use it to fatten up bass lines, add some harmonics and shimmer to vocals, or simply destroy your drum loop.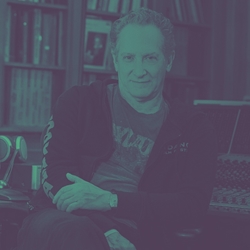 "My response when they told me the Saturation Knob is a free plug-in was — are you nuts? Seriously? It's too good to be free! I use it to make guitars fatter and more aggressive, snares naturally brighter, kicks punchier, vocals warmer. Basically, it's good on just about anything. Saturation Knob should be renamed Attitude Adjuster! If a plugin can be addicting, the Saturation Knob is it!"

Seven Grammy awards, Rolling Stones, Bob Dylan, Paul McCartney, Coldplay
One Big Knob and a Little Switch
The three modes—Keep High, Neutral and Keep Low—give you three kinds of characters of distortion. If you want to squash a drum loop but keep the bass drum fairly intact, you can, for example, use the Keep Low mode, while Keep High distorts the low end more, keeping the high frequencies relatively clean.
Yes, It's Free
Get Saturation Knob for free and add a taste of warm, analog saturation to your mixes.
Saturation Knob native plug-in
With Saturation Knob, you can fatten up bass lines, add shimmer to vocals, or totally demolish your drum loop. It is the perfect plug-in to grab when you need some grit. (And it's free.)
Saturation Knob for Modular
Saturation Knob for Modular, our virtual Eurorack platform, helps you create sensational synth sounds. Virtually patch it to modules from Doepfer, Buchla, Intellijel, and more to discover new sonic spheres.
learn more about modular
Saturation Knob for Amp Room
Saturation Knob for Amp Room, our pro audio guitar and bass platform, is addictive fun. Combine it with other studio effects, classic amps, cabs, and pedals to easily create studio-quality, record-ready tones.

This product supports
Extended Features
We love VU meters, Bakelite knobs, and analog quirks. But we want modern precision and workflow. The answer? Softube Extended Features. Easy-access panels with the innovations you need close at hand.
In short
Download for free
Three modes: Keep High, Neutral, and Keep Low
Great for fattening up drums and bass, adding harmonics to vocals, and more
Modeled output distortion
Modular Ready: works as a native plug-in and as a module in Modular, Softube's Eurorack platform. Learn more about Modular
System requirements

macOS Big Sur 11, Monterey 12, Ventura 13
Windows 10 (64-bit), Windows 11
Softube account
iLok account
Computer with AU, VST, VST3 and/or AAX compatible DAW host software
Internet access (for downloading installers and managing licenses)

Read full System Requirements and our Terms and Conditions