One knob to rule them all.
Three modes, three kinds of distortion character​
Great for fattening up drums and bass, adding harmonics to vocals, and more
Modular Ready: works as a native plug-in and as a module in Modular, Softube's Eurorack platform. Learn more about Modular
---
Modular ready, Effects
Saturation Knob
The free plug-in Saturation Knob is a modeled output distortion that can be used anywhere you need some grit.
Use it to fatten up bass lines, add some harmonics and shimmer to vocals, or simply destroy your drum loop.
It sounds great and it's free...!
Anyone can download the Saturation Knob for free, and get a taste of warm analog saturation in their mixes.
Insert effect or synth module
You can use Saturation Knob as an insert in your DAW, or as a module in our Eurorack Modular platform.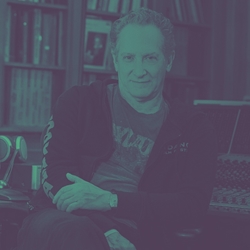 "My response when they told me the Saturation Knob is a free plug-in was — are you nuts? Seriously? It's too good to be free! I use it to make guitars fatter and more aggressive, snares naturally brighter, kicks punchier, vocals warmer. Basically, it's good on just about anything. Saturation Knob should be renamed Attitude Adjuster! If a plugin can be addicting, the Saturation Knob is it!"

Seven Grammy awards, Rolling Stones, Bob Dylan, Paul McCartney, Coldplay
One big knob and a little switch
The three modes, Keep High, Neutral and Keep Low give you three kinds of characters of distortion. If you want to squash a drum loop but keep the bass drum fairly intact, you can for example use the Keep Low mode, while Keep High distorts the low end more, keeping the high frequencies relatively clean.
Modular Ready
This plug-in can be used within Modular, our Eurorack platform. Click to learn more.
System requirements

Mac OS X 10.12 or newer (older OS versions may work but are not tested).
Windows 64-bit, versions 7, 8 or 10.
Intel Core 2 Duo, AMD Athlon 64 X2 or newer.
Screen resolution 1280x800 or larger.
8 GB RAM or more is recommended, as well as at least 8 GB hard disk space for installation (individual plug-ins take less space, while sample libraries may require additional disk space. Specific information available on each instrument's page).
Softube account.
iLok account.
Internet access for downloading installer and managing licenses.
iLok generation 2 and up, if you intend to use an iLok dongle for authorizing your plug-ins (note that an iLok dongle is not a requirement).
In theory, any 64-bit VST, VST3, AU, or AAX (11.0.2 or higher) compatible host application should work.


However, due to plug-in host differences between DAWs - and our own rigorous testing standards - we only officially test our plug-ins and instruments in the most recent versions of Pro Tools, Logic Pro, Cubase, Live, Studio One, Digital Performer, Reaper and Sonar. Softube plugins are not tested in the non-listed systems, but they most likely work as long as the system requirements are met. We cannot guarantee a solution for issues in unsupported systems.

Please Note: Softube plug-ins support 64-bit hosts only, and a 64-bit OS is required. Therefore, for example, Pro Tools 10.x is no longer supported (contact support for latest 32-bit compatible instalers).

Supported sample rates: 44.1, 48, 88.2, 96, 176.4 and 192 kHz, in both mono and stereo.

The most recent maintenance release of the DAW application is recommended.

AAX DSP is not in active development, but older products still support AAX DSP. For legacy TDM/VENUE, please see the Legacy Installers page.