Kerry King has used Marshall amplifiers throughout his hugely successful career.
– My sound has always been more about punch than distortion. It's also creating a tonality that makes a riff sound great, so every single note and chord gets its point across without being disguised by too much gain. This amp does that in brutal fashion!
The Marshall 2203KK Kerry King Signature Series amplifier is based on the original Marshall JCM800 2203 amplifier – "The Beast" – that Kerry King used in conjunction with a graphic EQ throughout his early career to boost the signal even further. The 2203KK delivers the ferocity and tone that Kerry King's sound demands.
In this plugin, Softube has carefully modeled the 2203KK amp for you.
In Kerry King's own words:
– I have this one JCM800 amp that I call "The Beast", because it annihilates all others. It's as if Satan reached up, touched that head himself and conspired with Jim to create something miles ahead of the rest! It's the "Golden Child" when it comes to my sound, and it's been my main live and recording head for pretty much my entire career.
– So when it was time to work on this project, I gave Jim's R&D gurus "The Beast" plus my main graphic EQ. They did a shitload of measurements and copied both exactly – putting my unique EQ curve on a single control called "Assault" and building in an incredibly effective noise gate.
As opposed to the JCM800 2203's four EL34 power tubes, "The Beast" has four KT88s for added warmth and girth plus making it a very loud amplifier!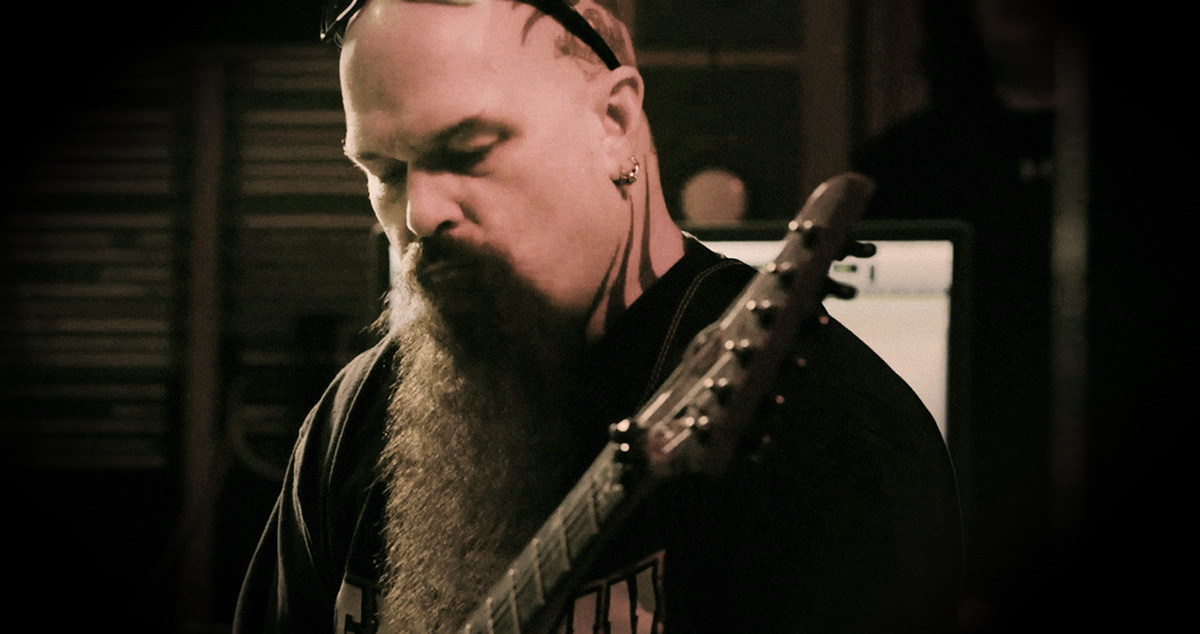 Kerry King's choice of speaker is the Marshall Mode Four MF400B model, of which he uses several, both in a studio setting and as a live rig. The Marshall Mode Fours are equipped with Celestion G12K-100 speakers, giving the cabinets loads of low end to handle Kerry King's intense rhythm style playing.
Two Mode Four cabinets were carefully mic'ed and produced by world-renowned producer Terry Date and recorded at the famous Henson Studios in Los Angeles, California. The signal measurements of the provided five different setups where then carefully analyzed and recorded by Softube's Kim Larsson and Patrik Jensen.
By doing so, we have been able to carefully recreate Kerry King's sound through the production genius of Terry Date and the exquisite recording facilities of the Henson Studio.
Different microphones do different jobs, and in this plugin we're taken advice from the experts.
Producer/engineer Terry Date has recorded Kerry King and oceans of other metal and rock acts. In the speaker section you will find five of his ready-produced setups for capturing Kerry King's sound.
FOH (PA) engineer Chris Paccou has done numerous live gigs with Kerry King, and his ready-produced live setup can be found under the second tab of the cabinet section.
The Cabs On switch
Where the Standby switch is usually located, there is now a switch that allows you to bypass the cab section of the plugin. This will result in only hearing the direct sound of the Kerry King Signature amplifier. This setting is useful when combining this amp with other cabinet/microphone models.
These include the Softube Bass Amp Room (including 8x10), Metal Amp Room and Vintage Amp Room (including Half Stack).
In all these plugins, the amplifier section can be bypassed. This would be the recommended setting, when combining the Kerry King Signature with the cabinets in either of those plugins.
The knobs
Presence: This control operates in the power section and adds high frequencies to your sound by altering the amount of negative feedback. Turning this control clockwise adds more bite to your sound, making it crisper and more cutting.
Bass: This adjusts the bottom end. Turning it clockwise increases the amount of low frequencies in the sound.
Middle: This control adjusts the level of those all-important mid-range frequencies. Turning it clockwise increases the mids and fattens your sound, giving it more punch. Turning it counterclockwise reduces the mids, producing a more 'scooped' tone.
Treble: Here you can adjust the top-end. Turning it clockwise increases the amount of high frequencies present in the sound, giving your guitar tone a brighter edge.
Master Volume: This controls the overall output level of your 2203KK. Turning it clockwise increases the volume.
Pre-Amp Volume: Turning this control clockwise overdrives the pre-amp valves and creates a harmonically rich distortion.
Please note: This is a modeled amplifier plugin, i.e. the controls and knobs behave as they do on the physical amp. They are not independent of each other, so consequently, altering one control can change the way the others behave. For this reason, experimentation is recommended.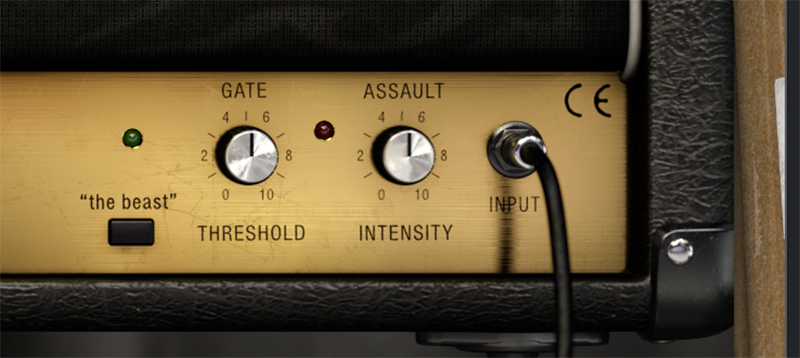 "The Beast" switch: This switch engages the Kerry King Signature tone. It engages the Assault and Gate circuits. Its LED will light in red when the expander circuitry is in noise reduction mode (gate closed) and green when the expander is open, letting the signal pass without any attenuation.
Gate Threshold: Here you control the 2203KK internal expander circuitry. This circuitry replaces Kerry King's noise gate with an ultra-fast studio quality noise reducer unit. Instead of abruptly cutting the sound once the threshold is reached like a noise gate, the expander progressively attenuates the signal following its dynamics.
The Threshold control has a program dependent decay ratio allowing very slow decay times for slowly moving guitar signals thus maintaining the natural sustain and very fast decays for staccato rhythms and short pauses.
Adjust the Threshold knob to control the point where the noise reduction begins to work. Make sure that when adjusting the Threshold knob, you are not picking up hum from your equipment, as it may result in a setting higher than needed.
A setting to the right has almost no effect at all and turning the knob counterclockwise makes the Gate more effective.
Assault Intensity: This circuitry replaces the old graphic equalizer with an electronic circuit tuned for Kerry's preferred frequency response together with user adjustable gain. Adjust the Intensity knob for the desired amount of gain boost.
Tip: Some guitar players, like Kerry King, adjust the Threshold knob to silence the amplifier with the guitar volume on full whilst others prefer to silence the amplifier with the guitar volume turned down. Feel free to experiment with both settings.
Clicking on the Kerry King Cabs sticker on the right side opens up a set of panels. Here you can tweak the microphone setup to your heart's content – mic selection, level, panning, and more.
Terry Date setups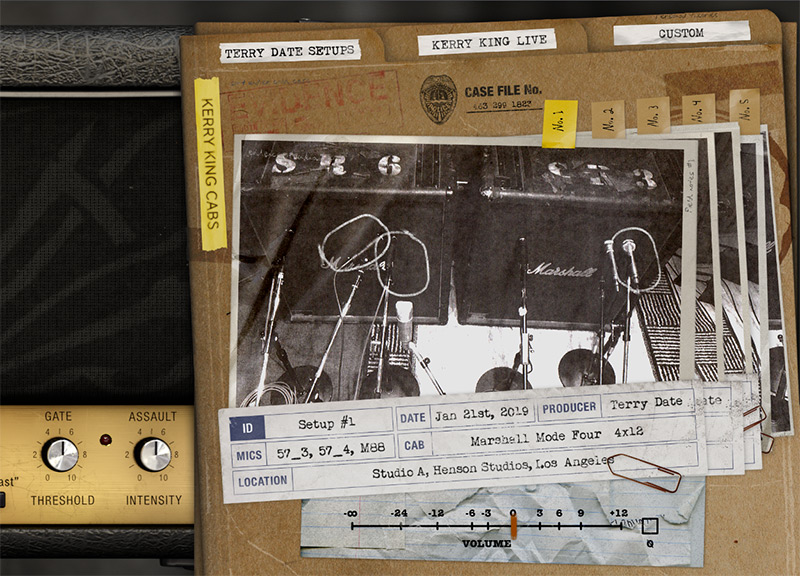 Renowned engineer/producer Terry Date has analyzed and recorded impulses from two selected Marshall cabinets recorded with a bunch of fine microphones. The location was the legendary Henson Recording Studios in Hollywood, Los Angeles.
For this job, he chose a combination of Shure SM57, beyerdynamic M88, AKG D19 (all dynamics), and a Neumann U87 condenser microphone.
The 5 tabs give you different combinations of these mics, each excellent in their own ways.
Kerry King Live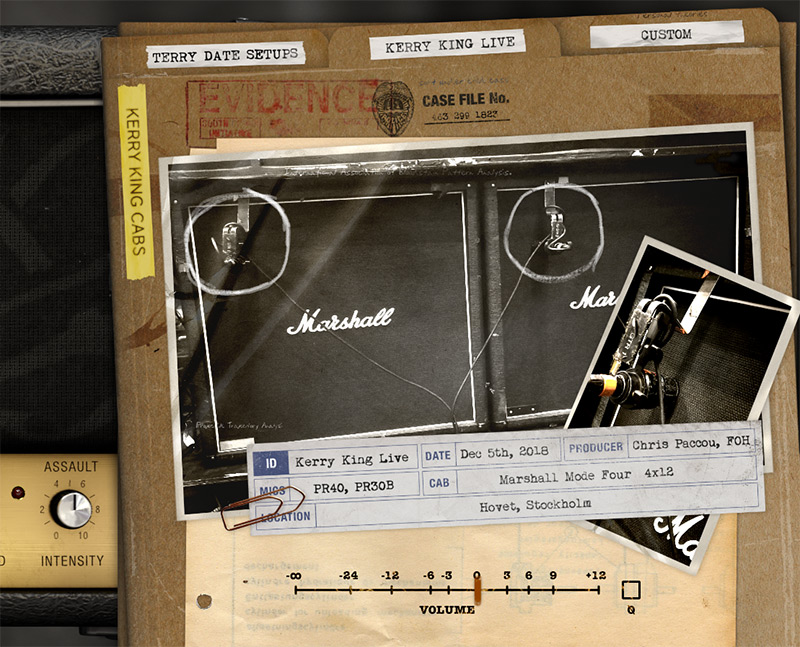 This is the way FOH engineer Chris Paccou mics up and produces Kerry King's cabinets live. The impulses were recorded at Hovet in Stockholm, Sweden on December 5th 2018.
Chris Paccou used his selection of Heil PR 40 and Heil PR 30B dynamic mics on these cabs.
Custom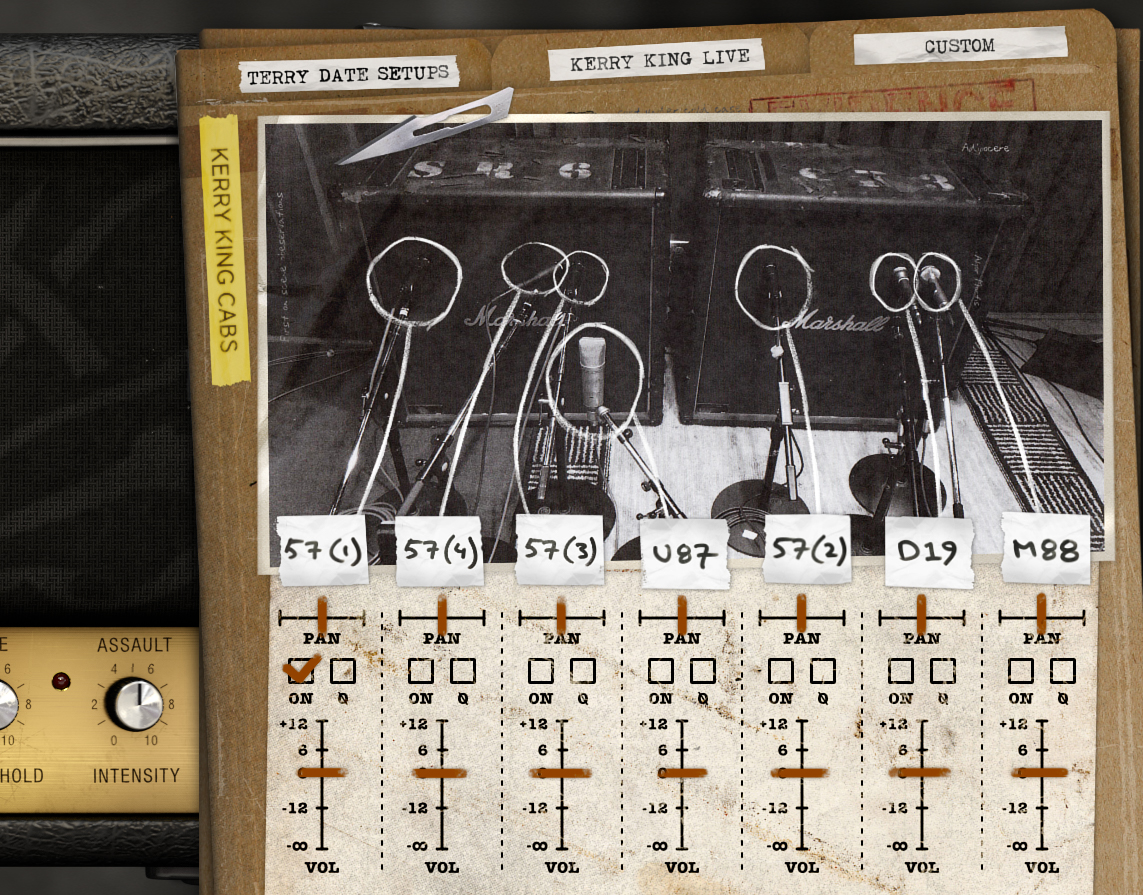 The third tab in the Cabs section is called Custom. Here you can tweak your own sound from the variety of Terry Date's ready-produced mic setups. A total of 7 microphones can be mixed any way you want, as they have one mixer channel each.
The Pan slider lets you position a mic in the stereo panorama and the Volume slider sets the volume. A convenient On switch makes it easy to try out different mic combinations and the Phase invert switch adds further variations to the sound.
A word of warning: When using two or more microphones and pressing the Phase switch on one channel, please make sure you test the sound in mono. Two similar signals will often cancel each other out, if the phase is reversed on one channel. The result will be a thinner sound at a considerably lower volume.
Kerry King Signature in Amp Room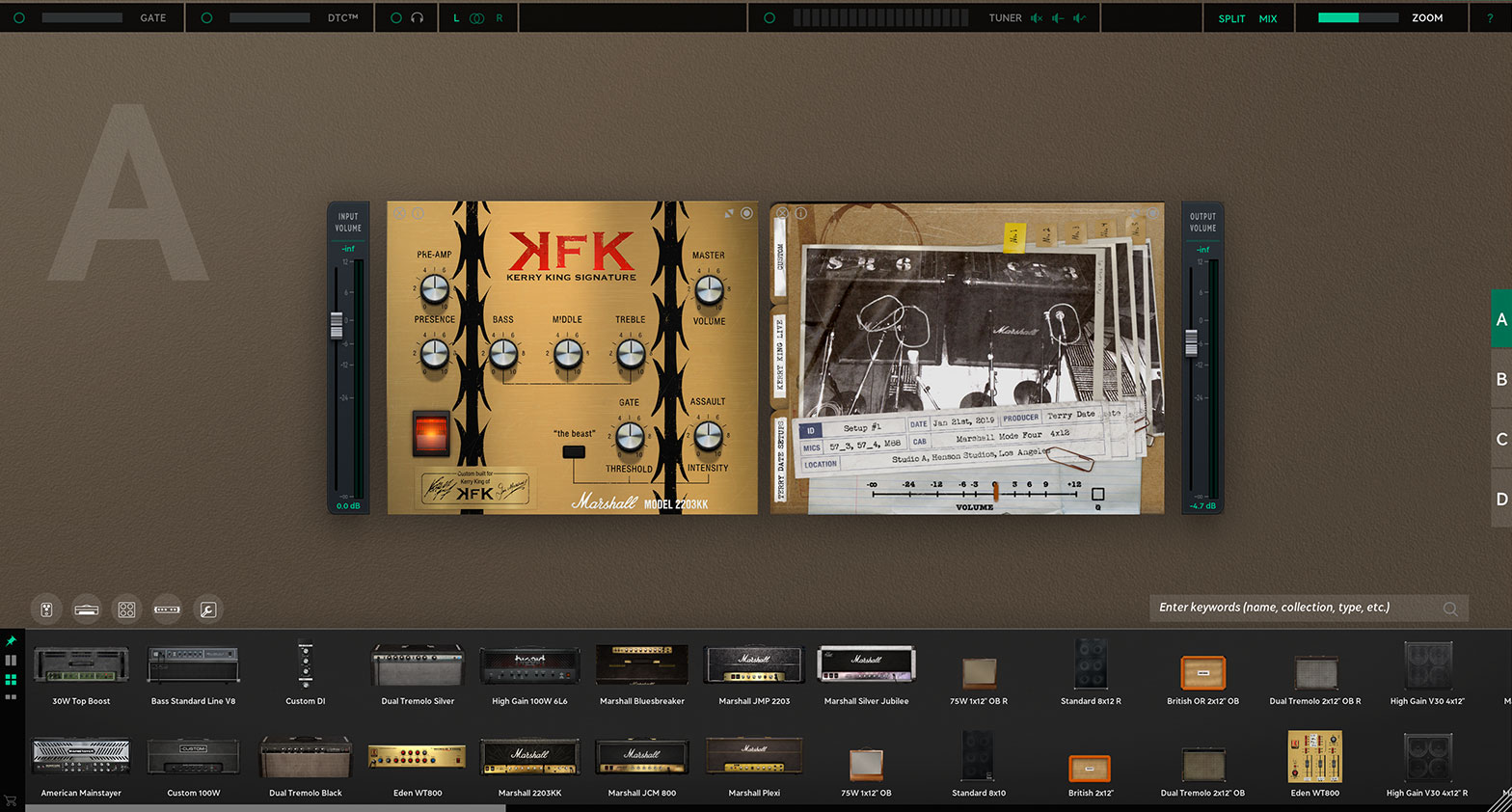 When purchasing this product, you automatically gain access to running the plugin as modules inside the Amp Room platform. The amp and cab sections are divided into two separate Amp Room modules so they can be matched and arranged together with any other native Amp Room module or other Amp Room-ready modules that you might own.
Patrik Jensen – Project management
Kim Larsson and Mattias Olsson – DSP modeling
Patrik Holmström and Pelle Serander – Framework programming
Kerry King – Sound specifications
Terry Date – Studio sound design and presets
Chris Paccou – Live sound design and presets
Niklas Odelholm – General graphic design
Ulf Ekelöf – Graphic design amplifier
Andreas Pettersson – Graphic design cabs
Nis Wegmann – Additional graphic design
Emanuel Enbäre – Quality assurance
Sven Bornemark – Manual copywriter