Mutable Instruments Clouds
Modular exclusive
Make it rain
In the world of modular synthesis there are certain names that command veneration and respect; Moog, Buchla, Doepfer, Serge; but there are others that inspire the kind of fizzing delight and excitement that simply won't leave you alone until you've filled your bedroom and half the hallway too.
Mutable Instruments have been making Eurorack modules in that latter category for almost a decade, and now Clouds — the texturizing module which sold like crazy in hardware and became a firm favourite of enthusiasts around the world — is available for Modular.

Granular texture synthesizer
Clouds can divide incoming signals into audio droplets — like using a tap to create a controlled drip from the audio stream; and manipulate those droplets in endless creative ways.
One-shot sampler
Freeze the audio buffer to capture a sample and play with it indefinitely. In this software version of Clouds you can even save that sample as part of a preset.
Lo-fi playtime
Choose between 16-bit stereo or mono, or 8-bit stereo or mono, to digitally degrade your signal in some very appealing ways.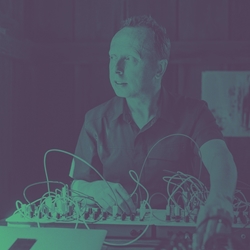 "With the original Clouds Eurorack module now disappeared into the ether, this software version offers an opportunity for everyone to transform sounds into a densely textured soundscape, stretching time beyond the imaginable. Add modulation and suddenly a new planet is born! Simply beautiful."

Producer, DJ, remixer and artist
Condensing droplets
Now discontinued in hardware, Clouds has been one of the most loved Eurorack modules out there for years. Clouds allows the user to condense incoming signals into audio droplets between 16ms and 1 second long — like using a tap to create a controlled drip from the audio stream — and manipulate those droplets in so many different ways you could easily pass a rainy weekend or two examining the capabilities of this module alone.
A digital module, code-ported
Scrub through the audio buffer. Change the sample size and texture. Create choppy rhythmic mayhem out of the smoothest input. Alternatively, mutate a snare drum into an ambient drone or soundscape by stacking droplets more and more densely until a reverb-like storm-system builds. Shift pitch, stretch time, feed back, until the tone you want shines through.
A digital module, Clouds hides hidden depths behind its every control, and learning its limits and possibilities is an adventure in itself.
It even has a built in reverb to add extra ambience and space to any signal passing through.
Explore ideas
Clouds is great for mangling incoming drum loops into trippy, jerking breakouts. You can use it as a basic sampler by freezing the buffer, taking a snapshot of your audio. Or robotize an input signal, by using an external oscillator to quickly freeze and un-freeze the audio stream. Try using Clouds like a wavetable by populating the buffer with multiple different tones. Or simply add some grit and texture to a signal with a granular, irregular delay tail. A kind of organic sonic friction.
If modular synthesis is about creating the most diverse palettes possible for sound design, then no system is complete without Clouds. Add it to your setup today, and make it rain.
In short
A granular texturizer, which processes an audio stream into manipulable droplets.
Fully licensed, and officially approved by Mutable Instruments.
Control speed, size, texture and more of the flow of droplets.
Can be used simply as a reverb, or a delay.
Freeze function allows use as a simple one-shot sampler.
Four audio quality modes, including appealing lo-fi 8-bit options.
Stereo spread can send droplets firing left and right.
An awesome module to experiment with – find a use no one else has.
Requires Modular.
System requirements

Mac OS X 10.12 or newer.

Windows 64-bit, versions 7, 8 or 10.

Intel Core 2 Duo, AMD Athlon 64 X2 or newer.
Screen resolution 1280x800 or larger.
1 GB RAM or more, and at least 6 GB hard disk space for installation (individual plug-ins take less space).
Any VST, VST3, AU, or AAX (Pro Tools 10.3.7*, 11.0.2 or higher) compatible host application.
Softube account.
iLok account.
Internet access for downloading the plug-in(s) and managing the license(s).
iLok generation 2 and up, if you intend to use an iLok dongle for authorizing your plug-ins (note that an iLok dongle is not a requirement).

All Softube plug-ins support both 32- and 64-bit hosts, although a 64-bit OS is required. Supported sample rates: 44.1, 48, 88.2, 96, 176.4 and 192 kHz, in both mono and stereo.

*Please Note: Pro Tools 10 is not officially qualified by Avid higher than OS X 10.8.