The pro audio
guitar & bass platform.
Create the same authentic, incredibly realistic sounds you would in a high-end studio filled with carefully selected gear
Choose from four suites: Amp Room Marshall Suite, Amp Room Vintage Suite, Amp Room Bass Suite & Amp Room Metal Suite
Load officially licensed studio effects from Tube-Tech, Empirical Labs, Trident, and more
Imagine a luxury studio full of carefully chosen vintage gear. There are legendary compressors and EQs, classic Marshall amps and cabinets, pedals, mics, and more. Everything is ready and waiting for you to create top-tier guitar and bass tones.
That's the Amp Room platform. Our legacy of modeling analog gear with unmatched accuracy means you can create authentic, mix-ready tones with ease and flexibility. Amp Room and Amp Room Suites are your very own high-end software studio.
Suite Mode
Suite Mode is an intuitive workflow with hand-selected sets of gear that let you quickly get the sounds you want. You have easy access to your amps and cabs, as well as the pedal and effects sections. If you want to go further into tone shaping, you can switch to Studio Mode.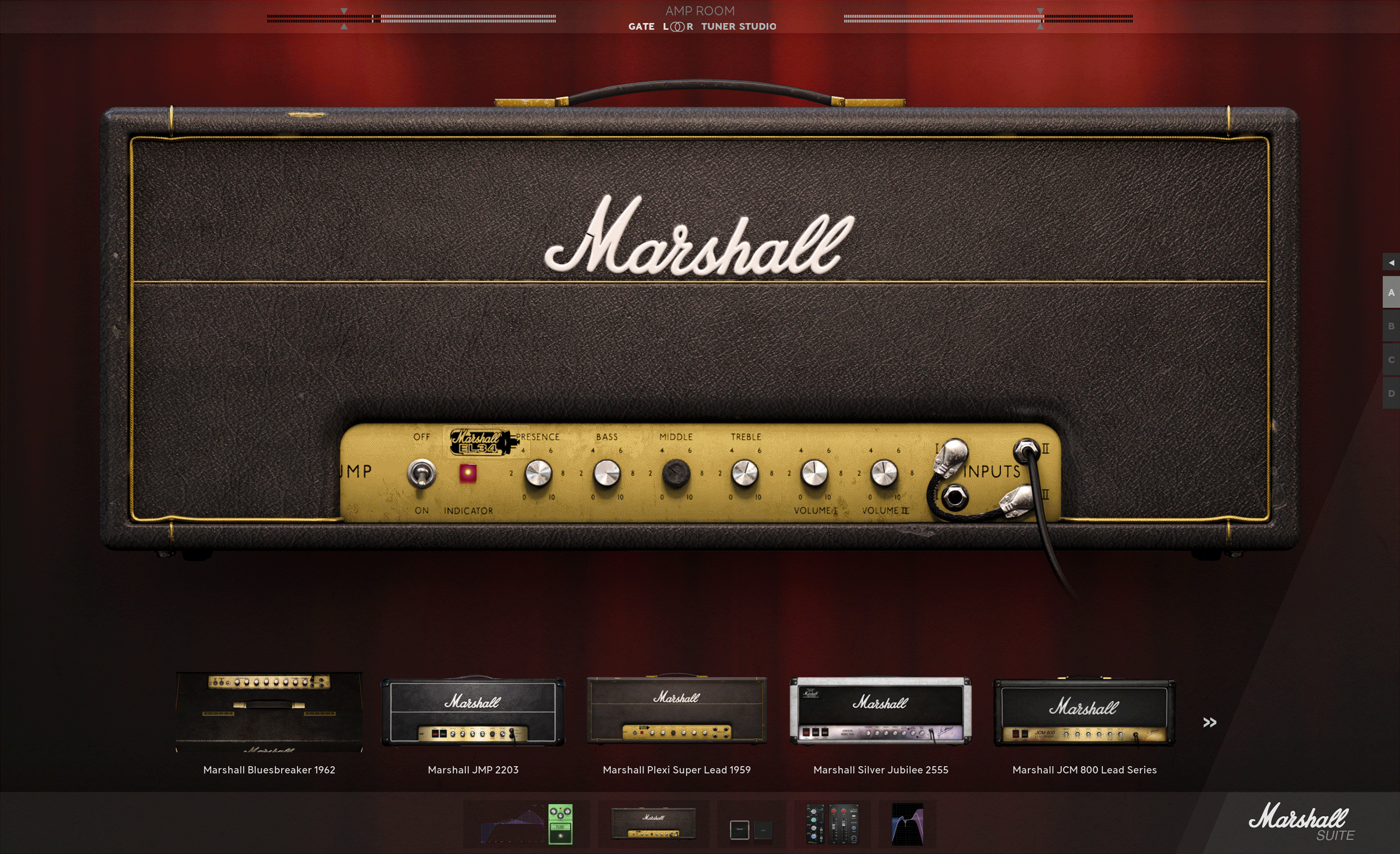 Studio Mode
Amp Room allows you to recreate a professional studio workflow and surpass it. Have as many parallel signal paths as you need, split paths, or load Amp Room-ready plug-ins as modules anywhere you see fit. Happy with how your patch sounds but want to try it with another cabinet or pedal? Use Multistates to compare various settings in a snap.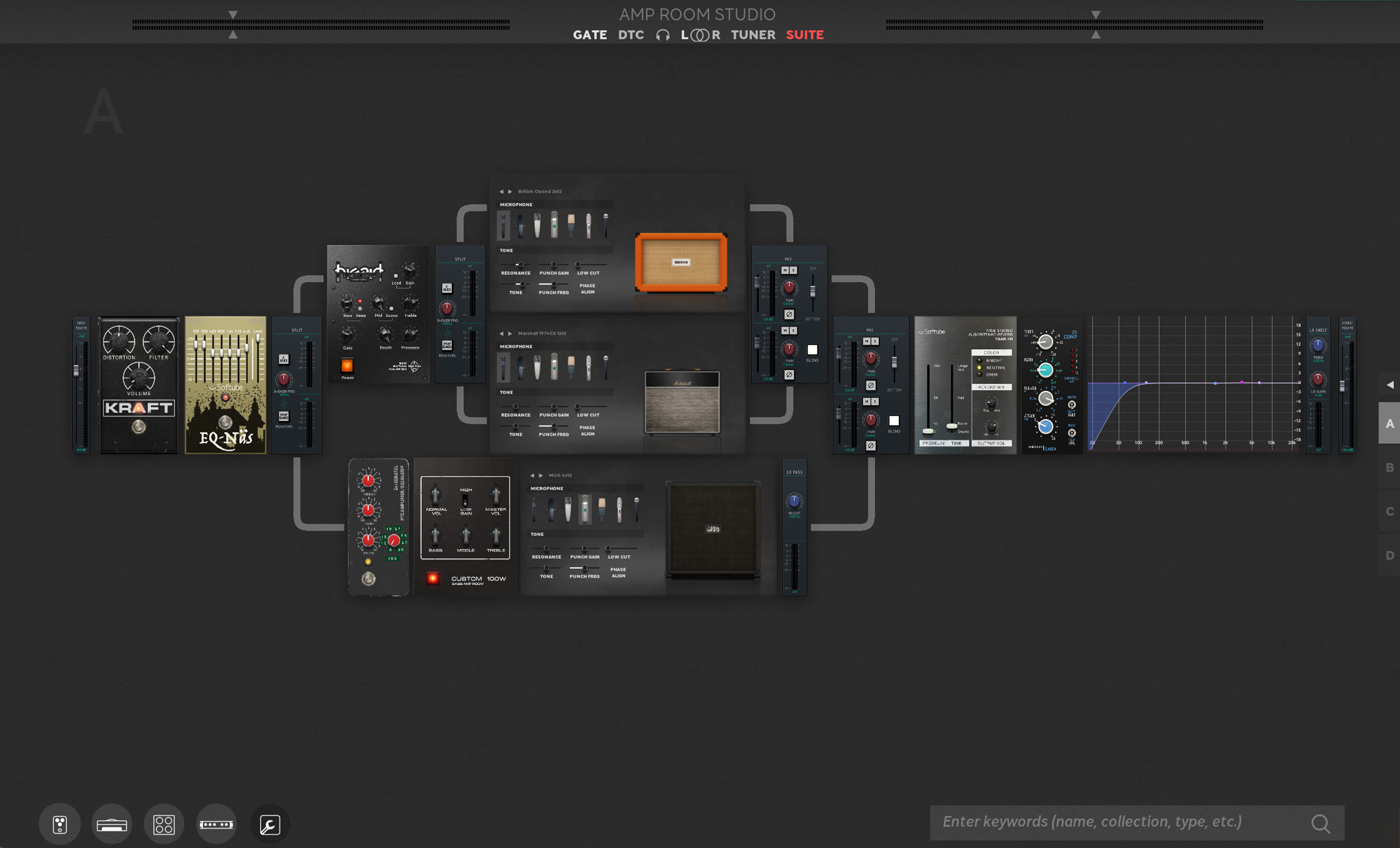 Suite Mode sections
Amps
Go from Marshall Bluesbreaker to Plexi Super Lead. The amp section of the Amp Room platform makes it a cinch to try out our full selection of expertly modeled amplifiers.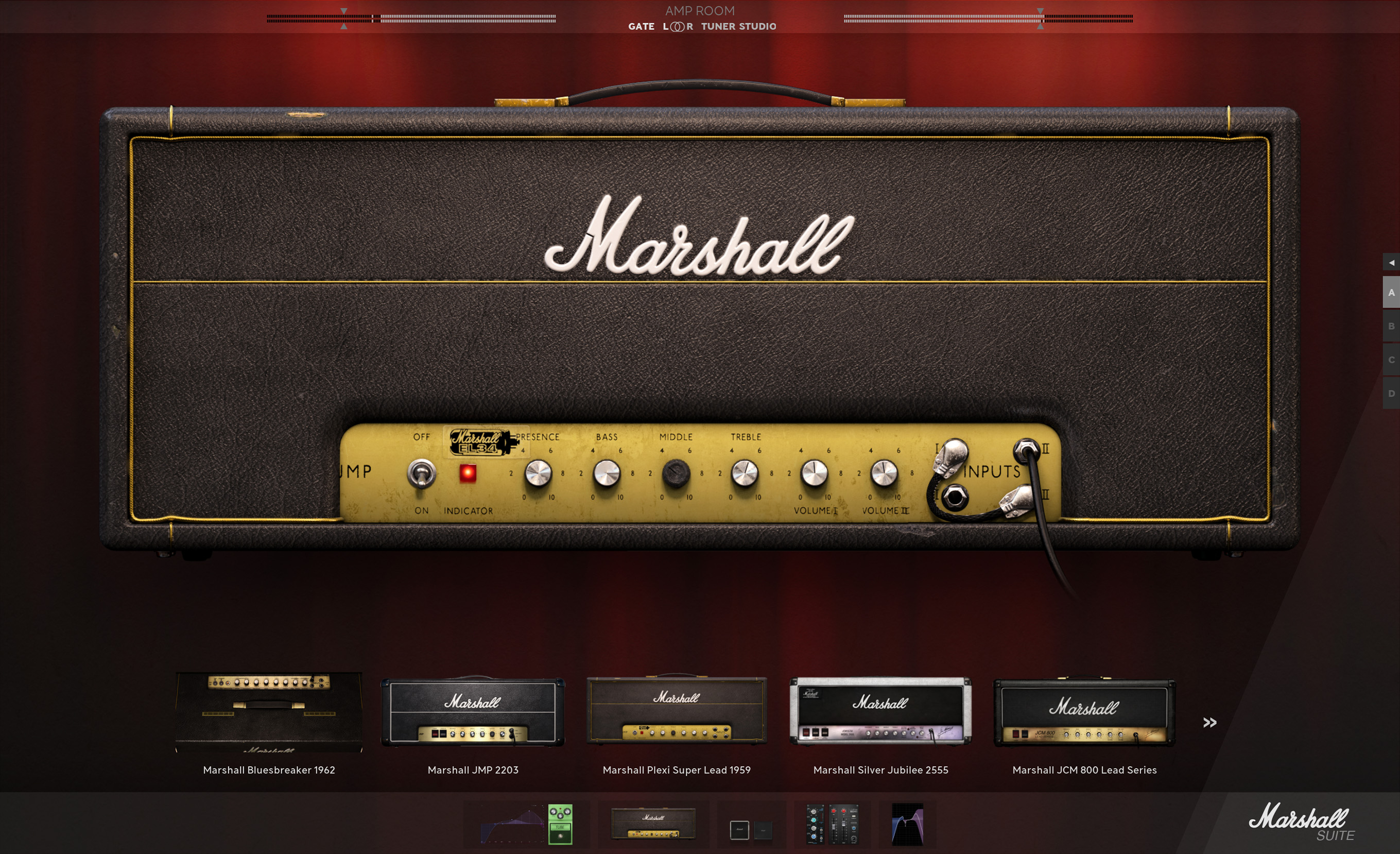 Cabs
The Amp Room platform gives you a versatile way of working with cabs. We captured all cabinets with seven classic microphones that you can move to find your sound sweet spot.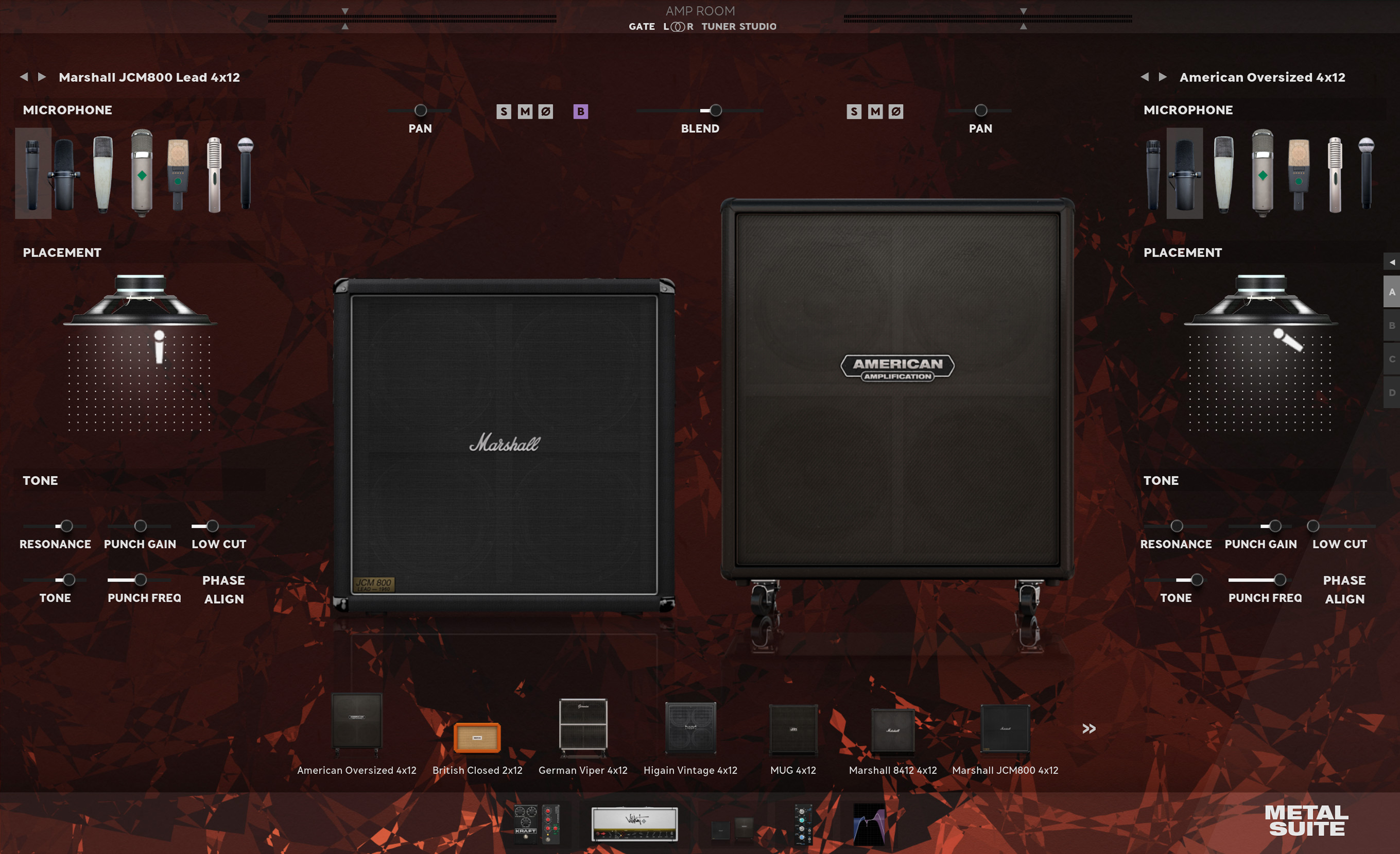 Pedals
Drag and drop pedals in the Amp Room platform to get precisely the sound you're after.
Effects
A selection of effects like overdrive, distortion, delay, tremolo, compression, equalization, and more.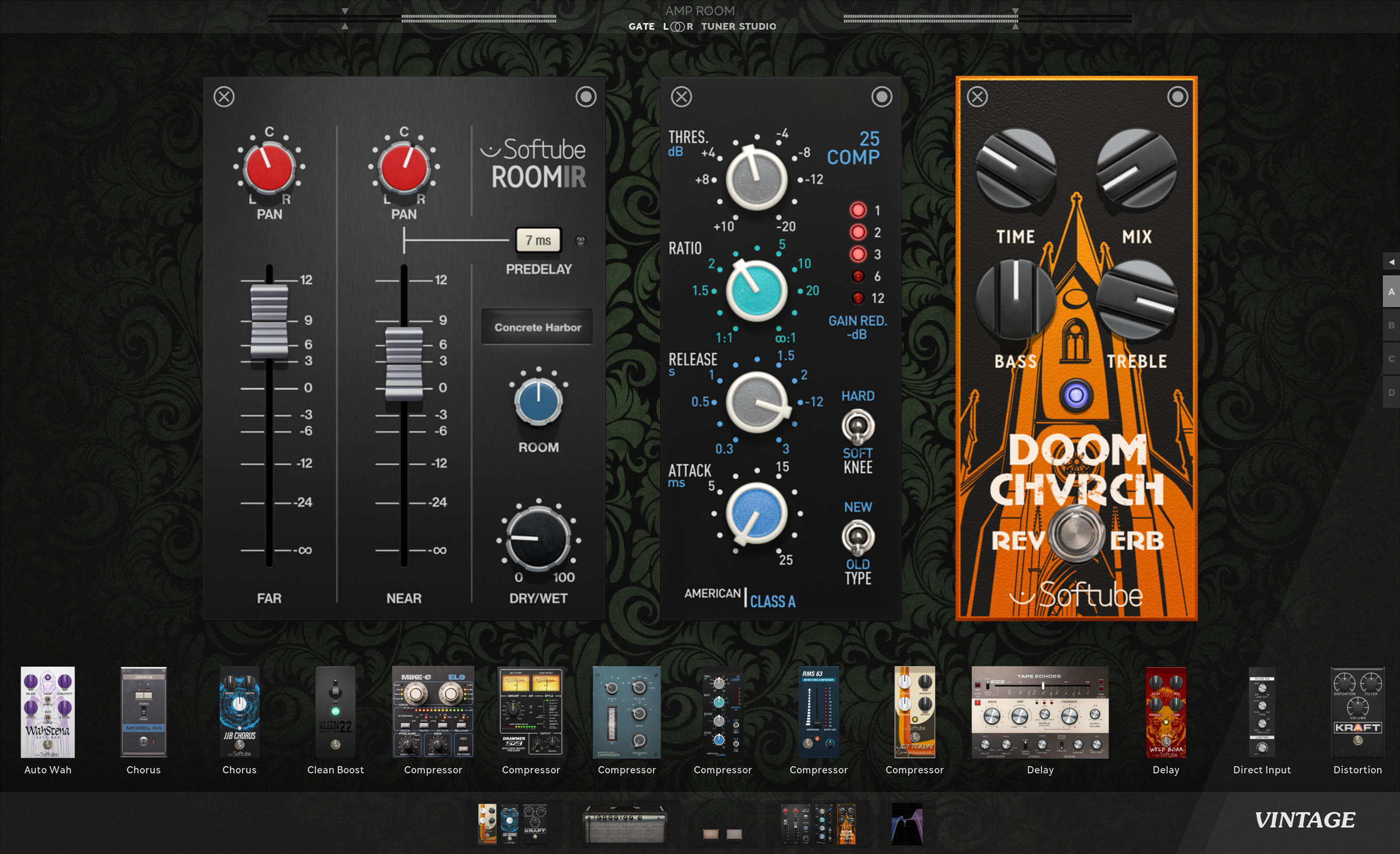 EQ
Ready to put the finishing touches on your tones? The Amp Room platform features a five-band parametric equalizer at the end of the signal chain.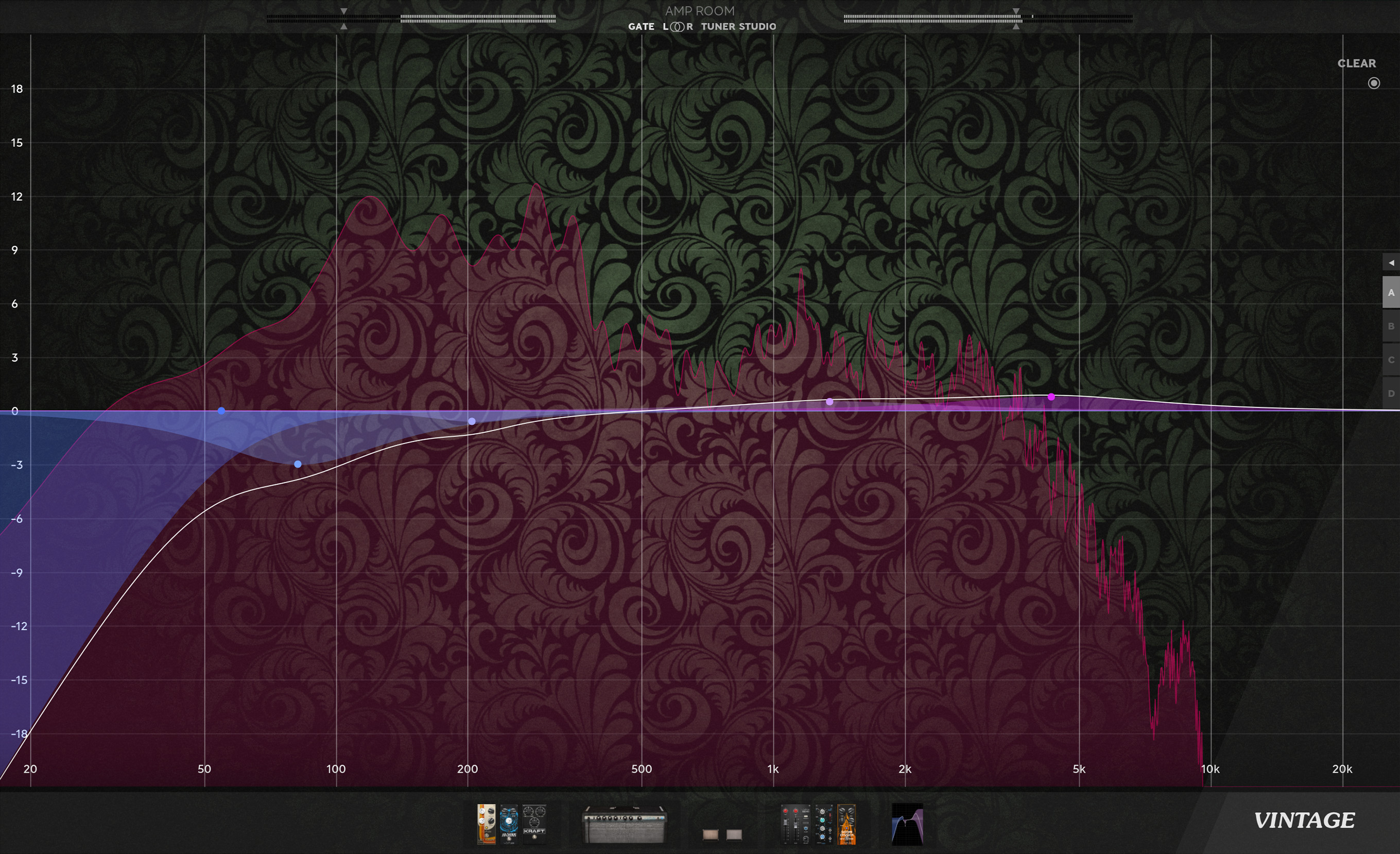 Authentically modeled Marshall gear
We've been emulating guitar amps since day one. Our first-ever prototype was a hardware DSP box running a Marshall amp model and a loudspeaker model. That got the attention of Marshall Amplification and led to a successful long-term partnership, with Softube becoming Marshall's exclusive software partner. Amp Room Marshall Suite offers the only officially licensed Marshall amps and cabs in software form.
Amp Room-ready plug-ins & more
Amp Room is an evolving platform with a wide selection of compatible premium studio gear that goes beyond amps and cabs. Boost your creative options by loading compressors and equalizers like Empirical Labs Mike-E Comp, Tube-Tech CL 1B, Trident A-Range, Softube Tape, and Tape Echoes.
SEE AMP ROOM-READY PLUG-INS & ALL OTHER EXPANSIONS
IR Producer Packs
The Amp Room platform's LoadIR comes pre-filled with IR Producer Packs from well-known studios, engineers, producers, and guitar players. You'll get immediate results and incredible sounds, from the perfect classic amp combo to giant, modern metal.
Amp Room & Bogren Digital
Amp Room LoadIR is powered—in part—with mix-ready IRs from Bogren Digital. Like those from Amp Room collaborators Kohle and Tue Madsen.
Learn more about Bogren Digital and the IR packs they offer.
In short
The professional audio guitar and bass platform for studio-quality, record-ready sounds
Built on Softube's legacy of careful component modeling
Recreate signal chains as you would in a real session or get creative with patches that would be impossible in a physical studio
Four suites to choose from: Amp Room Marshall Suite, Vintage Suite, Metal Suite, and Bass Suite
Features Suite Mode, a parametric equalizer, LoadIR, and several IR Producer Packs from well-known artists
Compatible with Softube mixing plug-ins like Tape, Tape Echoes, Empirical Labs Mike-E Comp, Tube-Tech CL 1B Mk II, Trident A-Range, Model 72 Synthesizer System, Model 84 Polyphonic Synthesizer, and more
Officially endorsed Marshall amps and cabs. Get even more Marshall with our Cabinet Collection. Learn more