Rhythmic control,
or mayhem.
Two-channel pingable envelope generator​.
Use both sides to quickly concoct awesome generative rhythmic chaos.​
Use one side at a time to sync the rhythmic aspects of a sound to your track tempo​.​
---
Modular exclusive
4ms PEG
A long-awaited addition to the Softube Modular platform, the 4ms Pingable Envelope Generator opens up a vast array of possibilities beyond the basic ADSR envelope generator included in the core Modular package.
Two independent envelope generators can be 'pinged' by external sources – your DAW clock, for example – to define the cycle length of the envelope(s) and generate rhythmic effects and interactions never before possible in Modular. Add to this the extensive options for shaping those envelopes, and multiplying or dividing their cycle length, and you have a module which not only expands but explodes the rhythmic capabilities of your Modular system.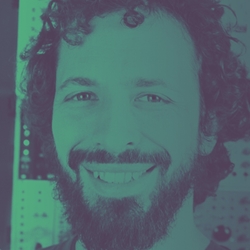 "I was very pleased to see that you kept the original PEG's internal sampling rate and that self-patched feedback loop patch also works on the virtual version!"

Founder of 4ms
Ping, Envelope, Repeat
From USA-native hardware electronic wizards 4ms, the Pingable Envelope Generator generates envelopes when 'pinged', either by an incoming trigger or clock, or by pressing the tap tempo buttons at the head of each channel.
Cycle and Vibe
Using the 'cycle' setting will repeat the envelope cycle indefinitely, meaning the PEG can be your clock, or sync to tempo and generate more or less any kind of rhythmic chaos within that framework.
Happy Accidents
With tons of routing options and CV inputs, this module makes serious noise even if it's not making a single sound of its own. Try it and see.
4ms of Portland
4ms company began as 3ms pedals near Chicago, Illinois in 1996. After several moves and additions to the team, they now make some of the most exciting and innovative synth modules in the world out of Portland, Oregon.
In true West Coast synth style, their modules are at once creative and well-thought-out, stylish and functional, fun and intentional. And the PEG is no exception. Its attractive, colourful faceplate hides a powerful concept, and its controls and patch-points combine to make almost infinite possibilities. This is truly one of the most versatile modules in Modular – it can even be used as an audio source if pinged quickly enough (e.g. by another oscillator).
Crazy polyrhythms
Fully licensed and endorsed by 4ms, the PEG expands your creative horizon. Create crazy polyrhythms for percussive clicks and beeps, or match the elastic wobble of a dubstep bassline to the tempo of your track with ease.
Multiply the pinged tempo of each channel to fit two, three, four or more envelope cycles into each beat, or divide to generate longer cycles which still conform to your pinged tempo. And send the envelope generated by one side to CV modulate the parameters of the other.
This module is fantastic for fun experimentation, and often results in happy accidents and creative inspiration.
In short
Made for Modular, Softube's Eurorack platform. Learn more about Modular
Officially licensed and endorsed by 4ms
Two-channel pingable envelope generator
Use one side at a time to sync the rhythmic aspects of a sound to your track tempo
Use both sides to quickly concoct awesome generative rhythmic chaos
Detailed control of the shape of the envelope when generating drum sounds
Easily create some controllable motion in your textures
Adds hugely to the capabilities of your Softube Modular system
System requirements

All Softube products require a computer with appropriate DAW host software (none of which are included).

Versions from 2.5.38 and newer of the Softube plug-ins have the following minimum requirements:

All native versions

Mac OS X 10.13 up to 12
Windows 10 and 11 64-bit
Mac: Intel Core i3 / i5 / i7 / Xeon / Full Apple silicon support (M1 or higher)
Windows: Intel Core i3 / i5 / i7 / Xeon / AMD Quad-Core or newer
Screen resolution larger than 1280x800
8 GB RAM or more is recommended, as well as at least 8 GB hard disk space for installation (individual plug-ins take less space, while sample libraries may require additional disk space)
Softube account
iLok account
Internet access for downloading installers and managing licenses
iLok generation 2 and up, if you intend to use an iLok key for authorizing your plug-ins (note that a physical iLok USB key is not a requirement)


In theory, any 64-bit VST, VST3, AU, or AAX (Pro Tools 11.0.2 or higher) compatible host application should work. However, due to plug-in host differences between DAWs - and our own rigorous testing standards - we only officially test our plug-ins and instruments in the most recent versions of Pro Tools, Logic Pro, Cubase, Ableton Live, Studio One, Reaper, and Cakewalk. Softube plugins are not tested in non-listed systems, but they most likely work as long as the system requirements are met. We cannot guarantee a solution for issues in unsupported systems.

Note: We have checked the basic functionality of our plug-ins, and Softube Central, under Apple Rosetta 2.

With regards to the different VST formats, we strongly recommend using VST3 as some of our plug-ins have features that are not present in the older VST format. Supported sample rates: 44.1, 48, 88.2, 96, 176.4, and 192 kHz, in both mono and stereo. The most recent maintenance release of your DAW application is recommended. AAX DSP is not currently in active development. TDM/VENUE is no longer supported (old downloads are available on the Legacy Installers page).

Find the Softube installer you need both Softube Central and individual plug-ins.

AAX DSP version

For AAX DSP you need to meet the above requirements for the Native versions. You also need to have an Avid HDX processing card. For plug-ins available for AAX DSP, see Which Softube plug-ins support AAX DSP?